October 3 Peace Love Art Activism
FREE SPEECH
October 3, 1915: John Sumner was appointed to replace Anthony Comstock as leader of the New York Society for the Suppression of Vice (NYSSV). He pledged to continue Comstock's censorship crusade against alleged indecent literature under the 1873 Comstock Act (March 3, 1873), the most important federal censorship law for almost 100 years. The NYSSV was the leading censorship organization from its founding in 1873 through the late 1930s,  [NYSSV article] (see March 3, 1919)
October 3 Peace Love Art Activism
INDEPENDENCE DAYS
Kingdom of Yugoslavia
October 3, 1929: The Kingdom of Serbs, Croats and Slovenes changed its name to the Kingdom of Yugoslavia. (ID, see Dec 11, 1931; Yugoslavia, see June 25, 1991)
Iraq
October 3, 1932: Iraq independent from the United Kingdom. (see November 22, 1943)
Germany
October 3, 1990: Germany reunited. (NYT article) (see April 9, 1991)
October 3 Peace Love Art Activism
Roots of Rock
October 3, 1945: Elvis Presley made his first ever-public appearance in a talent contest at the Mississippi Alabama Dairy Show. He was 10 and sang 'Old Shep.' He came in second. (see October 5, 1948)
Howl and Other Poems
October 3, 1957: at the conclusion of the obscenity trial regarding Howl and Other Poems, Judge Clayton W. Horn ruled that the poem was not obscene.
In his decision, he stated that, "I do not believe that "Howl" is without redeeming social importance. The first part of "Howl" presents a picture of a nightmare world; the second part is an indictment of those elements in modern society destructive of the best qualities of human nature; such elements are predominantly identified as materialism, conformity, and mechanization leading toward war. The third part presents a picture of an individual who is a specific representation of what the author conceives as a general condition." [see Howl for more or see full transcript of decision or read complete Howl] (BG, see April 2, 1958; FS, see Nov 1)
Beatles not breaking up
October 3, 1966: The Beatles' manager Brian Epstein, recently released from hospitalization, denied reports that Paul McCartney was leaving the group.
There had been much press speculation during the latter part of 1966 that The Beatles were splitting up. Each of the four members had pursued outside interests after their final concert, with John Lennon filming How I Won The War in Germany and Spain, George Harrison visiting India, and McCartney and Ringo Starr busying themselves in England.
Epstein also revealed that Lennon was appearing as Private Gripweed in Richard Lester's film, and that McCartney was composing the music for another movie entitled Wedlocked, or All In Good Time. (see Oct 16)
Woody Guthrie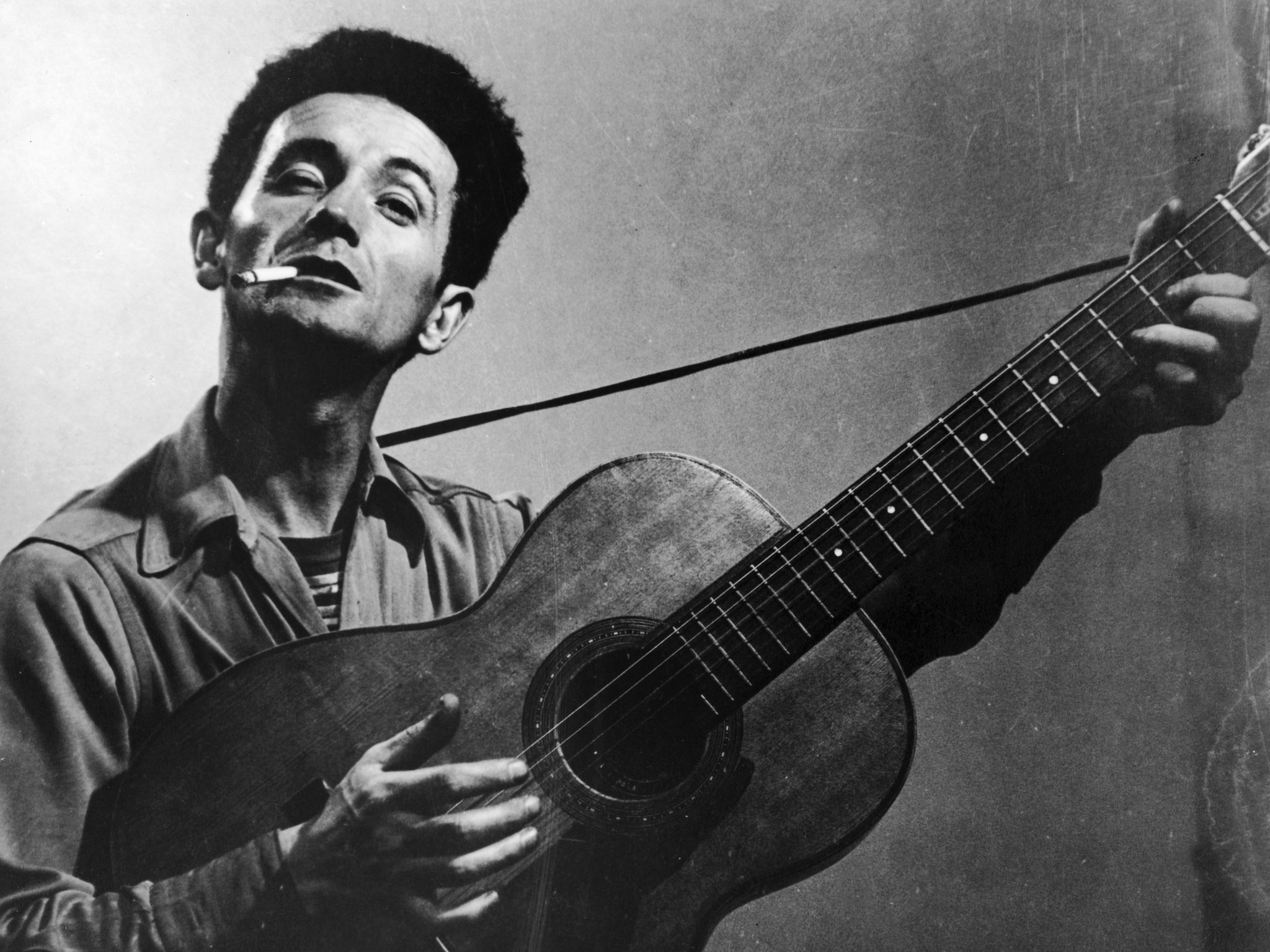 October 3, 1967: Woody Guthrie died of complications of Huntington's disease.  NYT obit. (see Oct 6)
Fifth Big Sur Folk Festival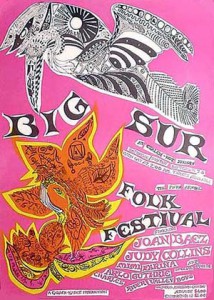 October 3, 1968: The Fifth Big Sur Folk Festival (Big Sur, see Sept 14 – 15, 1969; Festival, see Oct 26 & 27)
Joan Baez
Judy Collins
Mimi Fariña
Arlo Guthrie
Charles River Valley Boys
 Seventh Big Sur Folk Festival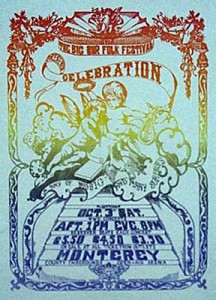 October 3, 1970 – The Seventh Big Sur Folk Festival (held at the Monterey County Fairgrounds) (see September 25, 1971)
1:00 pm concert:

Beach Boys
John Phillips
Joan Baez
Merry Clayton and Love Ltd.Kris Kristofferson (with Chris Gantry and Vince Matthews)
John Hartford

8:00 pm concert:

Beach Boys
John Phillips
Linda Ronstadt, with Swamp Water
Mimi Fariña & Tom Jans
Mark Spoelstra
Country Joe McDonald
Tom Ghent
Joan Baez
October 3 Peace Love Art Activism
Nuclear/Chemical News
October 3, 1952:  the United Kingdom successfully tested an atomic bomb. The test made the UK the world's third nuclear power. [CTBCO article] (see Oct 13)
October 3 Peace Love Art Activism
US Labor History
United Auto Workers
October 3, 1961: the United Auto Workers (UAW) union went on strike at Ford plants across the country to win higher wages and better benefits for its members. It was the first company-wide strike since Ford had agreed to a collective-bargaining deal in 1941. [NYT timeline of UAW and the Auto Industry] (see January 17, 1962)
Major League Umpires Association
October 3, 1970: baseball umpires strike for recognition of their newly-formed Major League Umpires Association, win after one day.  [MLB timeline of umpires] (see Dec 29)
Nissan plant
October 3, 2001: the United Automobile Workers lost an election to represent the workers in a Nissan plant in Smyrna, Tennessee. It was one of a series of defeats in attempts to organize the plants of foreign car makers in the U.S. UAW membership continued to slide.  [LAT article] (see March 12, 2004)
October 3 Peace Love Art Activism
Immigration History
October 3, 1965: President Lyndon Johnson signed into law the Immigration and Nationality Act of 1965. The Act ordered elimination of the national origins quota system established in 1882 in favor of a worldwide quota blind to national origin. Pushed by the American families of European immigrants who wanted to bring relatives over, the Act replaced the nation's tightly controlled, country-of-origin immigration system with a process that divided visas equally between all countries, giving preference to immigrants with advanced skills and education or with family ties to U.S. citizens.
As a result of the Act, the USA, a country that was almost entirely native-born in  1965 changed with a significant foreign-born population; demographic diversity has spread to every region, expanding a black-and-white racial paradigm into a multicolored one. Americans have gleefully adopted musical genres and foods that have immigrant origins, while remaining conflicted and uneasy politically over who's here, legally and not. [2015 Atlantic article]  (see June 15, 1982)
October 3 Peace Love Art Activism
BLACK HISTORY
Frank Robinson

October 3, 1974: the Cleveland Indians hired Frank Robinson as major league baseball's first black manager. [2016 Baltimore Sun article] (see Oct 30)
Medgar Evers assassination
October 3, 1991: a Federal judge in Chattanooga, Tenn., refused to block the extradition of Byron de la Beckwith, sending him back to Mississippi for a third trial in the 1963 slaying of the civil rights leader Medgar Evers. (NYT article) (see Evers for expanded chronology)
October 3 Peace Love Art Activism
Irish Troubles
October 3, 1981:  those Republican prisoners who had still been refusing food decided to end their hunger strike. At this stage in the protest six prisoners were on hunger strike. The prisoners took their decision when it became clear that each of their families would ask for medical intervention to save their lives. (see Troubles for expanded story)
October 3 Peace Love Art Activism
Feminism
The League of Women Voters

October 3, 1988: after The League of Women Voters had sponsored the Presidential debates in 1976, 1980 and 1984, its 14 trustees voted unanimously to pull out of the debates. League President Nancy M. Neuman issued a press release condemning the demands of the major candidates' campaigns:  The League of Women Voters is withdrawing sponsorship of the presidential debates…because the demands of the two campaign organizations would perpetrate a fraud on the American voter. It has become clear to us that the candidates' organizations aim to add debates to their list of campaign-trail charades devoid of substance, spontaneity and answers to tough questions. The League has no intention of becoming an accessory to the hoodwinking of the American public. [NYT article] (see February 11, 1989)
The Vagina Monologues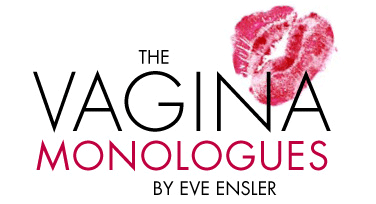 October 3, 1996: The Vagina Monologues was first performed at HERE Arts Center in Soho, New York. Written and originally performed by Eve Ensler, the play is a one-woman show based on a series of interviews Ensler conducted with a diverse group of women who talked freely about womanhood, sex, and their vaginas. (NYT article) (see January 23, 1997)
Great Recession
October 3, 2008, George. Bush signed the revised Emergency Economic Stabilization Act creating a 700 billion dollar Treasury fund to purchase failing bank assets. [text]
October 3 Peace Love Art Activism
Cannabis
October 9, 2023: the U.S. Census Bureau released its first report on state-level marijuana tax revenue data following what the agency calls "a complete canvass of all state agencies" going back to July 2021. In the 18-month period between then and the end of 2022, the data show, states collected more than $5.7 billion from licensed cannabis sales. [MM article] (next Cannabis, see Nov 3, or see CAC)
October 3 Peace Love Art Activism