October 28 Peace Love Art Activism
Technological Milestones
Cotton gin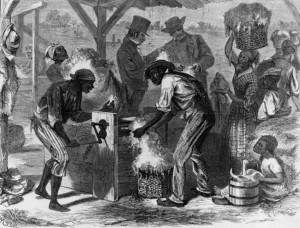 October 28, 1793: Eli Whitney applied for a patent for the cotton gin. It was granted in March 14, 1794. It will change the course of American history as it made the cotton crop a valuable commodity for which thousands of workers–black slaves–would be used.(see February 7, 1817)
Football game broadcast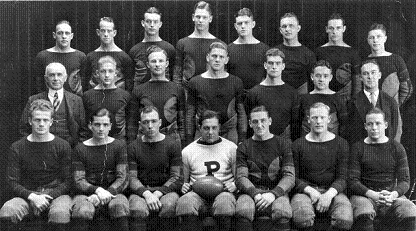 October 28, 1922: hundreds of young men gathered around radios in Western Union offices, speakeasies and a Princeton University physics lab to hear the first-ever cross-country broadcast of a college football game between Princeton and the Chicago Maroons. Telephone lines carried a play-by-play of the match-up. (NYT article) (see April 15, 1923)
October 28 Peace Love Art Activism
Feminism
Matilda Josyln Gage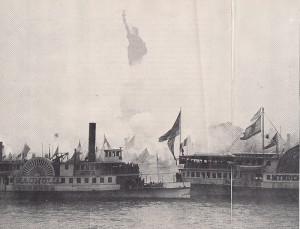 October 28, 1886: Matilda Josyln Gage joined the New York City Woman Suffrage Association's protest at the unveiling of the Statue of Liberty. Suffragists called it the greatest hypocrisy of the 19th century that liberty is represented as a woman in a land where not a single woman has liberty. (NYT article)
In 1890: Gage left National Women's Suffragist Association after its merger with the American Woman Suffrage Association and established the Woman's National Liberal Union, dedicated to maintaining the separation of church and state. (Separation Church and State, see May 5, 1925 Feminism; see May)
In 1893 Gage published her magnum opus, Woman, Church, and State.
Gage also spoke of organized religion: "The greatest evils to women in all ages have come through the bondage of the Church. Women must think for themselves and realize that the story of the creation with the pair in the garden and the speaking serpent standing on his tail was a myth." (next Feminism, see Nov 7)
In 1895 Gage contributed to Elizabeth Cady Stanton's The Woman's Bible, writing interpretations of three Biblical passages pertinent to women. The Woman's Bible is a major criticism of standard biblical interpretation from a radical feminist point of view. (next Feminism, see April 4, 1886; see Gage for expanded story)
Consumer Protection
October 28, 1974:  President Gerald Ford signed into law the Equal Credit Opportunity Act, which helped to reduce sex discrimination in access to credit. As a member of the Appropriations Committee,
Congresswoman Lindy Boggs (D–Louisiana) helped shape the law. She hand-wrote "sex or marital status" into the text and then passed out new copies of the bill with the phrase included. She suggested sweetly that the omission "must have been an oversight." The amendment passed. President Gerald Ford signed further amendments to bar discrimination on the basis of race, color, religion, or national origin with the Equal Credit Opportunity Act Amendments of 1976 in March 1976. (Feminism, see January 8, 1975; CP, see February 12, 1976)
October 28 Peace Love Art Activism
INDEPENDENCE DAY
October 28, 1918:  Czech Republic formed marking independence from Austria-Hungary. (see Nov 11)
October 28 Peace Love Art Activism
Cultural Milestone/Volstead Act

October 28, 1919,  the day after President Wilson had vetoed the act, the House and Senate override his veto and the Volstead Act was passed, ushering in Prohibition. It went into effect in January 1920. (NYT article) (see January 17, 1920)
October 28 Peace Love Art Activism
Cold War
McCarthyism
October 28, 1947: Dalton Trumbo, a successful Hollywood screenwriter, confronted the House Un-American Activities Committee (HUAC) on this day. All of the "Hollywood Ten" were cited for contempt of Congress, convicted, sentenced to prison, and blacklisted by the film industry.
Contempt of Congress indictments became a heavy weapon against alleged subversives during the Cold War. While it had rarely been used before World War II, HUAC issued 21 contempt citations in 1946, 14 in 1947, and 56 in 1950. All other House Committees in those years issued a total of only 6 contempt citations. (Red Scare, see Oct 30; Hollywood Ten, see November 25, 1956; Trumbo, see March 27, 1957)
October 28, 1962:  after much deliberation between the Soviet Union and Kennedy's cabinet, Kennedy secretly agreed to remove all missiles set in southern Italy and in Turkey, the latter on the border of the Soviet Union, in exchange for Khrushchev removing all missiles in Cuba. Nikita Khrushchev announced that he had ordered the removal of Soviet missile bases in Cuba. (next Cold War, see Oct 30; see Cuban Missile Crisis for expanded story)
October 28 Peace Love Art Activism
BLACK HISTORY
Boys arrested after being kissed
October 28, 1958: a mob of white men in Monroe, North Carolina, stormed the home of a nine-year-old Black boy named James "Hanover" Thompson, threatening to lynch him after a white girl told her parents that she kissed him on the cheek when they were playing together earlier that day. James and another Black boy named David "Fuzzy" Simpson, seven years old, who the girl had also kissed on the cheek, were arrested by police, held in jail without contact with their families for days, denied an attorney, and sentenced to indefinite terms, ultimately serving over three months. [EJI story] (next BH, see Nov 24)
Black Panthers
October 28, 1967: Oakland, CA officer John Frey is killed and officer Herbert Haines wounded in a predawn altercation after stopping Huey Newton and Gene McKinney. Newton is also critically wounded. (BH, see Oct 30; BP, see April 6, 1968)
Slave Revolts
October 28, 2002: the City Council in Richmond, the former capital of the Confederacy, unanimously voted to honor a slave who plotted a revolt.
A resolution calling the slave, Gabriel Prosser, an "American patriot and freedom fighter" commemorates the 202nd anniversary of his hanging on October 10, 1800, in Richmond. Dozens of conspirators were also executed after two slaves told their masters of the plot. "This resolution seeks to correct an error in history whereby Gabriel has been seen by many as a criminal," Councilman Sa'ad El-Amin told the Council. (BH, see Dec 4; SR, see June 17, 2015)
The Matthew Shepard Act
October 28, 2009: President Obama signed the Matthew Shepard and James Byrd, Jr. Hate Crimes Prevention Act, also known as the Matthew Shepard Act, as a rider to the National Defense Authorization Act for 2010. Conceived as a response to the murders of Matthew Shepard and James Byrd, Jr., the measure expands the 1969 United States federal hate-crime law to include crimes motivated by a victim's actual or perceived gender, sexual orientation, gender identity, or disability. (next BH, see November 15, 2010; see Shepard for expanded story;  next LGBTQ, see Nov 3)
Beatles/My Bonnie
October 28, 1961: "My Bonnie" is a success in Germany.  It will be released in Britain on 5 January 1962, as Tony Sheridan and The Beatles.
On the same day, according to Beatles legend,  a fan named Raymond Jones attempted to purchase the single "My Bonnie" from Brian Epstein's NEMS record store in Liverpool. Brian managed the record shop, which was part of a large department store owned by his father. The legend states that this was the first occasion on which Brian Epstein heard of the single or, indeed, of The Beatles. "Mersey Beat" editor Bill Harry discounts this story as improbable. Harry claims to have discussed The Beatles and other local groups with Epstein well before this date, and he adds that Epstein was already writing record reviews for "Mersey Beat" and selling copies of the paper in his shop. Further, Epstein was selling tickets to Sam Leach's 'Operation Big Beat' concert, and The Beatles' name was at the top of the list of groups that were scheduled to appear at the November 10 event. (see Oct 30)
Beatles/Empire Theatre, Liverpool
October 28, 1962:  The Beatles performed at the Empire Theatre, Liverpool. This is a major performance for The Beatles, their first at Liverpool's top theatre. They are part of an eight-act, big-name program that plays to two separate "houses" (two performances for two different audiences, one at 5:40 pm and the other at 8:00 pm). Heading the bill is Little Richard; also appearing is Craig Douglas (for whom The Beatles provide musical backing in addition to their own, separate performance), Jet Harris (ex-Shadows bass player), and Kenny Lynch & Sounds Incorporated. In Liverpudlian terms, The Beatles have hit the big time. (see Nov 23)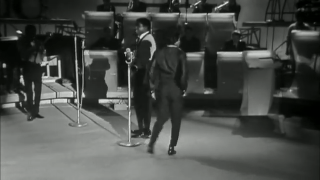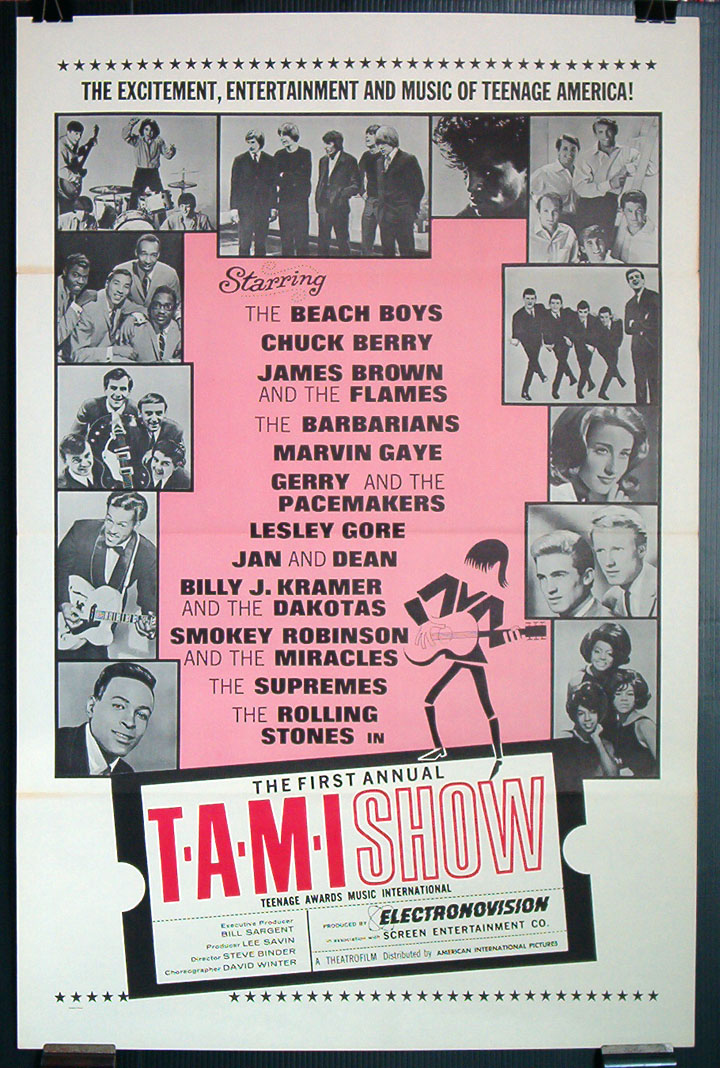 October 28 – 29, 1964 filmed over two days at the Santa Monica (Calif.) Civic Auditorium, "The T.A.M.I. Show" (short for  Teenage Awards Music International or Teen Age Music International) featured some of the biggest stars in rock and pop music, including The Rolling Stones, James Brown and the Flames, The Supremes, The Beach Boys and Lesley Gore. It was released in theaters in December 1964.  (see June 24, 1966)
Supremes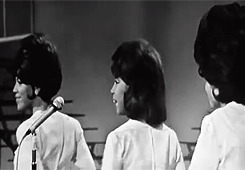 October 28 – December 1, 1967: Diana Ross and the Supremes Greatest Hits is the Billboard #1 album.
October 28 Peace Love Art Activism
Vietnam
October 28, 1968: US Ambassador Bunker cabled the President that South Vietnam President Thieu had suddenly decided he needed more time to to consult his National Security Council regarding the Paris negotiations.
LBJ knew that Nixon had interfered.(Vietnam, see Oct 30; Nixon, see Nov 3)
October 28 Peace Love Art Activism
FREE SPEECH
October 28, 1989: a group burned a United States flag belonging to the United States Postal Service. The flag-burning occurred during a political demonstration convened in front of a post office in Seattle, Washington to protest the enactment of the Flag Protection Act of 1989, 18 U.S.C. § 700. That statute, which prohibits flag-burning, had taken effect only minutes before defendants' actions against the flag.
Participants were charged with committing two misdemeanors: one count of fulfill injury to federal property and one count of knowingly burning a United States flag in violation of the Flag Protection Act. (see March 21, 1990)
October 28 Peace Love Art Activism
Fair Housing
1992 Act
October 28, 1992: The Federal Housing Enterprises Financial Safety and Soundness Act of 1992 signed. The Act established the Office of Federal Housing Enterprise Oversight (OFHEO) within the Department of Housing and Urban Development (HUD). It also mandated that HUD set specific goals for the government-sponsored enterprises Fannie Mae and Freddie Mac, with regard to low income and under-served housing areas.
Home ownership
In 1996 home ownership totaled 66.3 million American households, the largest number ever. Except for a few historic buildings, Techwood Homes (see August 15, 1936) was demolished in 1996 before the 1996 Summer Olympics.
Enforcement Center
In 1998 HUD opened the Enforcement Center to take action against HUD-assisted multifamily property owners and other HUD fund recipients who violate laws and regulations. Congress approves Public Housing reforms to reduce segregation by race and income, encourage and reward work, bring more working families into public housing, and increase the availability of subsidized housing for very poor families.
Home ownership
In 2000 America's home-ownership rate reached a new record-high of 67.7 percent in the third quarter of 2000. A total of 71.6 million American families own their homes – more than at any time in American history. (next Fair Housing, see July 19, 2013)
October 28 Peace Love Art Activism
CLINTON IMPEACHMENT
October 28, 1998: in the final week of the 1998 campaign, Republicans shift gears and begin pummeling the Democrats in TV ads about Bill Clinton's affair with Monica Lewinsky. (see Clinton for expanded story)
October 28 Peace Love Art Activism
Women's Health
October 28, 2013: federal Judge Lee Yeakel of the US District Court in Austin blocked an important part of the state's restrictive new abortion law, which would have required doctors performing the procedure to have admitting privileges at a nearby hospital. The decision, one day before the provision was to take effect, prevented a major disruption of the abortion clinics in Texas. It was a victory for abortion rights groups and clinics that said the measure served no medical purpose and could force as many as one-third of the state's 36 abortion clinics to close.
But the court did not strike down a second measure, requiring doctors to use a particular drug protocol in nonsurgical, medication-induced abortions that doctors called outdated and too restrictive.
The decision is widely expected to be appealed to higher courts. Yeakel declared that "the act's admitting-privileges provision is without a rational basis and places a substantial obstacle in the path of a woman seeking an abortion of a nonviable fetus." (NYT article) (BC, see Oct 31; Texas, see June 27, 2016)
October 28 Peace Love Art Activism
Trump Impeachment Inquiry
October 28, 2019: despite a subpoena, Charles M. Kupperman, the former deputy national security adviser and one of Mr. Trump's "closest confidential" advisers, did not appear to testify. He had notified lawmakers through his lawyer that he would not appear to testify. Kupperman's lawyer, Charles J. Cooper,  said that he was following orders from Trump.
"It is President Trump, and every president before him for at least the last half century, who have asserted testimonial immunity for their closest confidential advisers," Cooper, wrote. [NYT article] (see TII for expanded chronology)
October 28 Peace Love Art Activism
SEPARATION OF CHURCH AND STATE
October 28, 2020: a football player's concerned parent had informed the Missouri state/church watchdog that Joey Ballard, head coach for Jasper High School's boys football team (Jasper Missouri), regularly led team prayer. On October 6, the Freedom From Religion Foundation informed the district of the practice.
On this date, the FFRF reported the district's response: "In response to your letter dated Oct. 6, 2020, we write to advise you about the actions the district took in response to your initial correspondence indicating that a coach of the Jasper R-V School District was leading students prayer," the district's legal counsel stated. "In response to your complaint, the district conducted an investigation into the matter. We are unable to share the results of that investigation with you, as it involves confidential personnel information. However, we can tell you that employees of the district were reminded of the district's board policy regarding religion at school and were also instructed not to lead students in, or promote, prayer. This matter has therefore been resolved." (next Separation, see November 17, 2021)
October 28 Peace Love Art Activism
Voting Rights
October 28, 2020: the Supreme Court let election officials in Pennsylvania and North Carolina accept absentee ballots for several days after Election Day.
In the Pennsylvania case, the court refused a plea from Republicans in the state that it decide before Election Day whether election officials can continue receiving absentee ballots for three days after Nov. 3.
In the North Carolina case, the court let stand lower court rulings that allowed the state's board of elections to extend the deadline to nine days after Election Day, up from the three days called for by the state legislature.
The court's brief orders in the two cases were unsigned. The Pennsylvania order appeared to be unanimous, while the North Carolina one was issued over three noted dissents.
Justice Amy Coney Barrett, who had just joined the court the day before, did not take part in either case. [NYT article] (next VR, see March 7, 2021)
October 28 Peace Love Art Activism
DEATH PENALTY
October 28, 2021: Oklahoma executed John Marion Grant, 60, for the 1998 slaying of a prison cafeteria worker, ending a six-year execution moratorium brought on by concerns over its execution methods,
Prison officials strapped Grant to a gurney inside the execution chamber. He began convulsing and vomiting after they administered the first drug, the sedative midazolam. Several minutes later, two members of the execution team wiped the vomit from his face and neck.
Before the curtain was raised to allow witnesses to see into the execution chamber, Grant could be heard yelling, "Let's go! Let's go! Let's go!" He delivered a stream of profanities before the lethal injection started. He was declared unconscious about 15 minutes after the first of three drugs was administered and declared dead about six minutes after that, at 4:21 p.m.
Someone vomiting while being executed is rare, according to observers.  [AP article] (next DP, see Nov 18)
October 28 Peace Love Art Activism