August 12 Peace Love Activism
Native Americans
August 12, 1676: in early 1676, the Narragansett were defeated and their chief killed, while the Wampanoag and their other allies were gradually subdued. King Philip's wife and son were captured, and on August 12, 1676, after his secret headquarters in Mount Hope, Rhode Island, was discovered, Philip was assassinated by a Native American in the service of the English. The English drew and quartered Philip's body and publicly displayed his head on a stake in Plymouth. (see January 1, 1698)
FEMINISM
Voting Rights
August 12, 1918: thirty-eight women, representing the National Woman's party, were arrested when they attempted to hold a meeting in Lafayette Square in protest against the Senate's delay in passing the suffrage amendment. After being released they returned to the square and were re-arrested. Several women were injured by the police. Lucy Burns was among the 38. (see Aug 14)
FREE SPEECH
Joint Committee for the Promotion and Protection of Art and Literature
August 12, 1922: a coalition of groups representing actors, authors, motion picture producers, screen writers, printers, and others on this day announced a "war on censorship" in the arts. The group, calling itself the Joint Committee for the Promotion and Protection of Art and Literature, singled out the Society for the Suppression of Vice as the lead instrument of censorship. (see June 8, 1925)
Island Trees v. Pico
August 12, 1982: two months after the Island Trees v. Pico  decision (see June 25), the school board of the Island Trees Union Free School District, on Long Island, New York, returned to its school libraries books that it had previously banned. The returned books included such novels as Bernard Malamud's The Fixer and Kurt Vonnegut's Slaughterhouse Five. Critics had labelled the books "anti-American," "anti-Christian," "anti-Semitic," and "just plain filthy." (see April 20, 1983)
Cold War
Nuclear/Chemical News
August 12, 1953:  less than one year after the US tested its first hydrogen bomb, the Soviets detonated a 400-kiloton device in Kazakhstan. The explosive power was 30 times that of the U.S. atomic bomb dropped on Hiroshima, and the mushroom cloud produced by it stretched five miles into the sky. Known as the "Layer Cake," the bomb was fueled by layers of uranium and lithium deuteride, a hydrogen isotope. The Soviet bomb was smaller and more portable than the American hydrogen bomb, so its development once again upped the ante in the dangerous nuclear arms race between the Cold War  superpowers. (Cold War, see Sept 7; NN, see Oct 30)
 
Berlin Wall
August 12, 1961: in an effort to stem the tide of refugees attempting to leave East Berlin, the communist government of East Germany began building the Berlin Wall to divide East and West Berlin. (see Sept 15)
 
Space Race
August 12, 1960: NASA launched Echo 1A,  the first successful communications satellite. Echo 1A was a passive communications reflector to relay transcontinental and intercontinental telephone, radio, and television signals between points on Earth. A few hours after its launch, Echo 1A relayed its first message, reflecting a radio signal from California to Bell Labs in New Jersey. The message was an address from US President Eisenhower in which he said, "The satellite balloon, which has reflected these words, may be used freely by any nation for similar experiments in its own interest." NYT article (see January 31, 1961)
August 12 Music et al
Beatles record sales
August 12, 1964: Variety magazine reported that by August 1964, the Beatles had sold approximately 80 million records globally. (see Aug 19)
Beatles final tour
August 12, 1966:  The Beatles began their 14-date final tour with a concert at Chicago's International Amphitheater, a venue they had previously played in September 1964. They played two shows, at 3pm and 7.30pm, each of which was seen by 13,000 people. Support acts for the entire tour were The Remains, Bobby Hebb, The Cyrkle and The Ronettes. The Beatles' standard set throughout the tour consisted of 11 songs: Rock And Roll Music, She's A Woman, If I Needed Someone, Day Tripper, Baby's In Black, I Feel Fine, Yesterday, I Wanna Be Your Man, Nowhere Man, Paperback Writer and I'm Down. During the tour they occasionally substituted the final song with Long Tall Sally. (see Aug 13)
 
August 12, 1967: Big Brother and the Holding Company released first album.  Janis Joplin age 23. (see Aug 16)
The [bumpy] Road to Bethel
Tuesday 12 August 1969 
festival representatives meet with the state supreme court justice regarding complaints by local businesses about the festival's impact on them. After reassurances and explainations all complaints were dropped.
the Food For Love concession area remained unfinished. (see August 13)
Janis Joplin
August 12, 1970, Janis Joplin performed at Cambridge's Harvard Stadium. It was her final live performance. According to an article on Harvard.edu about one of the photographers at the show, only about 10,000 people were allowed inside the stadium but the crowd of people that gathered around the stadium to get a glimpse of the show reached as high as about 40,000. Many fans even climbed the walls of the stadium to get inside!

Here is a link to an article about the concert with "newly found photos."

Janis's show was part of The City of Boston's "Summer Thing" Arts Festival. The Shaeffer Brewing Company jointly sponsored the series of 18 concerts at Harvard Stadium.
June 29

BB King
Paul Butterfield Blues Band
James Cotton Blues Band

July 1

Mott the Hoople
Ten Years After

July 6
July 8

Miles Davis
Buddy Miles
Seatrain

July 13

John Hammond
Grateful Dead

July 15

Voices of East Harlem
Ike  and Tina Turner

July 20

John Sebastian
Delaney and Bonnie and Friends
Manhattan 

July 22

Van Morrison
Great Speckled Bird w Ian and Sylvia
Tom Paxton

July 27

Rahsaan Roland Kirk
Ramsey Lewis
Carla Thomas
Lean thomas
Percy Mayfield

July 29
August 3
August 10
August 12
August 17
BLACK HISTORY
Vietnam
August 12, 1965: Martin Luther King delivered a speech in Birmingham, Alabama, opposing the Vietnam War. Many other civil rights leaders, along with many Democrats, criticized him because they felt his opposition to the war would split the civil rights movement and alienate President Lyndon Johnson and other leading Democrats. King resisted pressure to drop his opposition to the war, however. The Vietnam War already divided the Democratic Party, and the entire nation, regardless of King's position. (BH, see Aug 13; Vietnam, see Aug 17; MLK, see June 7, 1966)
Murders of Civil Rights Workers Chaney, Goodman, and Schwerner
August 12, 2005: Judge Marcus Gordon of Circuit Court granted bail to Edgar Ray Killen pending an appeal. The release raised the possibility that Killen, 80 and in poor health, wouldl die a free man after serving barely six weeks of his sentence. Gordon said he he had little choice but to set bond while Mr. Killen appealed his conviction since the state had not proved that Mr. Killen, who uses a wheelchair, was a flight risk or threat. (BH, see Aug 25; Murders, see Sept 9)
August 12 Peace Love Activism
Technological Milestone
August 12, 1981: IBM introduced the PC personal computer for a $1,600 base price. It shortly eliminated most other machines suitable for home or small business. IBM developed the PC in less than a year at its Boca Raton Florida facility by using existing off-the-shelf components. The IBM-PC established the dominance of the Microsoft operating system. Data storage choices included 5.25" floppy drives, cassette tape, and later hard disks. (see Dec 28)
 
IRAQ
Iraq/Iran War
August 12, 1982: under a strong Iranian counterattack, Saddam Hussein offered to withdraw from Iran in order to end the conflict. (see February 7, 1983)
IRAQ War I
August 12, 1990: Naval blockade of Iraq began. (see Sept 11)
US Labor History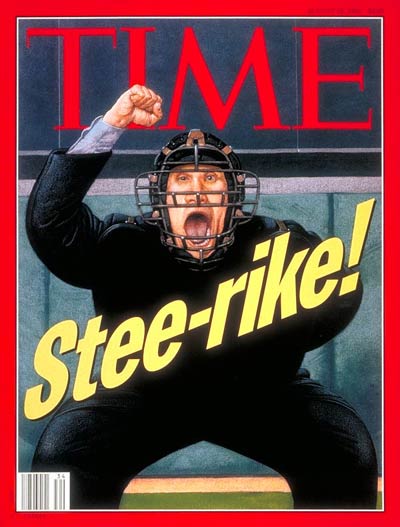 August 12, 1994: major league baseball players strike, leading to the cancellation of the 1994 postseason and the World Series. (see April 2, 1995)
Stop and Frisk Policy
Fourth Amendment
August 12, 2013: federal judge Judge Shira A Scheindlin ruled that the stop-and-frisk tactics of the NYC Police Department violated the constitutional rights of minorities in the city. Scheindlin found that the Police Department resorted to a "policy of indirect racial profiling" as it increased the number of stops in minority communities. That has led to officers' routinely stopping "blacks and Hispanics who would not have been stopped if they were white."

The judge called for a federal monitor to oversee broad reforms, including the use of body-worn cameras for some patrol officers, though she was "not ordering an end to the practice of stop-and-frisk."
In her 195-page decision, Judge Scheindlin concluded that the stops, which soared in number over the last decade as crime continued to decline, demonstrated a widespread disregard for the Fourth Amendment, which protects against unreasonable searches and seizures by the government, as well as the 14th Amendment's equal protection clause. (see Sept 17)
LGBTQ
August 12, 2015: U.S. District Judge David Bunning ordered Kentucky Rowan County Clerk Kim Davis to issue marriage licenses to same-sex couples. Davis's lawyer said she will not, despite the order. Davis was one of a handful of local elected officials across the country that stopped issuing all marriage licenses after the U.S. Supreme Court legalized same-sex marriage nationwide in June. Two gay couples and two straight couples sued her in federal court in the first lawsuit of its kind in the country.

County clerks issue marriage licenses in Kentucky, but someone else must "solemnize" the marriage before the license can be filed with the county clerk. Davis argued that issuing a marriage license to a same-sex couple that contains her signature is the same as her approving the marriage, which she said violates her Christian beliefs, but Bunning rejected that argument, saying Davis has likely violated the U.S. Constitution's ban on the government establishing a religion by "openly adopting a policy that promotes her own religious convictions at the expenses of others."

"Davis remains free to practice her Apostolic Christian beliefs. She may continue to attend church twice a week, participate in Bible Study and minister to female inmates at the Rowan County Jail. She is even free to believe that marriage is a union between one man and one woman, as many Americans do," Bunning wrote. "However, her religious convictions cannot excuse her from performing the duties that she took an oath to perform as Rowan County Clerk." (LGBTQ, see Aug 17; Davis, see Aug 26)
August 12 Peace Love Activism,  August 12 Peace Love Activism,  August 12 Peace Love Activism,  August 12 Peace Love Activism,  August 12 Peace Love Activism,  August 12 Peace Love Activism,  August 12 Peace Love Activism,  August 12 Peace Love Activism,  August 12 Peace Love Activism,  August 12 Peace Love Activism,  August 12 Peace Love Activism,  August 12 Peace Love Activism,  August 12 Peace Love Activism,  August 12 Peace Love Activism,  August 12 Peace Love Activism,  August 12 Peace Love Activism,  August 12 Peace Love Activism,  August 12 Peace Love Activism,  
Please follow and like us: