June 18 Peace Love Activism
Native Americans
"Long Walk" home
June 18, 1868: the once-scattered bands of Navajo people who called themselves Diné, set off together on the return journey, the "Long Walk" home. This was one of the few instances where the U.S. government relocated a tribe to their traditional boundaries. The Navajos were granted 3.5 million acres of land inside their four sacred mountains. (see March 3, 1871)
Indian Reorganization Act
June 18, 1934: The Indian Reorganization Act, sometimes known as the Indian New Deal, secured certain rights to Native Americans (known in law as American Indians or Indians), including Alaska Natives. These rights include actions that contributed to the reversal of the Dawes Act's privatization of communal holdings of American Indian tribes and a return to local self-government on a tribal basis. The Act also restored to Indians the management of their assets (being mainly land) and included provisions intended to create a sound economic foundation for the inhabitants of Indian reservations. (see "in World War II")
Wounded Knee II trial
June 18, 1974:  after five months, the Government had still not gotten to the core if its case: that Dennis J Banks and Russell C Means led 30 Indians to seize and destroy Wounded Knee. (see Sept 17)
Pine Ridge Indian Reservation
June 18, 2012: Brendan Johnson, the US attorney for South Dakota said that prosecutors would re-examine the circumstances surrounding dozens of deaths that occurred on or near the Pine Ridge Indian Reservation, many dating back to the 1970s when the reservation was embroiled in political violence. (see Native Americans, Oct 8, 2012)
Washington Redskins trademark
June 18, 2014: the U.S. Patent and Trademark Office cancelled six Washington Redskins trademarks, ruling that the polarizing moniker was "disparaging to Native Americans." The decision did not require the team to change its name, but came at a time of increased pressure on the team to do so.

                "We decide, based on the evidence properly before us, that these registrations must be cancelled because they were disparaging to Native Americans at the respective times they were registered," the Trademark Trial and Appeal Board wrote in its opinion. (see Sept 24)
BLACK HISTORY
Murray v. Pearson
June 18, 1935: NAACP lawyers Thurgood Marshall and Charles Hamilton Houston successfully argued the landmark case in Maryland that opened admissions to the University of Maryland School of Law on the basis of equal protection under the Fourteenth Amendment. (BH, see February 14, 1936)
Executive Order 8802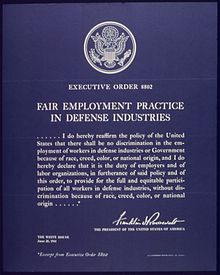 June 18, 1941: civil rights leader A. Philip Randolph called off a march after a dramatic confrontation with President Franklin Roosevelt in the White House during which Roosevelt agreed to issue Executive Order 8802, prohibiting racial discrimination in government defense factories. (see June 25)
Muhammad Ali
June 18, 1963: in his first foreign professional bout, Cassius Clay defeated British heavyweight champion Henry Cooper before fifty-five thousand fans in London. Cooper suffers a cut above his left eye, making this one of the bloodiest fights in Clay's young career. Although knocked down in the fourth round,  the fight was stopped in the fifth round just as Clay had predicted to reporters before the fight,  (Black History, see June 19; Ali, see January 24, 1964)
Monson Motor Lodge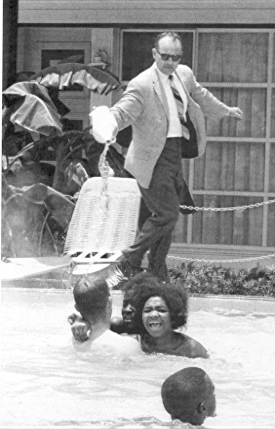 June 18, 1964: shouting "I'm cleaning the pool!", James Brock -- owner of the Monson Motor Lodge in St. Augustine, Florida -- poured muriatic (hydrochloric) acid near several people taking part in an effort to integrate the hotel's pool. (The muriatic acid, a cleaning agent used on concrete, was not strong enough to cause any injuries to the demonstrators.) (see June 19)
Human Rights
June 18, 1948: the United Nations Commission on Human Rights adopted the International Declaration of Human Rights.
June 18 Music et al
Yeh-Heh-Heh-Heh, Baby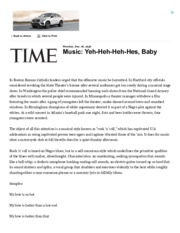 June 18, 1956: in a Time magazine article entitled, Yeh-Heh-Heh-Hes, Baby, the author describes Rock and Roll music as "...based on Negro blues, but in a self-conscious style which underlines the primitive qualities of the blues with malice, aforethought. Characteristics: an unrelenting, socking syncopation that sounds like a bull whip; a choleric saxophone honking mating-call sounds; an electric guitar turned up so loud that its sound shatters and splits; a vocal group that shudders and exercises violently to the beat while roughly chanting either a near-nonsense phrase or a moronic lyric in hillbilly idiom." The article also mentioned several US cities that had tried to limit or eliminate rock and roll concerts. (see June 30)
The (bumpy) Road to Bethel
June 18, 1969: Samuel W Eager, a Middletown lawyer who had agreed to represent Woodstock Ventures (WV thinking a local lawyer would be better received than a NYC one), called Jack Scholsser (Wallkill Town Supervisor) and requested  an informal meeting between the members of the town board and the four Woodstock officers. It is set for June 19. (see June 19)
'A Day In The Life'
June 18, 2010, The Beatles post break-up: John Lennon's handwritten lyrics to The Beatles song 'A Day In The Life' sold for $1.2m at an auction at Sotheby's in New York. The double-sided sheet of paper with notes written in felt marker and blue ink also contained some corrections and other notes penned in red ink. (see Sept 7)
"Same Love"
June 18, 2012: Ben Haggerty, better known by his stage name Macklemore, released "Same Love" in support of same sex marriage. ("Same Love," see November 30; LGBTQ, see July 17)

 
Weather Underground
June 18 – 22, 1969:   Students for a Democratic Society SDS National Convention held in Chicago, Illinois. Publication of "Weatherman" founding statement. Members seized control of SDS National Office. (Vietnam, see June 27; WU, see Oct 5; FS, see Oct 31)
June 18 Peace Love Activism
June 18, 1971: The Washington Post published excerpts of the Pentagon Papers but is immediately enjoined from publishing additional excerpts. Eventually, 17 other papers will publish portions of the report. (DE/PP, see June 28)
LGBTQ
President Jimmy Carter
June 18, 1977: in a long interview in which he planned to highlight his family-friendly policies, President Jimmy Carter suggested that same-sex relationships were "not normal." The issue came up in response to a question about allowing same-sex couples to adopt children. The comment alienated Carter's lesbian and gay supporters. (see June 21)
Nuclear/Chemical News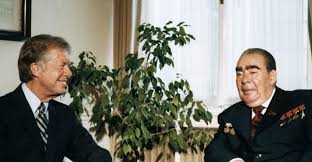 June 18, 1979: the United States and Soviet Union signed the SALT II nuclear arms limitation treaty. The treaty was part of a series of nuclear arms reduction treaties signed between the U.S. and U.S.S.R. SALT II was preceded by SALT I and followed by the Strategic Arms Reduction Treaty (START) and START II. (NN, see Oct 1; CW, see January 2, 1980)
Feminism
Dr. Sally Ride
June 18, 1983: the space shuttle Challenger launched on its second mission. Aboard the shuttle was Dr. Sally Ride, who as a mission specialist became the first American woman to travel into space. During the six-day mission, Ride, an astrophysicist from Stanford University, operated the shuttle's robot arm, which she had helped design. (see Aug 29)
Bishop Katharine Jefferts Schori
June 18, 2006: Bishop Katharine Jefferts Schori was elected the first female presiding bishop for the Episcopal Church, the U.S. arm of the global Anglican Communion. (see Nov 6)
Religion and Public Education
June 18, 1993: the US Supreme Court ruled in Zobrest v. Catalina Foothills School District that the district may provide a sign language interpreter for a deaf child attending a Catholic high school without violating the establishment clause of the First Amendment. (see June 23, 1997)
IRAQ
June 18, 1993: Iraq refused to allow UNSCOM weapons inspectors to install remote-controlled monitoring cameras at 2 missile engine test stands. (see June 29)
Sexual Abuse of Children
June 18, 2003:  following controversial remarks in which he said some church officials were being as secretive as members of the Mafia, former Oklahoma Gov. Charles Keating said he'll resign as head of the church's national panel on sex abuse. Los Angeles Cardinal Roger Mahony, whom Keating accused of listening "too much to his lawyer and not enough to his heart" in dealing with the panel's investigation, called Keating's comments "the last straw." (see July 23)
Women's Health
July 18, 2005: Eric Rudolph was sentenced to two consecutive life terms without parole for the January 29, 1998 murder of a police officer. (see January 31, 2006)
STAND YOUR GROUND LAW
June 18, 2013: Circuit Judge J. David Walsh sentenced Paul Miller, who shot a neighbor to death during an argument over barking dogs, to life in prison. (SYG, see July 19; Paul Miller, see Aug 8)
Student Rights
June 18, 2015: Texas Gov. Greg Abbott signed into law a measure to decriminalize unexcused absences and require school districts to implement preventive measures, The law that had sent about 100,000 students a year to adult criminal court for missing school. The new law would effect Sept. 1.  (see Aug 17)
Environmental Issues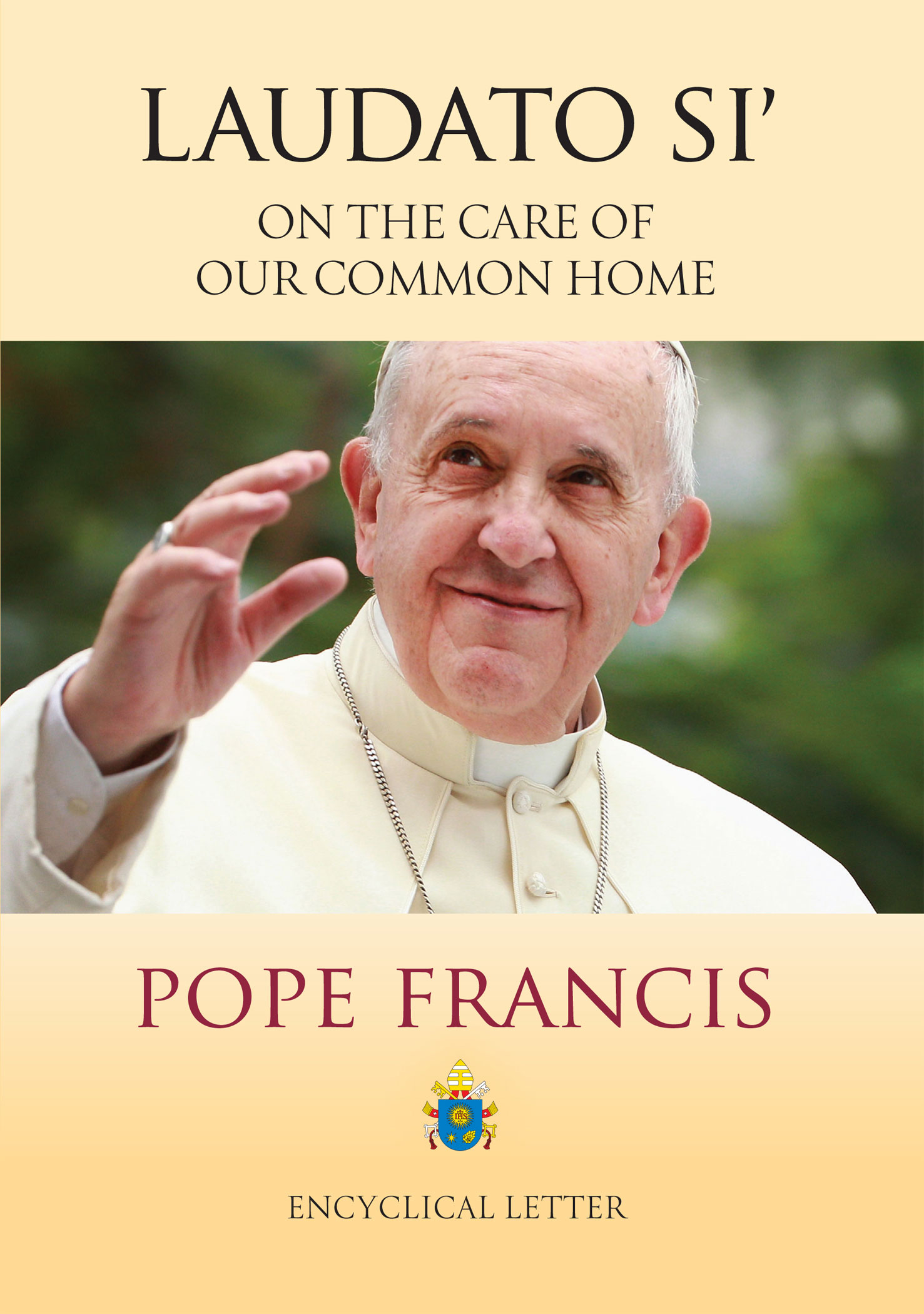 June 18, 2015: Pope Francis called for a radical transformation of politics, economics and individual lifestyles to confront environmental degradation and climate change. His papal encyclical blended a biting critique of consumerism and irresponsible development with a plea for swift and unified global action.

                Francis's 184-page encyclical described a relentless exploitation and destruction of the environment, for which he blamed apathy, the reckless pursuit of profits, excessive faith in technology and political shortsightedness. The most vulnerable victims are the world's poorest people, he declared, who are being dislocated and disregarded. (see June 22)
June 18, 2015 US Supreme Court
Two FREE SPEECH decisions
In Walker v. Texas Division, Sons of Confederate Veterans, Inc., the Supreme Court ruled that Texas can prohibit vanity license plates containing an image of the Confederate battle flag. Texas excluded the group Sons of Confederate Veterans from its vanity plate program in 2011, saying "a significant portion of the public associates the Confederate flag with organizations advocating expressions of hate directed toward people or groups that is demeaning to those people or groups."
The Sons of Confederate Veterans sued, contending the state violated the group's free speech rights. The Supreme Court took the case to clarify ways to distinguish government speech from private speech. Texas argued that the license plate was government speech. The Sons of Confederate Veterans contended license plates are private speech by motorists, and the state has no business  meddling in the message. (see following)
The Supreme Court unanimously ruled that an Arizona town had violated the First Amendment by placing limits on the size of signs announcing church services.
 The case, Reed v. Town of Gilbert, No. 13-502, concerned an ordinance in Gilbert, Ariz., that has differing restrictions on political, ideological and  directional signs. It was challenged by a church and its pastor.
All of the justices agreed that the distinctions drawn by the ordinance were impermissible. But they divided 6 to 3 on the rationale, with the majority  saying that all content-based laws require the most exacting form of judicial review, strict scrutiny, one that is exceptionally hard to satisfy.
   "Content-based laws — those that target speech based on its communicative content — are presumptively unconstitutional and may be justified  only if the government proves that they are narrowly tailored to serve compelling state interests," Justice Clarence Thomas wrote for the majority. (see   Aug 11
Judicial Milestone decision
In Ohio v. Clark, the U.S. Supreme Court ruled unanimously that Cleveland prosecutors acted constitutionally when they relied on what an abused child told his teachers to convict a man of felonious assault. The justices overturned a decision last year by the Ohio Supreme Court in which the state justices threw out the conviction of Darius Clark because he was not given the right to confront his accuser. Because the child was so young, he was not deemed competent to testify at the trial, forcing prosecutors to rely on what he told his preschool teachers about the abuse.
   Writing for the court, Justice Samuel Alito ruled that "we have never suggested" that the Constitution "bars the introduction of all out-of-court  statements that support the prosecution's case." Alito wrote when the child told the teachers about his injuries, it was not "for the primary purpose of assisting in Clark's prosecution" and could be admitted as evidence at trial. Under the Sixth Amendment to the U.S. Constitution, a defendant has the  right to confront the witnesses testifying against him or her.
Death penalty decision
In Brumfield v. Cain the US Supreme Court rule 5 – 4 that there was sufficient evidence that a death-row inmate in Louisiana could show he was impaired by an intellectual disability that he was entitled to have his claims under Atkins v. Virginia (which bars the execution of inmates with a mental disability)
 Kevin Brumfield was convicted in 1995 of murdering off-duty Baton Rouge police officer Betty Smothers during an attempted bank robbery. He   remained on death row until the appeals court decided if the judge who held the hearing was correct to find that Brumfield was ineligible for the death penalty. (see June 29)
Marijuana
June 18, 2015: Delaware became the 20th state to decriminalize the possession of small amounts of marijuana. Gov. Jack Markell (D) signed House Bill 39 into law not long after the state Senate approved the bill 12-9. No state Republican senators voted in favor of the bill and no Republicans supported it when it passed the House.The measure, introduced by state Rep. Helene Keeley (D) in the House and sponsored by Judiciary Committee Chair Margaret Rose Henry (D) in the Senate, removed criminal penalties for an adult in possession of up to one ounce of marijuana for personal use. Marijuana possession would be a civil offense punishable by $100 fine. Sales remain banned. (see July 1)
June 18 Peace Love Activism, June 18 Peace Love Activism, June 18 Peace Love Activism, June 18 Peace Love Activism, June 18 Peace Love Activism, June 18 Peace Love Activism, June 18 Peace Love Activism, June 18 Peace Love Activism, June 18 Peace Love Activism, June 18 Peace Love Activism, June 18 Peace Love Activism, June 18 Peace Love Activism, June 18 Peace Love Activism, June 18 Peace Love Activism, June 18 Peace Love Activism, 
Please follow and like us: