June 19 Music et al
Pat Boone
June 19 – 25, 1961, "Moody River" by Pat Boone #1 Billboard Hot 100. From Wikipedia: It was written by and originally performed by country rockabilly singer Chase Webster (real name Gary Daniel Bruce, not to be confused with Gary Bruce of the Knack). Webster was a label-mate of Boone's at Dot Records.
This was the title track from one of Boone's better-selling albums. Boone sang this song as if he were in pain. It was covered some years later by Johnny Burnette in 1962, also Frank Sinatra and Johnny Rivers. In August 2009, John Fogerty covered the song in the album entitled The Blue Ridge Rangers Rides Again."
June 19 Music et al
Four Tops
June 19 – 25, 1965: "I Can't Help Myself (Sugar Pie, Honey Bunch)" by the Four Tops #1 on the Billboard Hot 100. From Wikipedia: Written and produced by Motown's main production team Holland–Dozier–Holland, the song is one of the most well-known Motown tunes of the 1960s. The song reached number one on the R&B charts and was also the number-one song on the Billboard Hot 100 for two non-consecutive weeks, from June 12 to June 19 and from June 26 to July 3 in 1965. It replaced "Back in My Arms Again" by label-mates The Supremes, was first replaced by "Mr. Tambourine Man" by The Byrds, then regained the top spot before being replaced by "(I Can't Get No) Satisfaction" by The Rolling Stones.
June 19 Music et al
"(Sitting On) The Dock of the Bay"
June 19, 1967: during his stay in California on a houseboat in Sausalito, while listening to the Beatles' Sgt Pepper Lonely Hearts Club Band, Otis Redding was inspired to compose "Sitting On the Dock of the Bay." From Performing Songwriter site: While on the West Coast for an engagement at the Fillmore in June 1967, Redding and his road manager "Speedo" Sims escaped for a few days of R&R on a rented houseboat near Sausalito.
In that idyllic setting, Redding relaxed, gently strumming his acoustic guitar and singing two lines over and over:
Sittin' in the morning sun I'll be sittin' when the evening comes
Sims recalled, "We must have been out there three or four days before I could get any concept as to where he was going with the song. I just didn't understand it. And lyrically, it sounded weird. He was changing with the times. And I was looking at the times change." (see June 25)
June 19 Music et al
The [Bumpy] Road to Bethel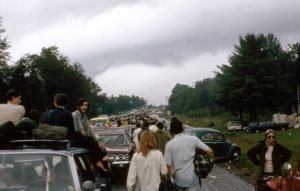 Michael Lang, Artie Kornfeld, and Joel Rosenman meet with Abbie Hoffman. Hoffman demanded $50,000. They agree to $10,000. 

Stanley Goldstein was served with a summons ordering the festival's principals to appear before the State Supreme court in Goshen, NY on July 7.

At the informal meeting the Wallkill town board lays out its three concerns: 1. traffic control,   2. sanitation, and 3. water supply. (see Chronology for expanded story)
June 19 Music et al