January 28 Peace Love Activism
US Labor History
American Miners' Association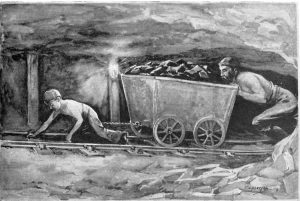 ---
January 28, 1861: American Miners' Association formed.  (see June 17, 1864)
---
Yablonski murders
January 28, 1977: the Supreme Court of Pennsylvania overturned Tony Boyle's conviction in the Yablonski murders and ordered that he be given a new trial. The court found that the trial judge had improperly refused to allow a government auditor to testify. Boyle's attorneys said that the auditor's testimony could have exonerated Boyle. (see Sept 15)
Feminism
Julia Ward Howe
---
January 28, 1908: author and activist Julia Ward Howe, famous for her composition, "The Battle Hymn of the Republic," became the first woman elected to the American Academy of Arts and Letters. (see Feb 24)
---
Women's Action Coalition
---
January 28, 1992: motivated largely by frustration over the recent confirmation of Clarence Thomas as a Supreme Court Justice, a group of New York City women formed the Women's Action Coalition (WAC), a direct-action organization devoted to the support of women's rights. Although the group officially disbanded in 1994, they continued to gather informally for various actions. (see Apr 5)
---
January 28 Peace Love Activism
BLACK HISTORY
Robert Johnson
---
January 28,1934: police arrested Robert Johnson, a 40-year-old black man, in Tampa, Florida, and accused him of raping and robbing a white woman. The subsequent investigation quickly cleared Johnson of the charges, but nonetheless issued a warrant accusing him of stealing chickens and turkeys. As a result, Johnson was not released, bud did have to be transferred from the city jail to the county jail. On January 30 Deputy Constable Thomas Grave, assigned to move  Robert Johnson, will decide to do the transfer so after midnight; this was not standard procedure, and Grave later claimed he opted for a late night transfer to avoid waking up early in the morning. Around 2:30 a.m. on January 30th, Graves placed Johnson in the front seat of the police car and began driving to the county jail; on the way, Graves's vehicle was stopped by three cars full of white men who allegedly disarmed Graves and made him lie face down in the backseat of his car while they kidnapped Robert Johnson.
---
The mob carried Johnson off to a wooded part of town along the Hillsborough River near Sligh Avenue, where about thirty people were gathered to watch the lynching. Johnson was killed with four shots to the head and one to the body, all fired from the pistol the mob had taken from Deputy Constable Graves.
---
Governor David Sholtz called for an investigation of the lynching and a grand jury was convened. Though Deputy Constable Graves testified that he was beaten by the mob, the grand jury noted that he bore no bruises or other signs of injury. Nevertheless, the grand jury's investigation did not produce any charges of conspiracy and no one was prosecuted for Robert Johnson's murder. (see Jan 30)
SOUTH AFRICA/APARTHEID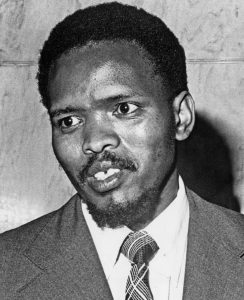 ---
January 28, 1997: four apartheid-era police officers, appearing before the Truth and Reconciliation Commission, admit to the 1977 killing of Stephen Biko, a leader of the South African "Black consciousness" movement. (see June 16, 1999)
Clarence H. Graham
---
January 28, 2015: Clarence H. Graham was known by many titles in his hometown: Honor student. Vietnam veteran. Social worker. Father. And criminal, for an act that is now considered heroic. On this date the State of South Carolina officially vacated the misdemeanor conviction that it had secured more than a half-century earlier against Mr. Graham and other black civil rights protesters who were dragged by the police from a segregated lunch counter, convicted of trespassing and sentenced to 30 days' labor in a county prison camp. (see Feb 10)
January 28 Music et al
Fear of Rock
---
January 28, 1944: 500 teenagers at a public forum mocked the idea that boogie-woogie music caused delinquency. Symphony conductor Arthur Rodzinsky had warned about the bad influence of boogie-woogie. The forum was one of a series of planned forums organized by The New York Times. The teenagers also discussed delinquency, mixed marriages and war work.  (see May 8, 1954)
Roots of Rock
---
January 28, 1956: Elvis Presley made his first appearance on national television on "The Dorsey Brothers Stage Show" on CBS. (see Apr 3)
---
Jimi Hendrix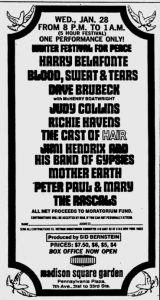 ---
January 28, 1970, Winter Festival for Peace held in Madison Square Garden. Among the artists involved were: Blood Sweat and Tears, Peter Paul and Mary, Jimi Hendrix (only sang two songs and ambled off), Richie Havens, Harry Belefonte, Voices of East Harlem, the Rascals, Dave Brubeck, Paul Desmond, Judy Collins, cast of Hair. The show ended at 4 AM. Richie Haven's commented, "Since man has been on earth, peace has never really been here. If we can do it now, it'll be a first."  (article from jimihendrix dot come) (see Mar 25)
We Are the World
---
January 28, 1985 – "We Are the World" recorded by the super group USA for Africa. It was written by Michael Jackson and Lionel Richie.
---
Clarence Earl Gideon
January 28, 1964: the publication of Gideon's Trumpet by Anthony Lewis. The book provided history of Gideon's landmark case (see April 30, 1980)
January 28 Peace Love Activism
Women's Health
---
January 28, 1965, from an AP report:  "An $8,500 federal grant for birth control — including the distribution of oral contraceptive pills — has been approved for the South Texas Planned Parenthood Clinic of Corpus Christi. It is believed the funds, given as a part of the Johnson administration's war on poverty, are the first authorized for such a clinic not under the direction of a state welfare agency. The $8,500 is part of a $295,200 package for the Corpus Christi area from the Office of Economic Opportunity. The bulk of the money will go for other health, education and welfare measures." (see June 7)
Vietnam
---
January 28, 1973: a cease-fire officially went into effect in the Vietnam War. (see Feb 5)
January 28 Peace Love Activism
Iran hostage crisis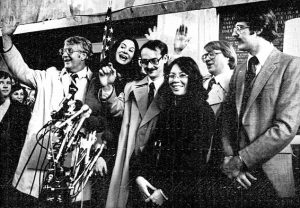 ---
January 28, 1980: six United States diplomats, posing as Canadians, managed to escape from Tehran, Iran as they board a flight to Zürich, Switzerland. (see Apr 7)
LGBTQ
Gays in the military
---
January 28, 1982: the US Department of Defense created a new policy to ban homosexuals from the military: "Homosexuality is incompatible with military service. The presence in the military environment of persons who engage In homosexual conduct or who, by their statements, demonstrate a propensity to engage in homosexual conduct, seriously impairs the accomplishment of the military mission. The presence of such members adversely affects the ability of the Military Services to maintain discipline, good order, and morale; to foster mutual trust and confidence among service members, to ensure the integrity of the system of rank and command; to facilitate assignment and worldwide deployment of service members who frequently must live and work under close conditions affording minimal privacy: to recruit and retain members of the Military Services; to maintain the public acceptability of military service; and to prevent breaches of security."  (see March 2,  1982)
---
Gays in the Boy Scouts
January 28, 2013: news leaked out that the Boy Scouts of America might eliminate its ban on gay scouts and leaders. "The Boy Scouts would not, under any circumstances, dictate a position to units, members, or parents," said Deron Smith, a spokesman for the Boy Scouts of America. "This would mean there would no longer be any national policy regarding sexual orientation, and the chartered organizations that oversee and deliver Scouting would accept membership and select leaders consistent with each organization's mission, principles, or religious beliefs." If approved as proposed, LGBTQ Scout policy would become a local decision.   (LGBTQ, see Feb 6; BSA, see Feb 6)
January 28 Peace Love Activism
Challenger
---
January 28, 1986, space shuttle Challenger exploded 73 seconds after liftoff from Cape Canaveral, killing all seven crew members. (NYT article)
---
January 28, 199: in a party-line vote, the Senate OKed a Republican plan for the impeachment trial's deposition phase, and sets February 12 as a target date for the trial's end. 
AIDS
---
January 28, 2003: President George W. Bush announced the creation of the US President's Emergency Plan for AIDS Relief (PEPFAR) in his State of the Union address. PEPFAR was a $15 billion, 5-year plan to combat AIDS, primarily in countries with a high burden of infections. (see June 5, 2006)
January 28 Peace Love Activism
IRAQ
---
January 28, 2003: President George W. Bush said in his State of the Union address that Iraqi leader Saddam Hussein had sought uranium from Africa. (The claim was later disputed by former ambassador Joseph Wilson, whom the CIA had asked to investigate. (text of speech) (see Feb 5)
January 28 Peace Love Activism
Immigration History
January 28, 2017: US District Judge Ann Donnelly blocked part of the president's actions regarding the Jan 27 ban, preventing the government from deporting some arrivals who found themselves ensnared by the presidential order. But it stopped short of letting them into the country or issuing a broader ruling on the constitutionality of Mr. Trump's actions.
---
Her ruling stated in part, "There is imminent danger that, absent the stay of removal, there will be substantial and irreparable injury to refugees, visa-holders, and other individuals from nations subject to the January 27, 2017, Executive Order."
---
Large crowds of protesters turned out at airports around the country to denounce Trump's ban. (NYT article) (see Jan 29)
January 28 Peace Love Activism
Please follow and like us: