January 28 Music et al
Fear of Rock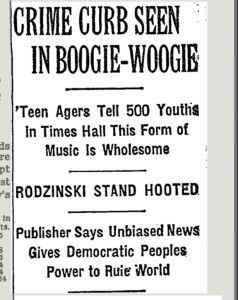 January 28, 1944: 500 teenagers at a public forum mocked the idea that boogie-woogie music caused delinquency. Symphony conductor Artur Rodzinsky had warned about the bad influence of boogie-woogie. The forum was one of a series of planned forums organized by The New York Times. The teenagers also discussed delinquency, mixed marriages and war work. (full NYT article)
January 28 Music et al
Roots of Rock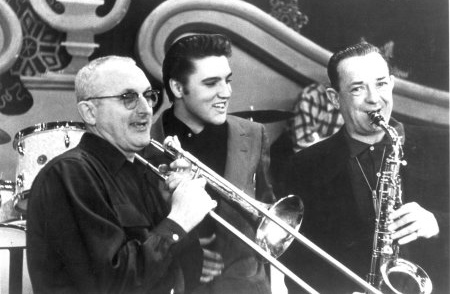 January 28, 1956: Elvis Presley made his first appearance on national television on "The Dorsey Brothers Stage Show" on CBS.
Winter Festival for Peace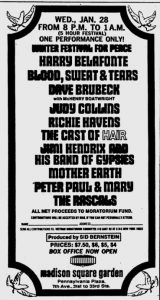 January 28, 1970…the Madison Square Garden hosted the Winter Festival for Peace. Among the artists were: Blood Sweat and Tears, Peter Paul and Mary, Jimi Hendrix & His Band of Gypsys…
…Richie Havens, Harry Belefonte, Voices of East Harlem, the Rascals, Dave Brubeck, Paul Desmond, Judy Collins, cast of Hair. The show ended at 4 AM. Richie Havens commented, "Since man has been on earth, peace has never really been here. If we can do it now, it'll be a first."
January 28 Music et al
We Are the World
Band Aid's "Do They Know It's Christmas?" charity project (Songfacts article) in the UK inspired Harry Belafonte to do the same.
Michael Jackson and Lionel Richie wrote the song, Michael Omartian arranged it, and Quincy Jones produced it and on January 28, 1985 the song was recorded.
It had sales in excess of 20 million copies.
In order of appearance, the singers were:
Lionel Richie

Stevie Wonder

Paul Simon

Kenny Rogers

James Ingram

Tina Turner

Billy Joel

Michael Jackson

Diana Ross

Dionne Warwick

Willie Nelson

Al Jarreau

Bruce Springsteen

Kenny Loggins

Steve Perry

Daryl Hall

Huey Lewis

Cyndi Lauper

Kim Carnes

Bop Dylan

Ray Charles
The chorus was (alphabetically):
Dan Aykroyd

Harry Belafonte

Lindsey Buckinham

Mario Cipollina

Johnny Colla

Sheila E

Bob Geldof

Bill Gibson

Chris Hayes

Sean Hoper

Jackie Jackson

La Toya Jackson

Marlon Jackson

Randy Jackson

Tito Jackson

Waylon Jennings

Bette Midler

John Oates

Jeffrey Osborne

The Pointer Sisters

Smokey Robinson
The band members were:
David Paich (synthesizer)

Michael Boddicker (synthesizer)

Paulinho da Costa (percussion)

Louis Johnson (synth bss)

Michael Omartian (keyboards)

Greg Phillinganes (keyboards)

John Robinson (drums)
January 28 Music et al