December 23 Peace Love Activism
Vietnam
Japan and Vietnam
December 23, 1940: the rising power of Japan in Vietnam encouraged nationalist groups to revolt from French rule. The American Consul in Saigon reported that "thousands of natives have been killed and more are in prison awaiting execution." He described "promiscuous machine-gunning" of Vietnamese civilians" by French soldiers. (see February 8, 1941)
Cardinal Spellman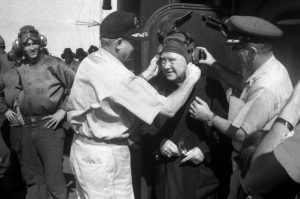 December 23, 1966: Francis Cardinal Spellman, the Roman Catholic Archbishop of New York and military vicar of the U.S. armed forces for Roman Catholics, visited U.S. servicemen in South Vietnam. In an address at mass in Saigon, Spellman said that the Vietnamese conflict was "a war for civilization—certainly it is not a war of our seeking. It is a war thrust upon us—we cannot yield to tyranny." Anything "less than victory is inconceivable." (see Dec 27)
Technological Milestones
December 23, 1947: John Bardeen, William Shockley and Walter Brattain invented the transistor was at Bell Labs In acknowledgement of their accomplishment, Shockley, Bardeen, and Brattain were jointly awarded the 1956 Nobel Prize in Physics "for their researches on semiconductors and their discovery of the transistor effect." (see January 27, 1948) 
Kidney transplant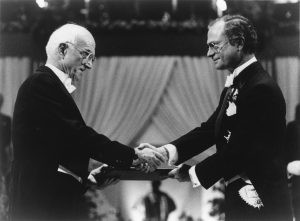 December 23, 1954: Dr. Joseph E. Murray performed the first human kidney transplant at Peter Bent Brigham Hospital in Boston, Massachusetts. He will receive the Nobel Prize.  (see April 12, 1955)
JFK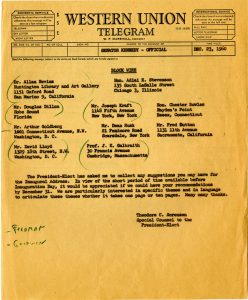 December 23, 1960: many consider John F Kennedy's inaugural speech as one of the most famous of all inaugural speeches. It was on this date that Ted Sorensen, John Kennedy's close adviser, sent telegrams to a select group asking for suggestion on it.
December 23, 1962: Cuba released the last 1,113 participants in the Bay of Pigs Invasion in exchange for food worth $53 million. (see Dec 24)
BLACK HISTORY
MARTIN LUTHER KING
December 23, 1963,: FBI officials met and formalized a plan to "neutralize" Dr. Martin Luther King. The vendetta against King included wiretapping, bugging, planting spies in his organizations, sabotaging speaking appearances, and sending both him and his wife Coretta a notorious "blackmail" tape purporting to record him in extramarital activities (see November 21, 1964). (BH, see January 8, 1964; MLK, see January 5, 1964)
Medgar Evers
December 23, 1992: a Mississippi state judge reversed an earlier order and set bond at $100,000 for Byron De La Beckwith, who faced his third trial in the 1963 killing of the civil rights leader Medgar Evers. Beckwith was freed later after a benefactor who did not want to be identified came forward with $12,000 cash required for his release, said a defense lawyer, Merrida Coxwell.(BH, see February 25, 1993; Evers, see January 26, 1994)
December 23 Music et al
December 23, 1963: Capitol Records issued a memo to its sales people and regional managers across the country, outlining an extensive "Beatles Campaign" using various promotional items – from major music magazine trade ads and a fake tabloid Beatles newspaper (reprinted in the thousands), to Beatle buttons, Beatle stickers, Beatle wigs, and a battery-powered, "Beatles-in-motion," bobble-head-like, window display for music stores. (see Dec 24)
Native Americans
"No Salmon, No Santa"
December 23, 1963: Native-American activists in the state of Washington marched at the state capital on this day to protest the loss of historic fishing rights. Some carried signs reading "No Salmon, No Santa." The governor of Washington invited them in, listened politely, and then dismissed them with no promise of acting on their complaints. The protest reflected an escalating conflict with the state game commission, which had undertaken tougher enforcement of existing state fishing regulations. A number of the protesters had been arrested several times. 
Survival of American Indians
In 1964: Survival of American Indians (SAIA) forms and stages "fish-ins" to preserve off-reservation fishing rights in Washington state. Those who participated in the fish-ins later helped the occupiers on Alcatraz. Fishing and land rights protests continued throughout the 1960s and early 1970s. (see March 9, 1964)
Native Claims Settlement Act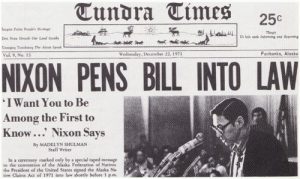 December 23, 1971: President Nixon signed the Alaska Native Claims Settlement Act (ANCSA) after an 11-year effort,  The settlement gave Alaska Natives 44 million acres of land and $962.5 million. This act became a model for struggling indigenous movements around the world. (see January 15, 1972)
World Trade Center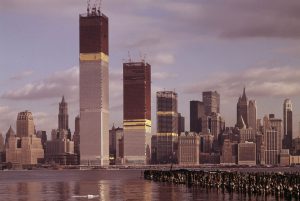 December 23, 1970: the North Tower of the World Trade Center topped out. (see July 19, 1971)
Environmental Issues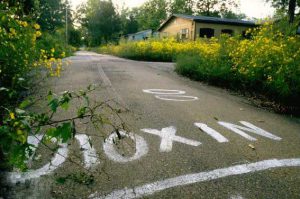 December 23, 1982: the Missouri Department of Health and the federal Centers for Disease Control (CDC) informed residents of Times Beach, Missouri that their town was contaminated when the chemical dioxin was sprayed on its unpaved roads, and that the town will have to be evacuated and demolished. By February, the federal and state governments had spent $36 million to buy every house in town except one (its owners, lifelong residents of Times Beach, refused to sell). In 1985, the city was officially dis-incorporated. (see February 3, 1984) 
FREE SPEECH
Indecency banned
December 23, 1988: as directed by a new federal law, the Federal Communications Commission (FCC) on this day banned all alleged "indecency" on radio and television, replacing an existing policy that had allowed "indecency" between midnight and 6 a.m. (see June 21, 1989)
Lenny Bruce
December 23, 2003: New York Governor George Pataki granted comedian Lenny Bruce a posthumous pardon for his obscenity conviction on November 4, 1964, in New York City. Bruce's iconoclastic style of humor involved searing attacks on American hypocrisy about sex, race relations, and religion. He became the role model for many later stand-up comics whose humor had a political orientation. (see October 15, 2005)
Dissolution of Yugoslavia
December 23, 1990: in a referendum on Slovenia's independence from Yugoslavia, 88.5% vote in favor of independence.(see June 25, 1991)
December 23 Peace Love Activism
AIDS
Philadelphia movie
December 23, 1993: the movie, Philadelphia, opened. It was the first major Hollywood movie to focus on AIDS. (NYT review)
Leading cause of death
In 1994 AIDS became the leading cause of death for all Americans ages 25 to 44. (see September 22, 1995)
Terrorism
William Higgins
December 23, 1991: Major Jens Nielsen of the Royal Danish Army, who was attached to the United Nations Observation Group in Beirut found the remains of William Higgins, USMC beside a mosque near a south Beirut hospital. Higgins had been kidnapped on February 17, 1988 (see June 25, 1991)
Oklahoma City Explosion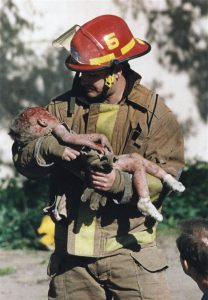 December 23, 1997: after deliberating for six day, a jury acquitted Terry Nichols, of actually detonating the bomb, but convicted him of conspiring with Timothy McVeigh to use a weapon of mass destruction. They acquitted Nichols on the charges of first degree (premeditated) murder, but convicted him on the lesser charge of involuntary (unintentional) manslaughter in the deaths of the federal law enforcement officers. (see February 26, 1999)
LGBTQ
Utah block blocked
December 23, 2013: U.S. District Judge Robert J. Shelby denied Utah state lawyers' bid to temporarily stop gay marriage while the appeals process played out. The State then in turned to a Denver-based federal appeals court in their bid to put a stop to gay couples getting married, saying the state should not be required to abide by one judge's narrow view of a "new and fundamentally different definition of marriage."

Ohio block blocked
December 23, 2013: Judge Timothy S. Black of the US District Court of the Southern District of Ohio ruled that Ohio must acknowledge same-sex marriages on death certificates and went further in his decision to say that lower courts were now applying the recent historic Supreme Court decision striking down the federal ban on recognition of such unions. Black wrote, "This conclusion flows from the Windsor (DOMA) decision of the United States Supreme Court this past summer, which held that the federal government cannot refuse to recognize a valid same-sex marriage." (NYT article)
Alan Turing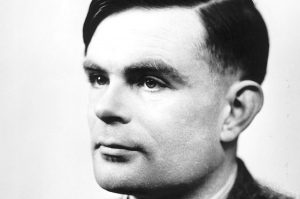 December 23, 2013: Turing was granted a pardon under the Royal Prerogative of Mercy by the Queen, following a request from the justice secretary, Chris Grayling. Announcing the pardon, Grayling said: "Dr Alan Turing was an exceptional man with a brilliant mind. His brilliance was put into practice at Bletchley Park during the second world war, where he was pivotal to breaking the Enigma code, helping to end the war and save thousands of lives. His later life was overshadowed by his conviction for homosexual activity, a sentence we would now consider unjust and discriminatory and which has now been repealed. Dr Turing deserves to be remembered and recognised for his fantastic contribution to the war effort and his legacy to science. A pardon from the Queen is a fitting tribute to an exceptional man." (see Dec 31)
Blood donations
December 23, 2014: the Food and Drug Administration announced that it would scrap a decades-old lifetime prohibition on blood donation by gay and bisexual men, a change that experts said was long overdue and could lift the annual blood supply by as much as 4 percent.
The F.D.A. had enacted the ban in 1983, early in the AIDS epidemic. At the time, little was known about the human immunodeficiency virus, which causes the disease, and there was no quick test to determine whether somebody had it. But science — and the understanding of H.I.V. in particular — has advanced in the intervening decades, and on Tuesday the F.D.A. acknowledged as much, lifting the lifetime ban but keeping in place a more modest block on donations by men who have had sex with other men in the last 12 months. (see Dec 26)
December 23 Peace Love Activism, December 23 Peace Love Activism, December 23 Peace Love Activism, December 23 Peace Love Activism, December 23 Peace Love Activism, December 23 Peace Love Activism, December 23 Peace Love Activism, December 23 Peace Love Activism, December 23 Peace Love Activism, December 23 Peace Love Activism, December 23 Peace Love Activism, December 23 Peace Love Activism, December 23 Peace Love Activism, December 23 Peace Love Activism, December 23 Peace Love Activism, December 23 Peace Love Activism, 
Please follow and like us: