Sha Na Na Dennis Greene
Remembering Dennis Greene
January 11, 1949 – September 5, 2015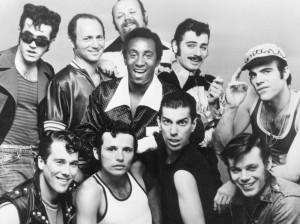 Frederick "Dennis" Greene, born in Manhattan, was a founding member of Sha Na Na and later became a movie studio executive and then a law professor.  While at Columbia University, he and the other  classmates formed an a cappella group called the Columbia Kingsmen.
Because there already was a well-known band called the Kingsmen (they sang the infamous "Louie, Louie") they changed their name to Sha Na Na after the nonsense lyrics in the Coasters hit song, "Get a Job."
None of them realized the distance that idea would travel.
Sha Na Na Dennis Greene
Dennis Greene
He sang with Sha Na Na at the Woodstock Music and Art Fair. After receiving widespread exposure from Woodstock the movie and the album in 1970, the rock group became an overnight success. For the next three years, Mr. Greene attended classes on weekdays and toured on weekends. He graduated from Columbia with a B.A. in English in 1972.
He was in the movie Grease as well as in the group's television series, "Sha Na Na." The variety show aired from 1978 to 1981.
Sha Na Na Dennis Greene
Columbia Pictures
After 15 years with the group Greene left Sha Na Na to pursue a master's degree at Harvard and a law degree at Yale. According to his NY Times obituary, Greene said, "Being a rock star was never something that was particularly interesting to me… It was a great job. I loved the singing part. The byproducts, unfortunately, were exhausting travel and the ongoing-forever politics of being in a business controlled by young adults."
He went on to become vice president of production and features at Columbia Pictures, where he worked on Spike Lee's "School Daze," and later became president of Lenox/Greene Films.
Greene eventually settled in law. He worked as a professor at multiple universities, including University of Dayton, Florida A & M University, and Ohio State University.
Dennis Greene died on September 5, 2015. His obituary appeared in the New York Times.
Columbia College
Here is the link to a Sept/Oct 2008  Columbia College article entitled " Sha Na Na and the Invention of the Fifties" By George J. Leonard '67, '68 GSAS, '72 GSAS and Robert A. Leonard '70, '73 GSAS, '82 GSAS.
Sha Na Na Dennis Greene