Family Stone Cynthia Robinson
Remembering Cynthia Robinson
January 12, 1944 – November 23, 2015
Cynthia Robinson was born in Sacramento, California. She played brass instruments in her high school marching band and was an original member of Sly Stone's short-lived band The Stoners.
After that group broke up, she stayed with  him as part of the Family Stone.
According to the Family Stone home page,  he career included "Playing with P-Funk maestro George Clinton, Larry Graham, Prince, and Sinbad's Aruba Summer Soul Festival with fellow S & TFS members, Rose Stone, Jerry Martini, Larry Graham & Graham Central Station.  In 2006, she along with the Original Family Stone members performed at the Grammy Awards in an All Star assembled band paying tribute to Sly & The Family Stone.
Family Stone Cynthia Robinson
Cynthia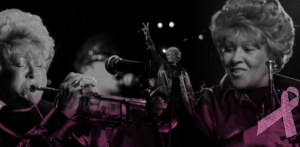 She is the only female, African-American trumpet player ever to be inducted into the Rock and Roll Hall of Fame
In 2006, she began playing with the Family Stone which included her daughter , Sylvette Phunne Robinson, also known as Phunne Stone.  She and her daughter sang lead vocals on "Do Yo Dance," a single released by the group the summer of 2015.
When asked in 2011 what she thought the future held for the band and her, she responded, "As long as we all stay healthy, it's going to be a motha'! I love these guys…and girl. And we all care about each other off the stage. When we're in our separate cities and our separate homes. We still care about each other." Robinson died of cancer in Carmichael, California at the age of 71.
Family Stone Cynthia Robinson
Woodstock
It does not get much better than the classic "I Want to Take You Higher" from the Woodstock Music and Art Fair. Cynthia is prominently featured:
From the Rolling Stone magazine obit : When news of Robinson's death broke, Questlove penned a loving tribute to her, calling her music's original "hypeman" in an Instagram post. "She wasn't just a screaming cheerleading foil to Sly and Freddie [Stone]'s gospel vocals; she was a kick ass trumpet player," he wrote. "A crucial intricate part of Sly Stone's utopian vision of MLK's America: Sly and the Family Stone were brothers and cousins, friends and enemies, black and white, male and female. saint and sinner. … Cynthia's role in music history isn't celebrated enough."
Family Stone Cynthia Robinson