August 28 Peace Love Activism
Feminism & Voting Rights
August 28, 1917: woman suffragists picket President Woodrow Wilson in front of the White House. They demanded that he support an amendment to the Constitution that would guarantee women the right to vote.

Wilson had a history of lukewarm support for women's suffrage, although he paid lip service to suffragists' demands during political campaigns and greeted previously peaceful suffrage demonstrators at the White House with decorum. He was also a former teacher at a women's college and the father of two daughters who considered themselves "suffragettes." During the 1912 presidential campaign against Theodore Roosevelt, Wilson and his opponent agreed on many reform measures such as child-labor laws and pro-union legislation. They differed, however, on the subject of women's suffrage, as Roosevelt was in favor of giving women the vote.

According to the Library of Congress' American Memory archives, Wilson rode out of the White House gates that  morning with his wife at his side and tipped his hat toward the protesters as usual. By this time, though, the suffragists had become increasingly disruptive and brandished anti-World War I slogans on their placards in addition to pleas for the vote and later that day the protesters and outraged bystanders who supported the war clashed. Many of the women were arrested and thrown in jail. (see October)
BLACK HISTORY
Emmett Till terrorized and murdered
August 28, 1955: at approximately 2:30 in the morning Roy Bryant, Carolyn's husband, and his half brother J.W. Milam kidnapped Emmett Till from Moses Wright's home. They then brutally beat, dragged him to the bank of the Tallahatchie River, shot him in the head, tied him with barbed wire to a large metal fan and shoved his mutilated body into the water. Moses Wright reported Till's disappearance to the local authorities. (see Emmett Till)
Albany Movement
August 28, 1962: Albany, GA police arrested and jailed seventy religious leaders from the North and Midwest during an anti-segregation protest at the City Hall. (see Aug 31)
August 28, 1963
After his charge was reduced to manslaughter and assault, based on the likelihood that it was Hattie Carroll's stress reaction to William Zantzinger's verbal and physical abuse that led to her intracranial bleeding, rather than blunt-force trauma from the blow that left no lasting mark, Zantzinger was convicted of both charges and sentenced to six months in jail and a fine of $500. The judges deferred the start of the jail sentence until September 15, to give Zantzinger time to harvest his tobacco crop. He showed no remorse about Hattie Carroll — "I didn't do anything to her" — and he scoffed at his six-month sentence: "I'll just miss a lot of snow." (Zantzinger, see April 24, 1991)
Philadelphia riot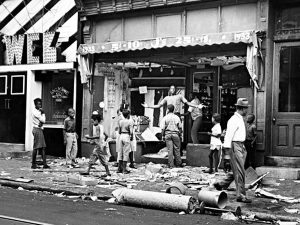 August 28 – 30, 1964: tensions between African American residents and police lead to 341 injuries and 774 arrests. (see Sept 1)
August 28 Music et al
Wooden Heart
August 28 – September 3, 1961: based on a German folk song and made popular in the US by Elvis in the film G.I. Blues , "Wooden Heart" by Joe Dowell #1 Billboard Hot 100.


Something for Everybody
August 28 – September 17, 1961, Elvis Presley's Something for Everybody is Billboard #1 album. (see Dec 18)


The Beatles
1964 summer tour
August 28, 1964: Life magazine article reported that the Beatles' 33-day tour of 23 American cities was a sell out at every location and was expected to gross millions. Beatles pandemonium at the time was such that some hotels along the tour route refused to house the Beatles, and Los Angeles' Lockheed Airport forbade any Beatles plane from landing there for fear of screaming fans running on to the tarmac.
Bob Dylan and the Beatles meet
August 28, 1964: The Beatles played a concert at New York's Forest Hills Tennis Stadium. After the concert, the group was taken back to their suite at the city's Hotel Delmonico. Journalist Al Aronowitz had came down from Woodstock, NY with his friend Bob Dylan, and brought him up to The Beatles hotel suite. John Lennon asked Dylan what he'd like to drink, and Dylan said "cheap wine."

The Beatles offered Dylan their drug of choice which was speed. Dylan suggested marijuana, which the band had never tried. Hearing that they had never smoked pot, Dylan was quite surprised and said that he always thought the band sang "I get high" in their song "I Wanna Hold Your Hand." John corrected him, telling him that the phrase was "I can't hide."

Dylan lit up a joint and Lennon made Ringo smoke it first. Eventually each member of the band got his own. Paul was interested with the thoughts it produced and asked Mal Evans to follow him around with a notepad and take down everything he said. (Beatles, see Dec 4; Dylan see January 20, 1965)
Electric Dylan booed
August 28, 1965: (from The College of Rock and Roll Facebook page): Dylan kicked off his tour at NYC's Forest Hills Tennis Stadium. This show is legendary, and for anyone who doubts that 1965 audiences heaped great scorn on Bob Dylan and his electric crew, all they need to do is listen to a a tape of the concert to hear the audience's point of view. There was so much hostility directed toward the stage that it's frightening. Coming as it does after the shocking Newport appearance with members of the Paul Butterfield Blues Band, the audience for the Forest Hills show pretty much knew what to expect, and the majority showed extreme displeasure during the electric half.

The first set, which was acoustic, was very well received. The crowd was quiet and respectful for the 45 minute opening set, which followed a typical top-40 disk jockey introduction more appropriate for a Dave Clark Five concert than a Bob Dylan concert. This show featured the debut of "Desolation Row", from the Highway 61 album which was yet to be released (only a few days away, in fact). It's a great performance and it went over very well with the crowd, who laughed appreciatively at the lyrics. It must have been amazing to sit there and hear a brand new masterpiece like "Desolation Row".

After the well received acoustic half came to an end with "Mr. Tambourine Man", the band set up for the second half. No doubt the crowd was gearing up for the hostility that was to follow. The crowd is so loud and belligerent at times that it becomes extremely hard to hear the music, but what can be heard is awesome. Levon lays down a muscular beat that drives the music forward and Robbie plays tough blues licks as only he can. Al Kooper pretty much plays the way only Al Kooper can. (see Aug 30)
Beatles failed escape
August 28, 1966: nearing the end of their final tour of America, The Beatles performed one show at Dodger Stadium, Los Angeles, California, before a crowd of 45,000. The Beatles' attempt to escape from the stadium in an armored truck was thwarted when the main gate was found to be locked and The Beatles have to spend two hours in the back of the truck before they can leave the stadium. (see Aug 29)
Dear Prudence
August 28, 1968: started recording a new John Lennon song 'Dear Prudence'. They built the song instrument by instrument, utilizing the 8-track equipment at Trident. John and George played guitars, while Paul plays drums to compensate for Ringo, who had quit The Beatles on August 22. (see Sept 3)
August 28 Peace Love Activism
AIDS
Arcadia, FL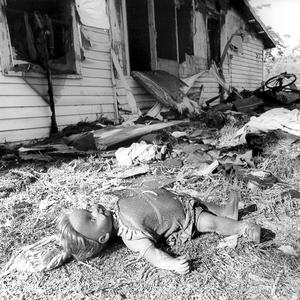 August 28, 1987: a fire of suspicious origin destroyed the home of a couple whose three sons were hemophiliacs known to have been exposed to the virus that caused acquired immune deficiency syndrome (AIDS). The fire capped a week of bomb and death threats against Clifford and Louise Ray, and their daughter and three sons, and a boycott of local schools. The boycott had been prompted by the Aug. 24 return to school of the three boys after a year's absence. (see Aug 28)
LGBTQ & Immigration History
August 28, 1987: the Reagan administration adopted a formal policy barring visas to people with the HIV infection. The policy was one of several similar policies that reflected both an indifference to the HIV/AIDS crisis and hostility to homosexuality.The policy was finally rescinded by the administration of President Barack Obama on January 5, 2010 when the Department of Health and Human Services (HHS) and the Centers for Disease Control (CDC) removed HIV from the list of diseases that barred people from obtaining visas to enter the U.S. (AIDS, see Aug 29; LGBTQ, see see June 22, 1988; IH, see October 30, 2009)
LGBTQ, Walmart
August 28, 2013: the nation's largest private employer,announced that it will soon offer a full suite of benefits to its employees' domestic partners, including those of the same sex. The change would take effect in all 50 states, independent of each state's definition of what marriage, domestic partnership or civil union entails. The retail giant sent postcards to its staffers outlining changes to their health insurance policies for 2014, including news that "full-time associates can cover any spouse or domestic partner," regardless of gender.(see August 29)
Rowan County (Kentucky)
August 28, 2015: Rowan County (Kentucky) Clerk Kim Davis asked the U.S. Supreme Court to intervene on her behalf. Justice Elena Kagan will likely rule on Davis' request. Kagan joined the majority opinion in June that effectively legalized gay marriage across the country. (see Aug 31)

Meanwhile, Rowan County Attorney Cecil Watkins said he's referred a charge of "Official Misconduct" against Davis to the Kentucky Attorney General's Office. (see Aug 31)
SEPARATION OF CHURCH AND STATE
August 28, 2003: the Supreme Court of Alabama removed a monument of the Biblical Ten Commandments from its courthouse rotunda. The monument had been installed on the orders of Chief Justice Roy Moore, triggering a federal lawsuit. In Glassroth v. Moore, the federal District Court for the Middle District of Alabama ordered Moore to remove the monument. This decision was upheld on appeal to the Eleventh Circuit. When Moore refused, he was removed from his post by the Supreme Court of Alabama. (see November 21, 2011)
Hurricane Katrina
August 28, 2005: Katrina reached Category 4 intensity with 145 mph winds. By 7:00 AM CDT  it was a Category 5 storm, with maximum sustained winds of 175 mph , gusts up to 215 mph. In a press conference at roughly 10:00 AM CDT, Mayor Ray Nagin declared that "a mandatory evacuation order is hereby called for all of the parish of Orleans." (see Aug 29)
Women's Health
August 28, 2014: U.S. District Judge Lee Yeakel threw out new Texas abortion restrictions that would have effectively closed more than a dozen clinics statewide in a victory for opponents of tough new anti-abortion laws sweeping across the U.S.

Yeakel sided with clinics that sued over one of the most disputed measures of a sweeping anti-abortion bill signed by Republican Gov. Rick Perry in 2013. The ruling stops new clinic requirements that would have left seven abortion facilities in Texas come Monday, when the law was set to take effect. (BC, see Sept 1; Texas, see June 27, 2016)
August 28 Peace Love Activism,  August 28 Peace Love Activism,  August 28 Peace Love Activism,  August 28 Peace Love Activism,  August 28 Peace Love Activism,  August 28 Peace Love Activism,  August 28 Peace Love Activism,  August 28 Peace Love Activism,  August 28 Peace Love Activism,  August 28 Peace Love Activism,  August 28 Peace Love Activism,  August 28 Peace Love Activism,  
Please follow and like us: