July 15 Peace Love Activism
Religion and Public Education
SEPARATION OF CHURCH AND STATE
July 15, 1925: Judge Raulston overruled the defense's motion to have the Butler law declared unconstitutional. Raulston says in his ruling that the law "gives no preference to any particular religion or mode of worship. Our public schools are not maintained as places of worship, but, on the contrary, were designed, instituted, and are maintained for the purpose of mental and moral development and discipline."

In an afternoon session that day, a not guilty plea is entered on Scopes' behalf. Each side presents its opening statements. The prosecution questioned the superintendent of schools and two of Scopes' students, who testify that Scopes taught his class about evolution. The defense questioned zoologist Maynard Metcalf, who testified that evolution was a widely embraced theory in the scientific community. (see July 17)
BLACK HISTORY
Lynch law for blacks only
July 15, 1930: Senator Coleman L Blease advocated a lynch law for Blacks (only) who were guilty (more often 

not

) of assaulting white women. "Whenever the Constitution comes between me and the virtue of the white women of South Carolina, I say 'To hell with the Constitution.' " "Assaulting" could have a much broader interpretation and might simply mean "speaking to a white woman." (see Aug 7)
Croppers' and Farm Workers Union
July 15, 1931: after leading fierce battles on behalf of sharecroppers and tenant farmers in Alabama, Ralph Gray, a leader of the Croppers' and Farm Workers Union in Tallapoosa County, was brutally murdered July 15, 1931, by a heavily armed white mob, organized by the county's sheriff. (Labor, see March 7, 1932; BH, see June 3, 1933) 
July 15 1937: Clarence Norris convicted of rape and sentenced to death. (see July 22)
Birmingham, Alabama
July 15, 1963: firefighters turn their hoses full force on civil rights demonstrators in Birmingham, Alabama. (see July 25)
Church Burning
July 15, 2015: authorities responded to an early morning fire at Houston's Fifth Ward Missionary Baptist Church, the latest in a rash of burnings at predominantly black religious institutions. Nobody was injured, but the Texas church was "significantly damaged," KHOU reported. It took firefighters about 30 minutes to extinguish the flames. (BH, see Sept 8; CB, see Oct 30)
The Red Scare, McCarthyism, and the Cold War
Dixiecrats defect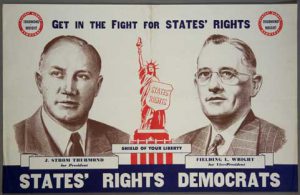 July 15, 1948:  the Democratic Party Convention nominated President Truman to run again as its candidate for president. Northern liberals succeed in including a strong civil rights plank in the party platform, leading to the defection of conservative Southern Democrats to the segregationist States Rights (or Dixiecrat) Party. (see July 17, 1948)
Ethel Rosenberg
July 15, 2015: the conviction and eventual execution of  Ethel Rosenberg for joining in her husband Julius's espionage conspiracy rested largely on trial testimony from her younger brother, but in private testimony to a grand jury seven months before the 1951 trial, Mrs. Rosenberg's brother, David Greenglass, never mentioned involvement by his sister in Mr. Rosenberg's delivery of atomic secrets to Soviet operatives, according to a grand jury transcript released on this day.

While not definitive proof that he lied at trial, Mr. Greenglass's omission — and his assertion before the grand jury that he had never even discussed espionage with his sister — provided further evidence to Mrs. Rosenberg's defenders who believe that she was unfairly convicted, and that her brother, under pressure from prosecutors, had doomed her with concocted testimony to spare his own wife from prosecution. (Cold War, see July 20; DP, see Aug 7; Nuclear, see Sept 2)
American Housing Act of 1949
July 15, 1949: the American Housing Act of 1949 expanded the federal government's role in mortgage insurance and issuance and the construction of public housing. It was part of President Harry Truman's program of domestic legislation, the Fair Deal. Truman stated at the signing: This far-reaching measure is of great significance to the welfare of the American people. It opens up the prospect of decent homes in wholesome surroundings for low-income families now living in the squalor of the slums. It equips the Federal Government, for the first time, with effective means for aiding cities in the vital task of clearing slums and rebuilding blighted areas. It authorizes a comprehensive program of housing research aimed at reducing housing costs and raising housing standards. It initiates a program to help farmers obtain better homes.

In 1956: the St. Louis's Pruitt-Igoe public housing project completed. It was touted as a model of urban planning. (FH, see December 5, 1957; Pruitt, see March 16, 1972)
July 15 Music et al
Beatles Julia Lennon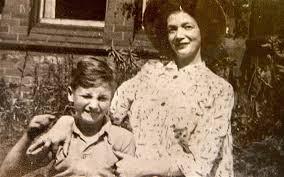 July 15,1958: John Lennon's mother, Julia was visiting her sister Mimi's house where her John was living. Shortly after leaving Mimi's house, while crossing the road to get to a bus stop, she was struck by a car driven by an off-duty policeman, 24-year-old Eric Clague. Contrary to some reports, Clague was not drunk at the time and he was driving under the 30mph speed limit. He was, however, a learner driver who was unaccompanied. "Julia," "Mother," and "My Mummy's Dead." are Lennon songs dedicated to or inspired by Julia.
 
First Beat Boys
In 1959 Tony Sheridan joined Vince Taylor and the Playboys in Hamburg, Germany where they would play. The band would eventually morph into the Beat Brothers with a line-up consisting of Tony Sheridan (vocals/guitar), Ken Packwood (drums), Rick Richards (guitar), Colin Melander (bass), Ian Hines (keyboards) and Jimmy Doyle (drums). Over the years the band's line-up would continue to see many personnel changes. Some of the most notable inclusions were: Ringo Starr, Roy Young, Rikky Barnes, John Lennon, Paul McCartney, George Harrison and Pete Best. (see August, 1959)
The Road to Bethel
July 15, 1969:   in a closed session at the town hall, the Wallkill Zoning Board of Appeals passed judgment on the status of Woodstock Venture's application for a permit. The five-member board refused to allow the festival to build anything on the 200-acre site. (see July 16)
Steve Earle – "John Walker's Blues" (2002)
July 15, 2002: John Walker Lindh pleaded guilty to aiding the enemy and possession of explosives during the commission of a felony.

Shortly afterwards, Steve Earle released "John Walker's Blues" 
I'm just an American boy raised on MTV

And I've seen all those kids in the soda pop ads

But none of 'em looked like me

So I started lookin' around for a light out of the dim

And the first thing I heard that made sense was the word

Of Mohammed, peace be upon him

A shadu la ilaha illa Allah

There is no God but God

If my daddy could see me now – chains around my feet

He don't understand that sometimes a man

Has got to fight for what he believes

And I believe God is great, all praise due to him

And if I should die, I'll rise up to the sky

Just like Jesus, peace be upon him

We came to fight the Jihad and our hearts were pure and strong

As death filled the air, we all offered up prayers

And prepared for our martyrdom

But Allah had some other plan, some secret not revealed

Now they're draggin' me back with my head in a sack

To the land of the infidel

A shadu la ilaha illa Allah

A shadu la ilaha illa Allah
(see Oct 4)
End of the Space Race
July 15 – 24, 1975: the last Apollo mission carried Donald K. "Deke" Slayton, Tom Stafford, and Vance Brand. Slayton was one of the original Mercury astronauts, but had not previously flown in space due to a heart fibrillation. In orbit, they docked with a Soviet Soyuz spacecraft. The mission proved the compatibility of the two space programs and paved the way for future collaborations and rescue missions.
July 15 Peace Love Activism
July 15, 1976: Jimmy Carter nominated for U.S. President at the Democratic National Convention in New York City.
Native Americans
"The Longest Walk"
July 15, 1978: "The Longest Walk" entered Washington, D.C., with several thousand Indians and a number of non-Indian supporters. The traditional elders led them to the Washington Monument, where the Pipe carried across the country was smoked. Over the following week, they held rallies at various sites to address issues: the 11 pieces of legislation, American Indian political prisoners, forced relocation at Big Mountain, the Navajo Nation, etc. Non-Indian supporters included the American boxer Muhammad Ali, US Senator Ted Kennedy and the actor Marlon Brando. The US Congress voted against a proposed bill to abrogate treaties with Indian Nations. During the week after the activists arrived, Congress passed the American Indian Religious Freedom Act, which allowed them the use of peyote in worship. President Jimmy Carter refused to meet with representatives of The Longest Walk. (see Aug 11)
The Longest Walk 4
July 15, 2013: th return to Alcatraz begin in Washington D.C. to travel to Alcatraz by December 22, 2013. The stated purpose of this Walk was to reaffirm the heart of Traditional Tribal Sovereignty rooted in Ceremony and land based spiritual relationships. (see July 17)
IRAQ War I
July 15, 1990: Iraq accused Kuwait of stealing oil from the Rumaylah, Iraq's oil field near the Iraqi-Kuwaiti border and warns of military action. (see July 22)
US Labor History
July 15, 2004: the National Labor Relations Board reversed itself and ruled that students who worked as research and teaching assistants did not have the right to unionize. In a case involving Brown University, the labor board ruled 3 to 2 that graduate teaching and research assistants were essentially students, not workers, and thus should not have the right to unionize to negotiate over wages, benefits and other conditions of employment. (see Sept 15)
Sexual Abuse of Children
July 15, 2007: the Los Angeles Archdiocese settled 508 cases of alleged sexual abuse by priests for a record-breaking pay-out of $660m. The deal is reached just before the scheduled start of a series of trials into abuse claims dating back to the 1940s. (see Sept 7)
Deepwater Horizon Oil Spill
July 15, 2010: BP test cuts off all oil pouring into the Gulf (see Aug 2)
July 15 Peace Love Activism, July 15 Peace Love Activism, July 15 Peace Love Activism, July 15 Peace Love Activism, July 15 Peace Love Activism, July 15 Peace Love Activism, July 15 Peace Love Activism, July 15 Peace Love Activism, July 15 Peace Love Activism, July 15 Peace Love Activism, July 15 Peace Love Activism, July 15 Peace Love Activism, July 15 Peace Love Activism, July 15 Peace Love Activism, July 15 Peace Love Activism, July 15 Peace Love Activism, 
Please follow and like us: