May Peace Love Activism
Sometimes I cannot find a specific date for certain events. The following list is of things that have occurred in May, but I don't know when. If you know, let me know.

 
BLACK HISTORY
Dred Scott 
in May 1840: the Army sent Dr. Emerson to Florida to serve in the Seminole War. On his way there he left his wife and the Scotts in St. Louis. (BH, see March 9, 1841; Dred Scott, see in Aug 1842)
Dred Scott 14 years later
in May 1854: Federal Judge Robert William Wells told the jury that Scott's status was to be determined by Missouri law. Since the Missouri Supreme Court had already decided that Scott was a slave, the federal jury upheld his status as a slave.    

                If an Illinois court had previously declared Scott free, then the result would have been different. Judge Wells might then have held that, under the Full Faith and Credit Clause of the Constitution, that Missouri was obligated to recognize the judicial proceedings that had emancipated Scott. But, no such proceeding had in fact ever taken

place in Illinois or in the Wisconsin Territory. Thus, Scott and his family remained slaves.

                The next stop in Dred Scott's legal odyssey was the United States Supreme Court. An appeal would be more expensive than the Blows, by now Scott's main financial patrons, could afford. Moreover, this was not a case that Scott's lawyer, Rosewell Field,  was able to finance or even argue. However, Montgomery Blair, a Washington lawyer well connected to Missouri politics, agreed to take the case for free. (see Dec 1854)
Marcus Garvey
in May - June 1916: Garvey began a year-long, 38-state speaking tour that takes him across America.
Marcus Garvey a year later
in May 1917: Garvey returned to New York after completing his U.S. speaking tour. Thirteen members joined to form the New York branch of the Universal Negro Improvement Association. (BH, see May 5; Garvey, see July 8)
in May 1950: Andy Wright was paroled again. He found a job in an Albany, NY  hospital. When asked about Victoria Price upon his release, Andy said: "I'm not mad because the girl lied about me. If she's still living, I feel sorry for her because I don't guess she sleeps much at night." He was the last Scottsboro defendant to leave jail. (see "in December")
School Desegregation
On August 30, 1971 Robert Miles and four other Klansmen had bombed 10 empty school buses shortly before a court-order issued by Judge Damon Keith to use busing to integrate schools in Pontiac, Michigan, was supposed to go into effect. In May 1973 Miles and his co-defendants were convicted of the bus bombings. Miles then spent the rest of the decade in jail, first at Leavenworth and from October 1974 until his release in late 1979 from the Federal prison in Marion. (BH, see June 14, SD, see June 21)
Feminism
World's Antislavery Convention
in May 1840: the World's Antislavery Convention was held in London. The British and Foreign Antislavery Society sponsoring the convention refused to seat women delegates from American antislavery societies. Forced to sit in the gallery, the women, including Elizabeth Cady Stanton and Lucretia Mott, discussed the need to hold a convention to discuss women's status in society. This conversation lead to the first women's rights convention in Seneca Falls, New York in 1848. (see May 10)
National American Woman Suffrage Association
in May 1890: the National American Woman Suffrage Association  formed as a unification of the National Woman Suffrage Association (NWSA) and the American Woman Suffrage Association (AWSA). (see "in 1893")
"The Matilda effect"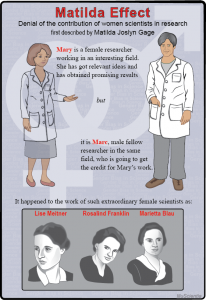 in May 1993: science historian Margaret W. Rossiter described and names "The Matilda effect." The abstract of the article stated: Recent work has brought to light so many cases, historical and contemporary, of women scientists who have been ignored, denied credit or otherwise dropped from sight that a sex-linked phenomenon seems to exist, as has been documented to be the case in other fields, such as medicine, art history and literary criticism. Since this systematic bias in scientific information and recognition practices fits the second half of Matthew 13:12 in the Bible, which refers to the under-recognition accorded to those who have little to start with, it is suggested that sociologists of science and knowledge can add to the 'Matthew Effect', made famous by Robert K. Merton in 1968, the 'Matilda Effect', named for the American suffragist and feminist critic Matilda J. Gage of New York, who in the late nineteenth century both experienced and articulated this phenomenon. Calling attention to her and this age-old tendency may prod future scholars to include other such 'Matildas' and thus to write a better, because more comprehensive, history and sociology of science. (Feminism, see Aug 5; Gage, see "in 2000")
United Farm Workers
May 1976: Proposition 14 drive gets 719,000 signatures.  Although the measure didn't pass, it forced lawmakers to vote money for the Agricultural Labor Relations Board (ALRB). (see March 10, 1978)
May Music et al
Pete Seeger
in May, 1962: a Court of Appeals overturned the conviction of Pete Seeger. Fortuitously for Seeger, that same week Peter, Paul, and Mary's cover of Seeger's "Where Have All the Flowers Gone?"  hit the Top 40 chart and his blacklisting began to dissipate.(see June 27)
James Brown Live at the Apollo
in May 1963: recorded October 24, 1962, James Brown and The Famous Flames released Live at the Apollo. In 2003, the album was ranked number 24 on Rolling Stone magazine's list of the 500 greatest albums of all time. In 2004, it was one of 50 recordings chosen that year by the Library of Congress to be added to the National Recording Registry.
Little Stevie Wonder
in May 1963 – recorded in June 1962 during a Motortown Revue performance at the Regal Theater in Chicago Little Stevie Wonder's The 12 Year Old Genius album released.
LSD
in May 1963 :
Weil and Russin write a scathing critique of Leary and Alpert's work in the Harvard Crimson: Far from exercising the caution that characterizes the published statements of most scientists, Leary and Alpert, in their papers and speeches, have been given to making the kind of pronouncement about their work that one associates with quacks. Weil and Russin wrote: "The shoddiness of their work as scientists is the result less of incompetence than of a conscious rejection of scientific ways of looking at things. Leary and Alpert fancy themselves 'prophets' of a psychic revolution designed to free Western man from the limitations of consciousness as we know it."
Timothy Leary dismissed from Harvard. (see in September)
Beatles and LSD
in May 1967: Paul McCartney announced that all the Beatles had "dropped acid." (see May 20)
The Road to Bethel
in May, 1969: Hugh Romney and the Hog Farm commune hired to work at festival for security, free food, and free stage. (see May 6)
John Yoko and the Dakota
in May 1973: John Lennon and Yoko Ono moved from Greenwich Village to a 12-room apartment at the Dakota near Manhattan's Central Park. The couple had been drifting apart, however, and she had busied herself recording the albums Approximately Infinite Universe and Feeling The Space. (see May 30)
May Peace Love Activism
LGBTQ
Radicalesbians
in May 1970: a group of lesbians--some who were members of NOW, but unhappy with the group's direction--formed their own group called the Lavender Menace, which later became known as the Radicalesbians. The group presented a manifesto, "The Woman-Identified Woman," at The Second Congress to Unite Woman in May 1970.

Karla Jay, PhD, a member of the organization, wrote that the manifesto "...[S]tarted by defining a lesbian as the 'rage of all women condensed to the point of explosion.' The true lesbian, we wrote, acted 'in accordance with her inner compulsion to be a more complete and freer human being.'…In addition to desexualizing lesbianism, the document declared that lesbianism is a socially constructed 'category of behavior possible only in a sexist society characterized by rigid sex roles and dominated by male supremacy…In a society in which men do no oppress women, and sexual expression is allowed to follow feelings, the categories of homosexuality would disappear."' (see May 18, 1970)
FREE SPEECH
Student Rights
In May 1983: after reviewing the May 13 edition of the paper, the principal of Hazelwood East High School (Florissant, MO),Robert Reynolds, decided that two articles should not be published. The articles covered teenage pregnancy at Hazelwood East and the effects of divorce on students. Reynolds decided to delete the two pages on which they appeared, thus deleting additional articles as well. (see August 27, 1985)
Marijuana
In May 1985:  made by Unimed,  Marinol is the trade name for dronabinol, a synthetic form of delta-9 tetrahydrocannabinol (THC), one of the principal psychoactive components of botanical marijuana. It was approved in May 1985 for nausea and vomiting associated with cancer chemotherapy in patients who fail to respond to conventional antiemetic treatments. In December 1992, it was approved by FDA for the treatment of anorexia associated with weight loss in patients with AIDS. Marketed as a capsule, Marinol was originally placed in Schedule II. (see September 6, 1988)
Vietnam
In May 1989: Sons and Daughters in Touch formed to locate, unite and support America's Gold Star Children who lost their fathers in the Vietnam War. Among the 58,286 Americans lost in Southeast Asia, it is estimated that more than one-third were fathers. (see June 21, 1992)
César E. Chávez
in May 1993: veteran UFW organizer Arturo Rodriguez succeeded César E. Chávez as union president. (Aug 8, 1994)
Sexual Abuse of Children
Commission to Inquire into Child Abuse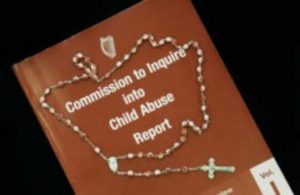 in May 2009: Ireland. the Commission to Inquire into Child Abuse released a 2000-page report recording claims from hundreds of Irish residents that they were physically, sexually, or emotionally abused as children between the 1930s and the 1990s in a network of state-administered and church-run residential schools meant to care for the poor, the vulnerable, and the unwanted. The alleged abuse was by nuns, priests and non-clerical staff and helpers. (see March 20, 2012)
May Peace Love Activism, May Peace Love Activism, May Peace Love Activism, May Peace Love Activism, May Peace Love Activism, May Peace Love Activism, May Peace Love Activism, May Peace Love Activism, May Peace Love Activism, May Peace Love Activism, May Peace Love Activism, 
Please follow and like us: