May 25 Peace Love Activism
Religion and Public Education
Jon Scopes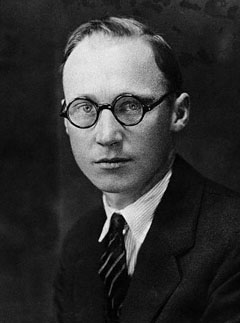 May 25, 1925:  a grand jury indicted Jon Scopes for violating Tennessee's anti-evolution law. (see July 10)
US Labor History
Auto-Lite strike, day 3
May 25, 1934 (Friday): Auto-Lite officials agreed to keep the plant closed in an attempt to forestall further violence and Auto-Lite President Clement Miniger was arrested after local residents swore out complaints that he had created a public nuisance by allowing his security guards to bomb the neighborhood with tear gas. Strike leader Louis Budenz, too, was arrested—again on contempt of court charges.

Meanwhile, rioting continued throughout the area surrounding the Auto-Lite plant. Furious local citizens accosted National Guard troops, demanding that they stop gassing the city. Twice during the day, troops fired volleys into the air to drive rioters away from the plant. A trooper was shot in the thigh, and several picketers were severely injured by flying gas bombs and during bayonet charges. In the early evening, when the National Guard ran out of tear gas bombs, they began throwing bricks, stones and bottles back at the crowd to keep it away.

The AFL's Committee of 23 announced that 51 of the city's 103 unions had voted to support a general strike.

That evening, local union members voted down a proposal to submit all grievances to the Automobile Labor Board for mediation. The plan had been offered by Auto-Lite officials the day before and endorsed by Taft. But the plan would have deprived the union of its most potent weapon (the closed plant and thousands of picketing supporters) and forced the union to accept proportional representation. Union members refused to accept either outcome. Taft suggested submitting all grievances to the National Labor Board instead, but union members rejected that proposal as well. (see May 26)
Foxconn
May 25, 2010: nine employee deaths at Chinese electronics manufacturer, Foxconn, Apple's main supplier of iPhones, has cast a spotlight on some of the harsher aspects of blue-collar life on the Chinese factory floor. (see January 20, 2011)
BLACK HISTORY
Promotion riot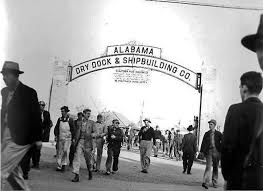 May 25, 1943: a riot broke out at the Alabama Dry Dock Shipping Company (ADDSCO) after 12 African Americans were promoted to "highly powered" positions.

The Alabama Dry Dock and Shipping Company built and maintained U.S. Navy Ships during World War I and World War II. During World War II, the company was the largest employer in Mobile. In 1941, the company began hiring African-American men in unskilled positions. By 1943, Mobile shipyards employed 50,000 workers and African-American men and women held 7000 of those jobs. This increase in black employees did not please white workers.

In the spring of 1943, in response to President Roosevelt's Fair Employment Practices Committee issuing directives to elevate African Americans to skilled positions, as well as years of pressure from local black leaders and the NAACP, the Alabama Dry Dock and Shipbuilding Company reluctantly agreed to promote twelve black workers to the role of welder. Shortly after the new welders finished their first shift, an estimated 4000 white shipyard workers and community members attacked any black employee they could find with pipes, clubs, and other dangerous weapons. Two black men were thrown into the Mobile River while others jumped in to escape serious injury. The National Guard was called to restore order. Although no one was killed, more than fifty people were seriously injured, and several weeks passed before African-American workers could safely return to work.

Many white employees refused to return to work unless they received a guarantee that African Americans would no longer be hired. However, the federal government intervened and the company created four segregated shipways where African Americans could hold any position with the exception of foreman. African Americans working on the rest of the shipyard were regulated to the low-paying, unskilled tasks they had historically performed. (see May 31)
Griffin v. County School Board of Prince Edward County
May 25, 1964: the US Supreme Court held that the County School Board of Prince Edward County, Virginia's decision to close all local, public schools and provide vouchers to attend private schools was constitutionally impermissible as a violation of the Equal Protection Clause of the Fourteenth Amendment. (BH, see May 31; SD, see Sept 9)
Muhammad Ali
May 25, 1965:  the second Ali-Liston fight.  Ali knocked out Liston midway through first round in a controversial knockout (see September 15)
Space Race
May 25, 1961: before a special joint session of Congress President Kennedy announced his goal to put a man on the Moon before the end of the decade.
May 25 Music et al
Bookends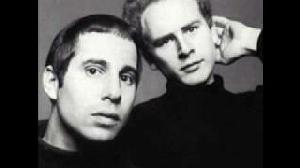 May 25 – June 14, 1968: Simon and Garfunkel's Bookends the Billboard #1 album.(see June 29)
May 25 Peace Love Activism
Cultural Milestone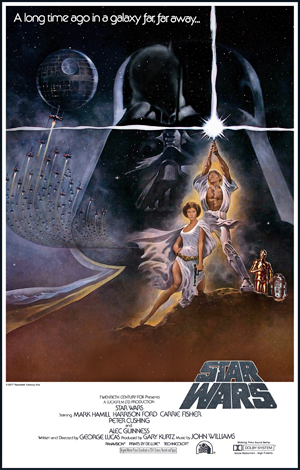 May 25, 1977:  20th Century Fox released Star Wars, the first Star Wars movie. The movie was later re-titled Star Wars: Episode IV – A New Hope. (see March 6, 1981)
FREE SPEECH
Frank Collin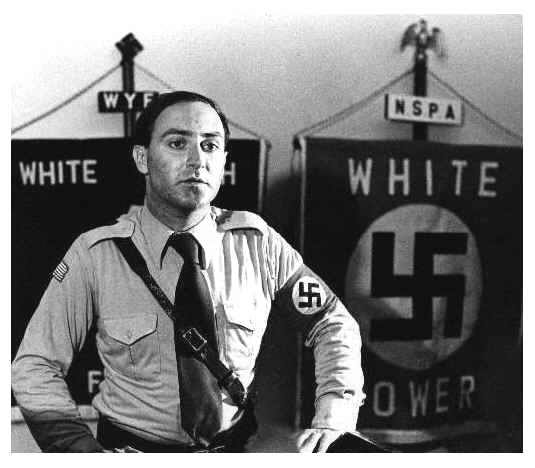 May 25, 1978: the Village of Skokie issues a permit allowing Frank Collin and his band of Nazi sympathizers to demonstrate in front of Skokie's Village Hall on Sunday 25 June 1978. (see June 2)
Falklands War
May 25, 1982,: Argentine aircraft sank HMS Coventry (killing 19) and British Merchant Navy vessel Atlantic Conveyor (killing 12). (see May 28 – 29)
Hands Across America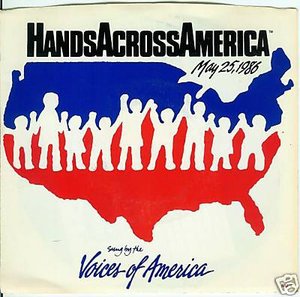 May 25, 1986, Hands Across America: At least 5,000,000 people form a human chain from New York City to Long Beach, California, to raise money to fight hunger and homelessness.
May 25 Peace Love Activism, May 25 Peace Love Activism, May 25 Peace Love Activism, May 25 Peace Love Activism, May 25 Peace Love Activism, May 25 Peace Love Activism, May 25 Peace Love Activism, May 25 Peace Love Activism, May 25 Peace Love Activism, May 25 Peace Love Activism, May 25 Peace Love Activism, May 25 Peace Love Activism, May 25 Peace Love Activism, 
Please follow and like us: