March 19 Peace Love Activism
Feminism
Voting Rights
March 19, 1914:  US Senate voted for first time since 1887 on federal woman suffrage amendment. It defeate d the bill,  but reintroduced it the next day. (VR, see Apr 8; Feminism, see May 2)
US Labor History
Adamson Act
March 19, 1917: the U.S. Supreme Court upheld the Adamson Act that made the eight-hour workday for railroads constitutional. (see Apr 10)
BLACK HISTORY & Race Riots
Harlem Riot
March 19, 1935: Harlem Riot, a 12-year-old boy was caught shop-lifting and threatened with physical punishment but the boy bit the employee's hand and escaped. A number of coincidences cause local residents to assume that the boy was beaten to death and riots follow.

                Sociologist Allen D. Grimshaw called the Harlem Riot of 1935 "the first manifestation of a 'modern' form of racial rioting," citing three criteria:
"

violence directed almost entirely against property"

"the absence of clashes between racial groups"
"struggles between the lower-class Negro population and the police forces"
Whereas previous race riots had been characterized by violent clashes between groups of black and white rioters, subsequent riots would resemble the riot in Harlem. (RR, see June 15, 1943; BH, see June 18, 1935)
March 19 Music et al
The Blackboard Jungle
March 19, 1955,  Roots of Rock: release of movie The Blackboard Jungle. The NY Times review stated: Evan Hunter's "Blackboard Jungle," which tells a vicious and terrifying tale of rampant hoodlumism and criminality among the students in a large city vocational training school, was sensational and controversial when it appeared as a novel last fall. It is sure to be equally sensational and controversial, now that it is made into a film. Actor Glenn Ford plays a main character. Ford's son, Peter, had liked the Bill Haley song "Rock Around the Clock" and recommended its inclusion in the movie. The movie made the song a huge hit. (see March 26, 1955; Haley, see July 9)
Jackie McLean
March 19, 1962: Jackie McLean recorded Let Freedom Ring album at Van Gelder Studios.
Bob Dylan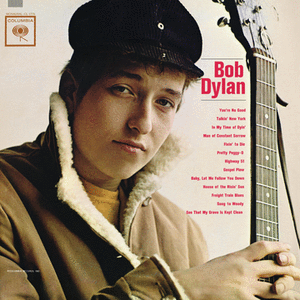 March 19, 1962:  Columbia released 20-year-old Bob Dylan first album: Bob Dylan. He recorded it between November 20 – 22, 1961. The album sold only 5,000 copies in its first year, (see Apr 16)
Acid Test
March 19, 1966: Acid Test Los Angeles, California (Pico) Carthay Studios. (see March 22)
Vietnam
Horst Faas
March 19, 1964: This photograph and other images from South Vietnam earned Associated Press photographer Horst Faas the Pulitzer Prize in 1965. The caption, as it appeared in the Milwaukee Sentinel on March 20: The body of a child killed in battle Thursday in South Vietnam was held by his father as rangers of the Vietnamese army looked down from a tank. The child was killed as government forces pursued Vietcong guerrillas into a village near the Cambodian border. The Vietnamese forces used bombers and armored personnel carriers against the guerrilla forces in the battle. (Vietnam, see in "April – June"; Faas, see July 18, 1965)
Howard University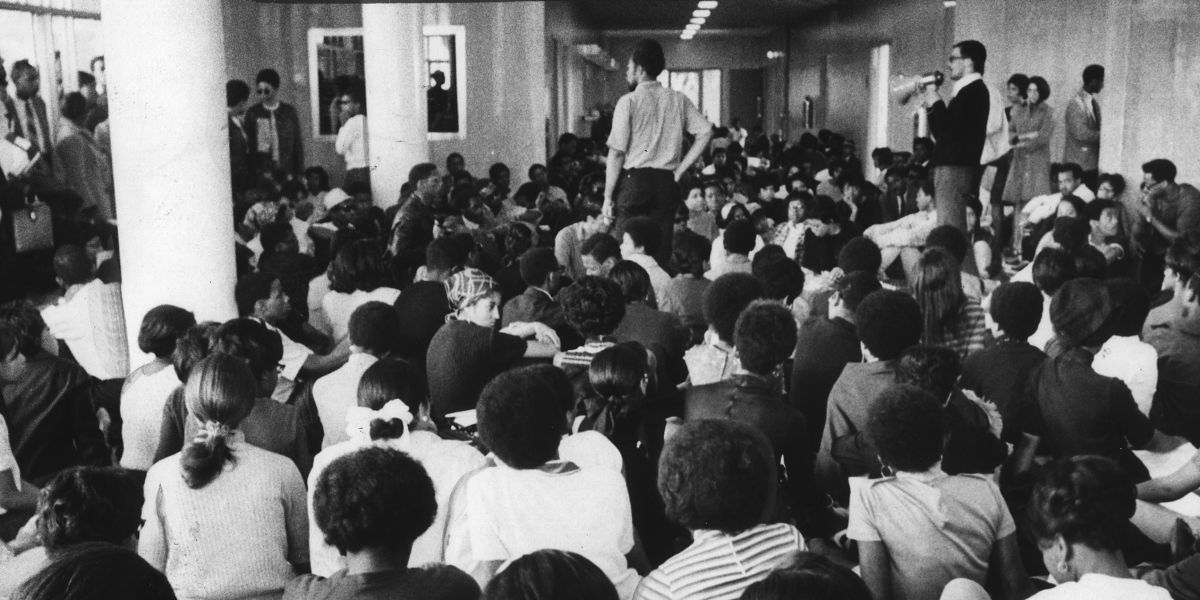 March 19 – 23, 1968: students at Howard University in Washington, D.C., staged rallies, protests and a 5-day sit-in, laying siege to the administration building, shutting down the university in protest over its ROTC program and the Vietnam War, and demanding a more Afrocentric curriculum. (see March 20)
Wounded Knee II
March 19, 1973: the insurgent Indians holding this tiny village publicly burned a detailed Government proposal aimed at settling the armed confrontation. However, they agreed to continue negotiations with Government officials. (see Native Americans, March 27, 1973)
FREE SPEECH
Barbara Papish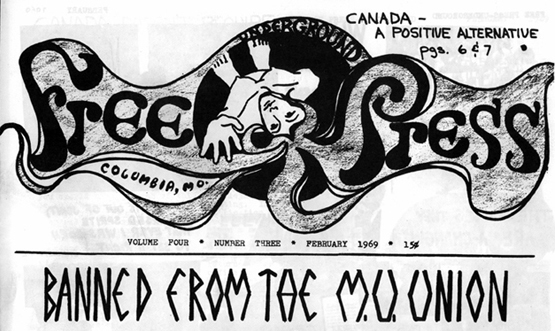 March 19, 1973: PAPISH v. BOARD OF CURATORS OF THE UNIVERSITY OF MISSOURI ET AL. Barbara Papish, a graduate student in the University of Missouri School of Journalism, was expelled for distributing on campus a newspaper "containing forms of indecent speech" in violation of a bylaw of the Board of Curators. The newspaper, the Free Press Underground, had been sold on this state university campus for more than four years pursuant to an authorization obtained from the University Business Office. The particular newspaper issue in question was found to be unacceptable for two reasons. First, on the front cover the publishers had reproduced a political cartoon previously printed in another newspaper depicting policemen raping the State of Liberty and the Goddess of Justice. The caption under the cartoon read: ". . . With Liberty and Justice for All." Secondly, the issue contained an article entitled "Motherfucker  Acquitted," which discussed the trial and acquittal on an assault charge of a New York City youth who was a member of an organization known as "Up Against the Wall, Motherfucker"

                The U.S. Eighth Circuit Court of Appeals had ruled her freedom of expression could be subordinated to the "conventions of decency in the use and display of language and pictures" on a public campus without violating the First Amendment.

                The US Supreme court voted  6-3 to overturn that decision. The Supreme Court noted that the Eighth Circuit's ruling had come several days before Healy v. James, 408 U.S. 169 (1972), in which the Court had said that even though a state university could enforce reasonable rules governing student conduct, "state colleges and universities are not enclaves immune from the sweep of the First Amendment." In a per curiam opinion, the Papish majority said Healy made "clear that the mere dissemination of ideas - no matter how offensive to good taste - on a state university campus may not be shut off in the name alone of 'conventions of decency.'" (see June 21)
March 19 Peace Love Activism
Stop and Frisk Policy
Civil rights inquiry
March 19, 1999,: New York State Attorney General Eliot Spitzer announced a civil rights inquiry into whether the New York Police Department's "stop and frisk" practices have caused some people to be unjustifiably searched. Spitzer's study would conclude that stop-and-frisks disproportionately impact men of color. (see December 2002)
Federal Judge Analisa Torresm
March 19, 2015: Manhattan Federal Judge Analisa Torresm, overseeing reforms to the NYPD's stop and frisk program, affirmed the "important perspective" of police unions in the overhaul. Torres said the five unions representing cops should be allowed to give input regarding any reforms proposed by the city. After the unions voice their opinions, the reforms will go to the court-appointed federal monitor, then to Torres for final approval, she wrote. (see July 9)
Iraq War II
War starts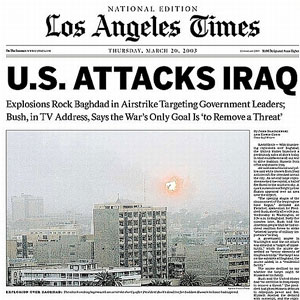 March 19, 2003: U.S. and coalition forces launched missiles and bombs at targets in Iraq including a "decapitation attack" aimed at Iraqi President Saddam Hussein and other top members of the country's leadership.

                There were nearly 300,000 American, British and other troops at the border.

President George W. Bush warned Americans that the conflict "could be longer and more difficult than some predict." He assured the nation that "this will not be a campaign of half-measures, and we will accept no outcome except victory." (see Mar 23)
War continues
March 19, 2006:  on the eve of the third anniversary of the Iraq invasion, President Bush promised to "finish the mission" with "complete victory," urging the American public to remain steadfast but offering no indication when victory may be achieved. [Washington Post, 3/19/06] (see Mar 19)
Westboro Baptist Church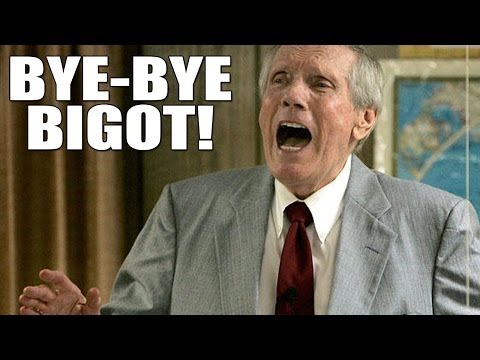 March 19, 2014: the Rev. Fred Phelps, the virulently antigay preacher who drew wide, scornful attention for staging demonstrations at military funerals as a way to proclaim his belief that God was punishing America for its tolerance of homosexuality died. He was 84. (see Sept 8)
DEATH PENALTY
March 19, 2015:
S. District Judge W. Keith Watkins issued orders that executions in Alabama were on hold until the U.S. Supreme Court decided a case regarding the drugs Oklahoma was using to kill condemned inmates. "The State has conceded that the best course of action is to stay decisions in lethal injection cases across the board" until the Oklahoma case was decided, Watkins wrote in a court order. Watkins issued orders this week in at least two death penalty cases, stating that executions in those cases were stayed until the nation's highest court ruled on the use of midazolam as a lethal injection drug. Watkins' orders indicated that Alabama would not oppose any motion for a stay of execution until the Supreme Court issued a ruling.
The the Florida Supreme Court unanimously ruled that inmates serving life sentences for crimes they committed as juveniles should be resentenced under guidelines that went into effect last year. In four separate cases, the justices ordered lower courts to apply a 2014 law to inmates who, as juveniles, were sentenced in the past either to life in prison or to terms that would have effectively kept them behind bars until they die. Two of the inmates were convicted of murder. The highly anticipated rulings settled the question of whether two seminal U.S. Supreme Court decisions that found life sentences for juveniles violate Eighth Amendment protections against cruel and unusual punishment should apply retroactively. Lower courts were divided on the retroactivity issue. (see Mar 20)
March 19 Peace Love Activism, March 19 Peace Love Activism, March 19 Peace Love Activism, March 19 Peace Love Activism, March 19 Peace Love Activism, March 19 Peace Love Activism, March 19 Peace Love Activism, March 19 Peace Love Activism, March 19 Peace Love Activism, March 19 Peace Love Activism, March 19 Peace Love Activism, March 19 Peace Love Activism, 
Please follow and like us: