July 31 Peace Love Art Activism
Black History
National Association of Colored Women Clubs
July 31, 1896: The National Association of Colored Women Clubs (NACWC) was established in Washington, D.C. by the merger of the National Federation of African-American Women, the Women's Era Club of Boston, and the National League of Colored Women of Washington, DC, as well as smaller organizations that had arisen from the African-American women's club movement.
Founders of the NACWC included Harriet Tubman, Margaret Murray Washington, Frances E.W. Harper, Ida Bell Wells-Barnett, and Mary Church Terrell. Its two leading members were Josephine Ruffin and Mary Church Terrell. Their original intention was "to furnish evidence of the moral, mental and material progress made by people of color through the efforts of our women". They organized to refute a letter written by James Jacks, the president of the Missouri Press Association, challenging the respectability of African-American women, and referring to them as thieves and prostitutes. (NACWC site) (next BH, see Dec 7; next Wells, see February 12, 1909)
Red Summer
July 31, 1919:  before noon on, angry white mobs had started more than thirty fires in the African American residential area of Chicago. Far from an isolated incident, these instances of arson were part of an extended barrage of violence perpetrated against Chicago's black community in the summer of 1919 – a season that came to be known as "Red Summer" for the extensive racial violence that erupted in major cities throughout the country during that season. The five days of riots and attacks that upended Chicago are widely considered the worst of the Red Summer race Revolts.
When the riots ended on August 3rd, after intervention by the state militia, five days of gunfire, beatings, and burnings had left 15 whites and 23 African Americans killed, 537 people injured, and 1000 African American families homeless. (PBS article on Red Summer) (BH, see Aug 25; RR, see Oct 1)
Elijah Muhammad
July 31, 1960: Elijah Muhammad, leader of the Nation of Islam, called for an all-black state. Membership in Nation of Islam estimated at 100,000. (see August)
Black & Chased dead
July 31, 1989: a New York State appeals court upheld the manslaughter and assault convictions of Jon Lester, Scott Kern and Jason Ladone in the Howard Beach attack and refused a defense request to reduce the prison sentences imposed on them.
In a unanimous decision, the five-judge panel characterized as "vicious and wanton" the defendants' conduct in the December 1986 incident that resulted in the "senseless" death of one black man and the "savage beating" of another. Such conduct "cannot, and will not, be condoned nor trivialized," it said.
"A message loud and clear must go forth that racial violence by any person or group, whatever their race, will not be tolerated by a just and civilized society, and that, when it does occur, it must be appropriately punished," the Appellate Division of State Supreme Court in Brooklyn said. The decision was written by Presiding Justice Milton Mollen.
Jason Ladone was released from prison after serving 10 years in April 2000 at age 29 and later became a NYC employee. In May 2001, Jon Lester was released and deported to his native England. Scott Kern was released from prison 2002.  (2000 NYT follow up report) (see  Nov 7)
July 31 Peace Love Art Activism
Feminism & Voting Rights
July 31, 1913:  after collecting suffrage petitions nationwide, automobile tours convene in Hyattsville, Maryland, and proceed to Washington, D.C. to present petitions to Congress. (see Nov 15)
July 31 Peace Love Art Activism
Religion/Education/Church/State
July 31, 1925: William Jennings Bryan is buried in Arlington National Cemetery. . (1990 NYT Beliefs article on Bryan) (see Scopes for expanded story)
July 31 Peace Love Art Activism
July 31, Music et al
Stars of a Summer Night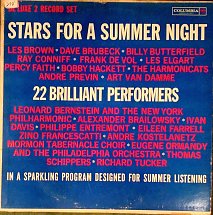 July 31 – August 27, 1961, Stars of a Summer Night by various artists is the Billboard #1 album.
Roots of Rock
July 31, 1966: WOR-FM  [NYC] began running a freeform-based progressive rock format for most of its broadcast day. Management was unable to come to an agreement with  AFTRA (the union that represents on air talent). As a result, the DJ's did not start until October 8. (see WOR for expanded story)
July 31 Peace Love Art Activism
Japanese Internment Camps
July 31, 1980: President Carter signs the Commission on Wartime Relocation and Internment of Civilians Act which created a group of people appointed by the U.S. Congress to conduct an official governmental study of Executive Order 9066, related wartime orders and their impact on Japanese Americans in the West and Alaska Natives in the Pribilof Islands. (see Internment for expanded story)
July 31 Peace Love Art Activism
Nominations
July 31 – August 3, 2000: The Republican National Convention in Philadelphia nominated George W. Bush for President and Dick Cheney for Vice President.
July 31 Peace Love Art Activism
LGBTQ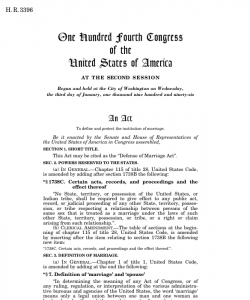 July 31, 2012: in Connecticut, U.S. District Court Judge Vanessa Bryant found the Defense of Marriage Act unconstitutional in Pedersen v. Office of Personnel Management. (LGBTQ, see Sept 4; DOMA, see June 26, 2013 or see or see December 13, 2022 re DoMA)
July 31 Peace Love Art Activism
Native Americans
July 31, 2013, Native Americans: as promised, three Native American organizations filed a federal civil rights complaint on behalf of a three-year-old Cherokee child at the heart of a protracted custody battle.
The National Congress of American Indians, National Indian Child Welfare Association and the Native American Rights Fund filed the lawsuit on Veronica Brown's behalf in South Carolina's federal district court after the state's Supreme Court refused to allow a best interest hearing and ordered the lower family court to finalize the child's adoption by a non-Native couple from James Island, S.C.
"As a matter of law, the actions of the state courts of South Carolina have deprived the plaintiff (Veronica) of a meaningful opportunity to be heard on the matter of her current best interests before being transferred from her father to an adoptive couple," according to the filing.
More than 40 tribes, attorneys general, scholars and organizations signed a letter in support of the lawsuit, including the Inter-tribal Council of the Five Civilized Tribes, of which Veronica and Dusten Brown's tribe, the Cherokee Nation, is a member. Through a spokeswoman, the council released the following statement Wednesday afternoon: "A severe injustice has been committed to an innocent Cherokee child and her loving family in Oklahoma. The Brown family, including Veronica, deserves their due process. They do not deserve to have their lives forever transformed by the South Carolina judicial system without cause or consideration. Indian children being removed from their families and homes is not a new story in Indian Country. Those dark days have reared their head again sadly in South Carolina. We will stand with Veronica, the Browns, and national tribal organizations fighting for fairness and justice." (see  Veronica for expanded story)
July 31 Peace Love Art Activism
Cannabis
July 31, 2018: Manhattan, NY District Attorney Cyrus Vance announced a new policy that ended the prosecution of marijuana possession and smoking in the borough, except in cases where the drug was being sold or if it posed a significant threat to public safety.
According to a statement from Vance's office, it was projected that the policy could reduce marijuana prosecutions by as much as 96 per cent, which would account for a drop from 5,000 cases a year to 200 a year. (next Cannabis, see Aug 2 or see CCc for expanded chronology)
July 31 Peace Love Art Activism