July 30 Peace Love Art Activism
Black History
New Orleans Massacre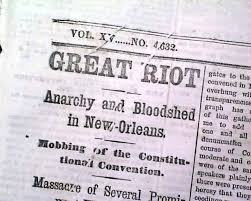 July 30, 1866: Radical Republicans in Louisiana reconvened the Louisiana Constitutional Convention in an attempt to seize control of the state government. The new convention had many black supporters, including 200 Union Army veterans, who had attended speeches by abolitionists and Radical Republicans a few days earlier. The speakers encouraged blacks to march upon the grounds of the Mechanics Institute in New Orleans to show solidarity with the convention.
After recessing at mid-day, convention members leaving the meeting were greeted by black marchers. Across the street from the Mechanics Institute, a group of armed white men gathered to confront both marchers and convention delegates. The white mob, which included many Confederate war veterans, was convinced that the Radical Republicans sought to disenfranchise whites while enfranchising blacks. The mob attacked marchers and Radical Republicans, who were unprepared to fight and were chased into the Mechanics Institute. In the ensuing violence, 35 black marchers and three white Radical Republicans were killed and about 100 black marchers were injured. (Black Past dot org article) (see In September)
COINTELPRO
July 30, 1964:  COINTELPRO [Counter Intelligence Program] was a secret FBI operation that included illegal actions, such as burglaries and the theft of documents, wiretapping, the forgery of documents, and other efforts to disrupt political targets. Its principal target was the Communist Party, along with some other left-wing groups. Under pressure from President Lyndon Johnson to act on civil rights (mainly because of the murder of three civil rights workers in Mississippi on June 21, 1964), the FBI on this day extended its COINTELPRO program to the Ku Klux.  [NoI article] (see Aug 4)
Clarence Triggs
July 30, 1966: Clarence Triggs, a bricklayer who had attended civil rights meetings sponsored by the Congress of Racial Equality, was found dead on a roadside in Bogalusa, La., shot through the head.  (Encyclopedia dot biz article) (see Aug 5)
Milwaukee revolt
July 30, 1967: Milwaukee race revolts lasting through August 2 and leading to a ten-day shutdown of the city. (Journal Sentinel article)(see Aug 1)
July 30 Peace Love Art Activism
Feminism
July 30, 1942: President Franklin D. Roosevelt signed a bill creating a women's auxiliary agency in the Navy known as Women Accepted for Volunteer Emergency Service, or WAVES. (Women of WWII site article) (June 26 – 28, 1944)
July 30 Peace Love Art Activism
Vietnam
July 30, 1964: South Vietnamese commandos attacked two small North Vietnamese islands in the Gulf of Tonkin. The U.S. destroyer Maddox, an electronic spy ship, was 123 miles south with orders to electronically simulate an air attack to draw North Vietnamese boats away from the commandos. (see Gulf for expanded story) (see Aug 2)
July 30 Peace Love Art Activism
Medicare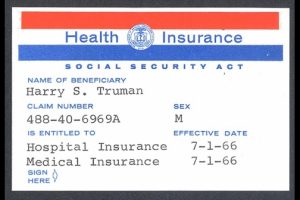 July 30, 1965: President Johnson signed Medicare into law. The bill-signing ceremony took place at the Truman Library in Independence, Missouri and former President Harry S. Truman was enrolled as Medicare's first beneficiary and received the first Medicare card. (Medicare site article)
July 30 Peace Love Art Activism
July 30 Music et al
Bob Dylan
July 30,1962: "Blowin' In the Wind" was copyrighted to M Witmark & Sons. Albert Grossman signed a deal the same day with Witmark giving Grossman 50% of of Witmark's share of the publishing income generated by any songwriter he brought to the company. This agreement gave Grossman an even larger slice of Dylan's profits besides his management slice. (see Aug 2)
Yesterday and Today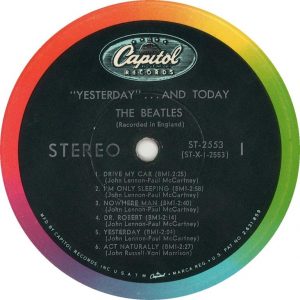 July 30 – Sept 2, 1966: Yesterday and Today the Billboard #1 album.
Road to Bethel
July 30, 1969: Max Yasgur gave permission to Woodstock Ventures to drill on festival site for water.
Lang, Kornfeld, Roberts, and Rosenman met to discuss how to publicize the festival's new location.  Arnold Skolnick drawing. (see Chronology for expanded story)
July 30 Peace Love Art Activism
United Farm Workers
Lettuce strike
July 30 1970: Lettuce pickers strike begins, conflict with Teamsters begins as Teamsters sign sweetheart contracts with growers. (Harvard Crimson article) (see August 26, 1970)
Gallo boycott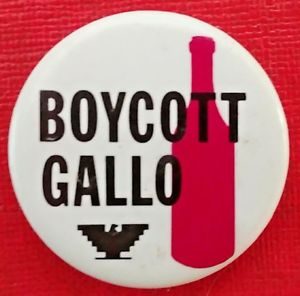 July 30, 1973: Gallo boycott and strike (September 1973 NYT article) (see August 14, 1973)
July 30 Peace Love Art Activism
Watergate
July 30, 1974: Nixon released subpoenaed White House recordings–suspected to prove his guilt in the Watergate cover-up–to special prosecutor Leon Jaworski.
The same day, the House Judiciary Committee voted a third article of impeachment against the president: contempt of Congress in hindering the impeachment process. The previous two impeachment articles voted against Nixon by the committee were obstruction of justice and abuse of presidential powers. (see Watergate for expanded story)
July 30 Peace Love Art Activism
Independence Day
July 30, 1980: Vanuatu independent of the United Kingdom. (see September 21, 1981)
July 30 Peace Love Art Activism
Clinton Impeachment
July 30, 1998: sources say that as part of her immunity agreement, Lewinsky has handed over to prosecutors a dark blue dress that she alleges may contain physical evidence of a sexual relationship with President Bill Clinton. The dress is turned over to the FBI lab for testing. (see Clinton for expanded story)
July 30 Peace Love Art Activism
Terry Jones
July 30, 2010, Terry Jones: The National Association of Evangelicals, one of the largest collections of such churches, denounced Jones's planned Koran burning event and urged Jones to call it off. (see Aug 26)
July 30 Peace Love Art Activism