March 27 Peace Love Activism
BLACK HISTORY
Charleston, S.C
March 27, 1861: just weeks before the beginning of the Civil War, free African Americans in Charleston, S.C., staged "ride-ins" over being denied access to streetcars. (BH, see Apr 16; Charleston, see May 1)
President Andrew Johnson
March 27, 1866:  President Andrew Johnson vetoed a civil rights bill that would later become the 14th Amendment to the Constitution, conferring full US citizenship on all slaves. (see May 1)
United States v. Cruikshank
March 27, 1876: the Supreme Court had heard arguments in United States v. Cruikshank on March 31 and April 1, 1875. In its ruling on this day, the Supreme Court dismissed the charges against the three white men, ruling that the Fourteenth Amendment protects only against intentionally discriminatory state acts, not the acts of one citizen towards another not clearly motivated by racial animus. This ruling severely limited the federal government's role in protecting black citizens from racially-motivated violence, especially at the hands of white terrorist groups intent on restoring whites' racial dominance in the post-civil war South. (see June 17)
March 27, 1933: Haywood Patterson's second trial began before another all-white jury. Ruby Bates testified that neither she nor Victoria Price had been raped on the Southern Railway. (SB, see  April 7)
Montgomery Bus Boycott
March 27, 1956: the Alabama Attorney General filed a motion urging dismissal of the Browder v. Gayle federal suit. (BH, see Mar 27; B v G, see June 5; MBB, see Nov 13)
Rev. Billy Graham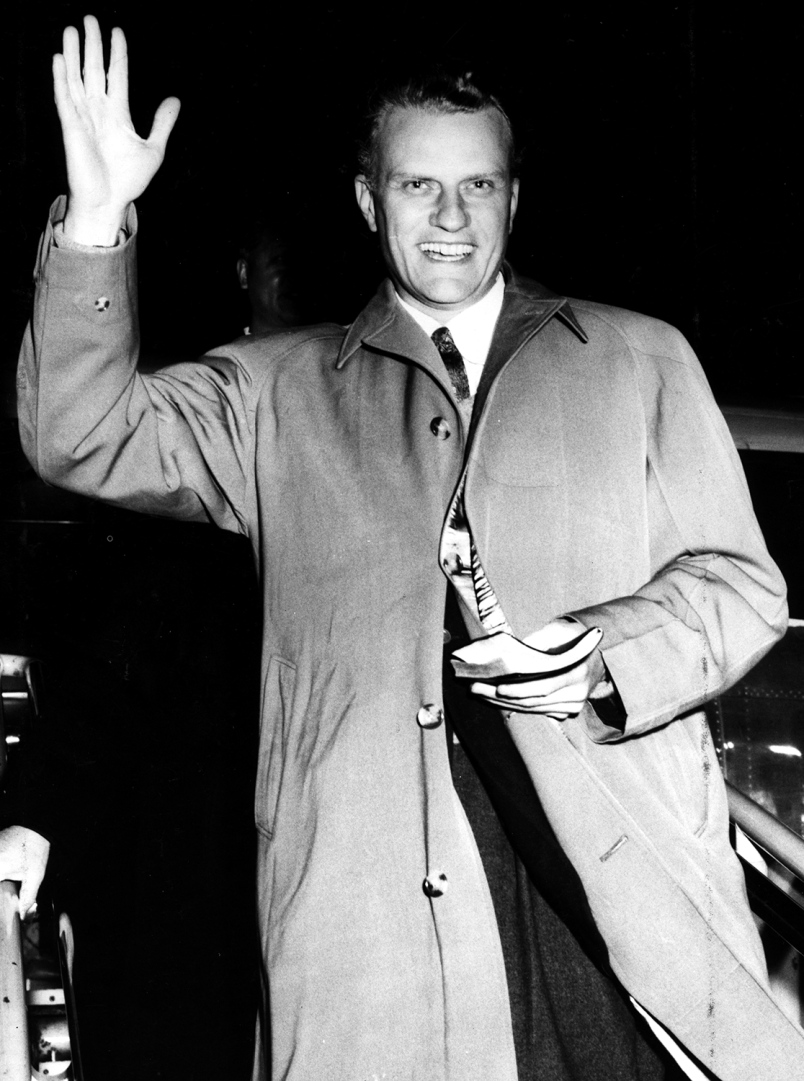 March 27, 1956: Rev. Billy Graham, a conservative Protestant minister from North Carolina, was just beginning to emerge as the unofficial "minister" to U.S. presidents. On this day, he advised President Dwight D. Eisenhower to "stay out" of the growing civil rights controversy. Eisenhower did not need much persuading, as he did not support the Supreme Court's historic Brown v. Board of Education decision of May 17, 1954. (Eisenhower sent federal troops to Little Rock, Arkansas, on September 25, 1957, to ensure the integration of Central High School, but he did so only because of the violent resistance to a lawful court order. (see Mar 29)
School Desegregation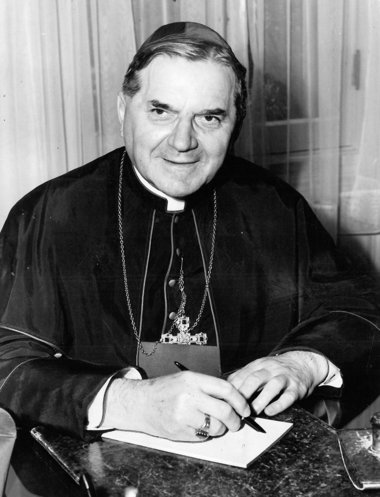 March 27, 1962: Archbishop Joseph Francis Rummel of Louisiana, called for all Roman Catholic schools in New Orleans to end their segregation policies. (BH, see Apr 3; SD, see September 2, 1963)
Rev. James Orange
March 27, 1965: a group of about 200 protesters, black and white, led by the Rev. James Orange of the SCLC marched to the Dallas County courthouse in Selma. The Rev. James Bevel told them, "[Viola Liuzzo] gave her life that freedom might be saved throughout this land." (see Mar 29)
US Labor History
Feminism
March 27, 1904: Colorado state authorities ordered Mary Jarris "Mother" Jones to leave the state. She was accused of stirring up striking coal miners. (Labor, see Apr 25; Feminism, see March 2, 1907)
Technological Milestone
March 27, 1953: the ban on manufacturing of color TVs (due to conflict in Korea) was lifted.  (see Apr 7)
Cold War
Dalton Trumbo
March 27, 1957: "Robert Rich" won the Academy Award for Best Original Story for the 1956 film, The Brave One. At the Oscars ceremony, however, no "Mr. Rich" appeared to accept the award. "Rich" was the pseudonym for Dalton Trumbo, who had been blacklisted because of his political views and his refusal to answer questions before the House Un-American Activities Committee (HUAC), on October 28, 1947. While blacklisted, Trumbo wrote a number of screenplays anonymously or under pseudonyms. (Red Scare, see May 2; Trumbo, see May 2, 1975)
March 27 Music et al
Roots of Rock
March 27, 1952: Sam Phillips began Sun Records, a division of Sun Entertainment Corp, as an American independent record label. (see January 4, 1954)
Technological Milestone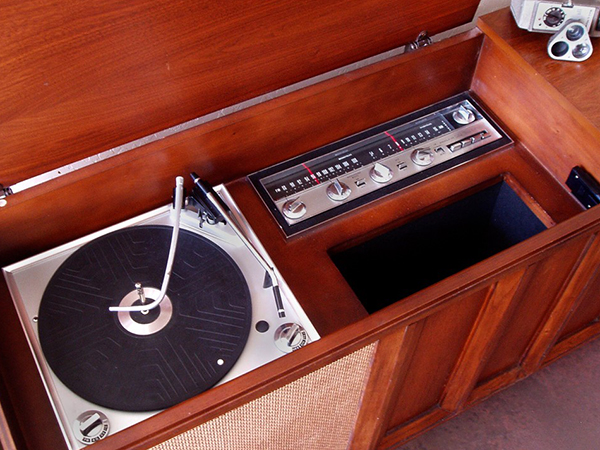 March 27, 1958: CBS Laboratories announced a new stereophonic record that was playable on ordinary LP phonographs, meaning, monaural. In stereo, on the proper equipment, a new rich and fuller sound was heard. It eventually became a standard for record and equipment buyers. (see December 10, 1959)
Bob Dylan
March 27, 1965: Dylan released Bringing It All Back Home, his fifth studio album. He had recorded  between January 13 – 15, 1965

The album's cover photographed by Daniel Kramer features Sally Grossman (wife of Dylan's manager Albert Grossman) lounging in the background. There are also artifacts scattered around the room, including LPs by The Impressions (Keep on Pushing), Robert Johnson (King of the Delta Blues Singers), Ravi Shankar (India's Master Musician), Lotte Lenya (Sings Berlin Theatre Songs by Kurt Weill) and Eric Von Schmidt (The Folk Blues of Eric Von Schmidt). Dylan had "met" Schmidt "one day in the green pastures of Harvard University" and would later mimic his album cover pose (tipping his hat) for his own Nashville Skyline four years later. (see Apr 12)
Supremes
March 27 – April 9, 1965: "Stop! In the Name of Love" by the Supremes #1 on the Billboard Hot 100.
Fear of Rock
March 27, 1971: New York radio station WNBC banned the song 'One Toke Over the Line' by Brewer & Shipley because of its alleged drug references. Other stations around the country followed. (see April 28, 1982)
Jerry Garcia
March 27, 1973: police arrested Jerry Garcia after finding cocaine and LSD in his car after being busted for speeding in New Jersey. (see January 7, 1979)
March 27 Peace Love Activism
Native Americans
March 27, 1973: Marlon Brando boycotted the Academy Award ceremonies and sent Sacheen Littlefeather, a Native American activist who presented a speech on his behalf for his performance in The Godfather as a protest of the treatment of Native Americans by the film industry.  There was a mixed reaction to her/Brando's letter.
Clint Eastwood later poked fun at the statement:
Fourth Amendment
Tennessee v. Garner
March 27, 1985: Tennessee v. Garner, the US Supreme Court held that, under the Fourth Amendment, when a law enforcement officer is pursuing a fleeing suspect, the officer may not use deadly force to prevent escape unless "the officer has probable cause to believe that the suspect poses a significant threat of death or serious physical injury to the officer or others." (see June 20, 1991)
Iraq War II
Sen John McCain
March 27, 2007:  Sen John McCain claimed progress in Iraq. McCain tells CNN's Wolf Blitzer: "General Petraeus goes out there almost every day in an unarmed humvee. I think you oughta catch up. You are giving the old line of three months ago. I understand it. We certainly don't get it through the filter of some of the media." He later acknowledges, "There is no unarmored humvees. Obviously, that's the case." [CBS, 4/8/07] (see April 1)
Religion and Public Education
In God We Trust
March 27, 2012:  Bradley Johnson, Petitioner v. Poway Unified School District, et al. The US Supreme Court declined to hear (thus upheld) a Ninth U.S. Circuit Court of Appeals decision re a San Diego County school district's ordering a high school math teacher to remove large banners declaring "In God We Trust" and "God Shed His Grace on Thee." On September 13, 2011 in a 3-0 ruling the appeals court said that those inscriptions and others that teacher Bradley Johnson displayed on his classroom wall amounted to a statement of religious views that the Poway Unified School District was entitled to disavow.
Nampa Classical Academy vs. Gosling
March 27, 2012:  Nampa Classical Academy vs. Gosling, 11-786. The US Supreme Court declined to hear (thus upheld) a Ninth US Circuit Court of Appeals decision that ruled that Idaho's Public Charter School Commission acted legally when it prohibited a charter school from using religious materials as textbooks. The Nampa Classical Academy said it was using the Bible and other spiritual texts for cultural education, not religious indoctrination. But the appeals court said the state was entitled to ban the books as texts in order to avoid "governmental promotion of religion." (see November 19, 2013)
March 27 Peace Love Activism, March 27 Peace Love Activism, March 27 Peace Love Activism, March 27 Peace Love Activism, March 27 Peace Love Activism, March 27 Peace Love Activism, March 27 Peace Love Activism, March 27 Peace Love Activism, March 27 Peace Love Activism, March 27 Peace Love Activism, March 27 Peace Love Activism, March 27 Peace Love Activism, 
Please follow and like us: