July 22 Peace Love Art Activism
Anarchism in the US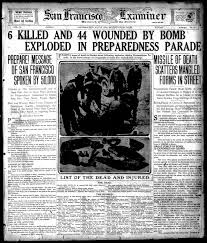 July 22, 1916: a bomb exploded during the Preparedness Day parade in San Francisco, killing 10 people and injuring 40. The press immediately blames labor organizers and anarchists. (San Francisco Museum article) (see January 8, 1917)
July 22 Peace Love Art Activism
Black History
Frank Embree lynched
July 22, 1899: a white mob abducted Frank Embree from officers transporting him to stand trial and lynched him in front of a crowd of over 1,000 onlookers in Fayette, Missouri.
About one month earlier, Frank Embree had been arrested and accused of assaulting a white girl. Though he was scheduled to stand trial on July 22, the town's residents grew impatient and decided to take "justice" into their own hands by lynching Mr. Embree instead.
According to newspaper accounts, the mob attacked officers transporting Embree, seized him, and loaded him into a wagon, then drove him to the site of the alleged assault. Once there, Mr. Embree's captors immediately tried to extract a confession by stripping him naked and whipping him in front of the assembled crowd, but he steadfastly maintained his innocence despite this abuse. After withstanding more than one hundred lashes to his body, Embree began screaming and told the men that he would confess. Rather than plead for his life, Embree begged his attackers to stop the torture and kill him swiftly. Covered in blood from the whipping, with no courtroom or legal system in sight, Embree offered a confession to the waiting lynch mob and was immediately hanged from a tree.
Though published photographs of Embree's lynching clearly depict the faces of many of his assailants, no one was ever arrested or tried for his death. [EJI article] (next BH & Lynching, see January 20, 1900; see 19th century for expanded lynching chronology)
Andy Wright
July 22, 1937: Andy Wright convicted and sentenced to 99 years. (see Scottsboro for expanded story)
Albany Movement
July 22, 1962: Martin Luther King Jr. said that Federal District Judge J. Robert Elliott was engaged to an extent in a "conspiracy" to maintain segregation. While bringing food to jailed demonstrators in Camilla, Georgia, Marion King is assaulted by police officers who hit and kick her until she is unconscious. King was pregnant. (see  Albany for expanded story)
July 22 Peace Love Art Activism
Nuclear/Chemical News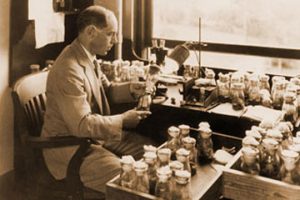 July 22, 1927:  geneticist Hermann Muller reported on his experiments in Science. He had exposed fruit flies to X-rays. This ionizing radiation had the power to penetrate cells and alter genetic material. Some of Muller's fruit flies had mutant genes and some of those mutations were heritable (they could passed down to future generations) Plant breeders began to use x-rays in attempts to induce mutations that might be beneficial. (Nobel Prize site article)(see December 17, 1938)
July 22 Peace Love Art Activism
Feminism
Jane Matilda Bolin
July 22. 1939: New York City Mayor Fiorello LaGuardia appointed Jane Matilda Bolin a judge of the city's Domestic Relations Court, making her the first African-American woman appointed to judicial office in the United States. (NYT obit) (see July 30, 1942)
Kolstad v. American Dental Association
July 22, 1999: the US Supreme Court rules in Kolstad v. American Dental Association that a woman can sue for punitive damages for sex discrimination if the anti-discrimination law was violated with malice or indifference to the law, even if that conduct was not especially severe. Carole Kolstad had claimed that the application process for her former director's director position was a sham alleging that the respondent's decision to promote another person was an act of employment discrimination proscribed under Title VII. (Oyez article) (see May 15, 2000)
July 22 Peace Love Art Activism
INDEPENDENCE DAY
July 22, 1963: Sarawak independent from United Kingdom. [New Mandala article] (see Aug 31)
July 22 Peace Love Art Activism
The Road to Bethel
July 22, 1969: Mel Lawrence brought Festival workers from Wallkill to Bethel. Holds general meeting at El Monaco Motel. (intersection of Rts 17 B & 55).
Around this time, Woodstock Ventures, seeing the Earth Light Theatre on the El Monaco site, ask if the the troupe would do performances at the festival. They agreed.
Allan Mann, of Earth Light, offered to arrange for Sri Swami Satchidananda to open the festival on Friday 15 August. (see Chronology for expanded story)
July 22 Peace Love Art Activism
Fair Housing
Stewart B. McKinney Act
July 22, 1987: Stewart B. McKinney Act set up programs to help communities deal with homelessness. (HUD article) (see June 29, 1988)
July 22 Peace Love Art Activism
IRAQ War I
July 22, 1990: Iraq begins deploying troops to the Iraqi-Kuwaiti border. (see Aug 2)
July 22 Peace Love Art Activism
Native Americans
July 22, 2013:  three of Indian Country's largest organizations prepared to intervene in the on-going "Baby Veronica" saga. At a press conference, representatives from the National Congress of American Indians, the Native American Rights Fund and the National Indian Child Welfare Association announced plans to file a civil rights lawsuit if the South Carolina Supreme Court does not reconsider last week's decision to terminate Cherokee Nation citizen Dusten Brown's parental rights without a "best interest" custody hearing. (Native Americans, see July 23; see Baby Veronica for expanded story)
July 22 Peace Love Art Activism
Women's Health
July 22, 2019: the Trump administration gave Title X recipients more time to comply with new regulations that prohibited organizations that received federal grants from referring patients for abortion.
Under the new rules, any organization that provides or refers patients for abortions was ineligible for Title X funding.
The Department of Health and Human Services laid out a timeline for organizations to comply. They were to submit written assurance by August 19 that they did not provide abortion or include abortion as a method of family planning. HHS said the government did not intend to bring enforcement actions against clinics that were making "good-faith efforts to comply," according to The Associated Press.
The HHS had said on  July 15 that it would begin enforcing the new rules and requiring compliance immediately. [NPR story] (see Aug 19)
July 22 Peace Love Art Activism