July 23 Peace Love Art Activism
Native Americans
Treaty of Traverse des Sioux
July 23, 1851: in debt to corrupt Indian Agents, the Sioux Indian bands in Minnesota Territory signed the Treaty of Traverse des Sioux with the United States government. Through the Treaty of Traverse des Sioux and the Treaty of Mendota (August 4, 1851), the Mdewakanton and Wahpekute bands of the Lower Sioux ceded territory of nearly 24 million acres. The US agreed to pay the Dakota an annuity the equivalent of 3 cents an acre and set aside two reservations for the Sioux along the Minnesota River, each about 20 miles wide and 70 miles long, The reservations were insufficient for the tribes to continue their traditional way of life and through the treaty's trickery, most of the money did not go to the Sioux, but to pay off debts which the Dakota incurred with the corrupt agents. (MNopedia article) (see August 19, 1854)
Voter discrimination
July 23, 2013:   two elderly Yup'ik speakers and two tribal organizations filed a federal lawsuit against Alaska, saying state election officials failed to provide language assistance at the polls as required by law.
The lawsuit named Lt. Gov. Mead Treadwell, the state's top election official, as a defendant, along with his director of elections, Gail Fenumiai. Regional election officials in Fairbanks and Nome were also sued, The Anchorage Daily News reported.
The lawsuit, filed in U.S. District Court by the Anchorage office of the Native American Rights Fund, said the state had violatd the federal Voting Rights Act by not providing ballots and voting instructions for speakers of Yup'ik and its dialect in Hooper Bay, Cup'ik.
The plaintiffs contended that the failure of the state to provide language assistance appears to have suppressed voter turnout among Natives in the region. (Newsminer dot com followup article) (NA, see July 31; Yup'ik suit, see September 3, 2014)
July 23 Peace Love Art Activism
US Labor History
Immigration History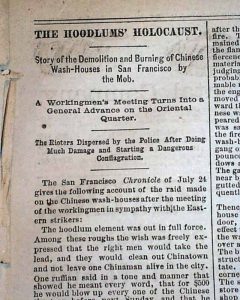 July 23, 1877: anti-Chinese nativist agitators at a huge outdoor rally in San Francisco about the economic depression and unemployment organized by the Workingmen's Party of the United States incited a two-day riot of ethnic violence against Chinese workers, resulting in four deaths and the destruction of property. (UFW dot org article) (Labor, see Aug 24; Immigration, see May 6, 1882)
United Farm Workers
July 23, 1970: the driver and packing worker strike ended, but the contract included a special agreement by the growers to give the Teamsters, not the United Farm Workers, access to farms and the right to organize workers into unions, outraging the UFW. (see July 29, 1970)
July 23 Peace Love Art Activism
Anarchism
Alexander Berkman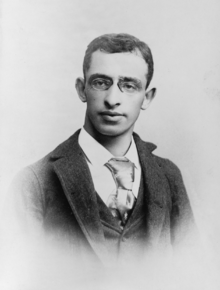 July 23, 1892: anarchist Alexander Berkman shot and stabbed but failed to kill steel magnate Henry Clay Frick in an effort to avenge the Homestead massacre 18 days earlier, in which nine strikers were killed. Berkman also tried to use what was, in effect, a suicide bomb, but it didn't detonate.
Emma Goldman was suspected of complicity but not charged. Police raid her apartment, seizing her papers. The press referred to Goldman, temporarily in hiding, as the "Queen of the Anarchists."  (Anarchist dot com list of links for Berkman)(see July 26, 1892)
Emma Goldman
July 23, 1909: Emma Goldman spoke in NYC. Among her comments were: Many people are afraid to come to an Anarchist meeting because they fear that they will be blown up. Isn't it stupid to be afraid of violence; only of individual violence. They have no objection to battlefields, and policemen, and electric chairs, and other ornaments of the present system. So long as violence is committed in the name of the State they are happy." She referred to the hanging of the Anarchists after the Haymarket riots as "judicial murder." (see Goldman for expanded story)
July 23 Peace Love Art Activism
Religion and Public Education /Cold War
July 23, 1956:  though the phrase "In God We Trust" had appeared earlier in the nation's history, including on coins minted in the 19th century, the phrase officially become the national motto during the Cold War, when the nation confronted the threat of "godless communism." (Conversation dot com article) (Religion, see June 25, 1962; CW, see Nov 25)
July 23 Peace Love Art Activism
July 23 Music et al
Frank Sinatra
July 23 – 29, 1966: Frank Sinatra's Strangers in the Night is the Billboard #1 album.
The Straight Theatre
July 23, 1967: The Straight Theatre was an old movie theater in the heart of the Haight Ashbury, at 1702 Haight on the corner of Haight and Cole. In early 1966, some local hippies decided to convert the old theater into a hippie arts center that would present musical and other performances as well as act as a sort of Hip Community Center. The final embodiment of this structure, the Straight Theater, ran into trouble with the neighborhood and zoning issues when it tried to open a music venue. To get around it and still keep to their original purpose, the owners called it a "school of dance."  (see  (Straight Theatre for expanded story)
July 23 Peace Love Art Activism
LGBTQ
July 23, 1967:  a beachfront campaign to educate gays on Fire Island about their rights in the courtroom was prepared by the Mattachine Society, an educational research group that sought tolerance of gays. (2015 article by Karl Grossman) (see June 27, 1969)
July 23 Peace Love Art Activism
BLACK HISTORY
July 23 – 27, 1967: 12th Street Riot (Detroit) – lasted five days. Gov George Romney ordered Michigan National Guard into Detroit; President Johnson sent in Army troops. 43 dead, 467 injured, over 7,200 arrests, and more than 2,000 buildings destroyed. (Time magazine photos and article) (see July 27)
July 23 Peace Love Art Activism
Watergate Scandal
July 23, 1973: Nixon refused to turn over the presidential tape recordings to the Senate Watergate committee or the special prosecutor. (see Watergate for expanded story)
July 23 Peace Love Art Activism
Sexual Abuse of Children
July 23, 2003:  a report released by the Massachusetts attorney general's office found that more than 1,000 people in the Boston Archdiocese were likely the victims of sexual abuse over a period going back to 1940. Attorney General Tom Reilly says former archbishop Cardinal Bernard Law "bears the ultimate responsibility for the tragic treatment of children that occurred during his tenure." (see Aug 6)
July 23 Peace Love Art Activism
Marijuana
July 23, 2013: New Hampshire became the 19th State to legalize medical marijuana. (NORML article) (see Aug 1)
July 23

Peace Love Art Activism
Nuclear/Chemical News
July 23, 2018: the website 38 North reported that " new commercial satellite imagery of the Sohae Satellite Launching Station (North Korea's main satellite launch facility since 2012) indicates that the North has begun dismantling key facilities." (see Aug 24)
July 23 Peace Love Art Activism
FREE SPEECH
July 23, 2020: U.S. District Judge Michael Simon temporarily blocked federal law enforcement officers deployed to Portland, Ore., from targeting journalists and legal observers at the protests against police violence and racial injustice that have intensified in recent days.
Simon issued a restraining order  preventing federal agents from "arresting, threatening to arrest, or using physical force" directed at anyone they know to be a journalist or legal observer, unless they have probable cause to believe they have committed a crime.
The order also blocked the defendants from seizing any photographic, audio and video recording equipment and press passes from people in those two categories, as well as from ordering them to stop recording or observing a protest.
It took effect on this date and would last until August 6.
The order came in response to a lawsuit filed by the American Civil Liberties Union of Oregon, on behalf of a group of legal observers and local journalists.
They wrote that they were seeking to stop local and federal defendants from attempting to intimidate the press and "assaulting news reporters, photographers, legal observers, and other neutrals who are documenting the police's violent response to protests over the murder of George Floyd." [NPR article]  (next FS, see)
July 23 Peace Love Art Activism
Fair Housing
July 23, 2020: the White House eliminated a sweeping Obama-era fair housing regulation and replaced it with a much weaker rule amid an effort by President Donald Trump to paint rival Joe Biden as a danger to the suburbs.
A handful of White House officials led the effort to craft the new rule over objections from both within the White House and at the Department of Housing and Urban Development, according to a person familiar with the matter. HUD had already released its own 84-page proposal in January to overhaul the 2015 Affirmatively Furthering Fair Housing rule, the culmination of more than a year of work. [Politico article]
July 23 Peace Love Art Activism