November 5 Peace Love Activism
FEMINISM
Voting Rights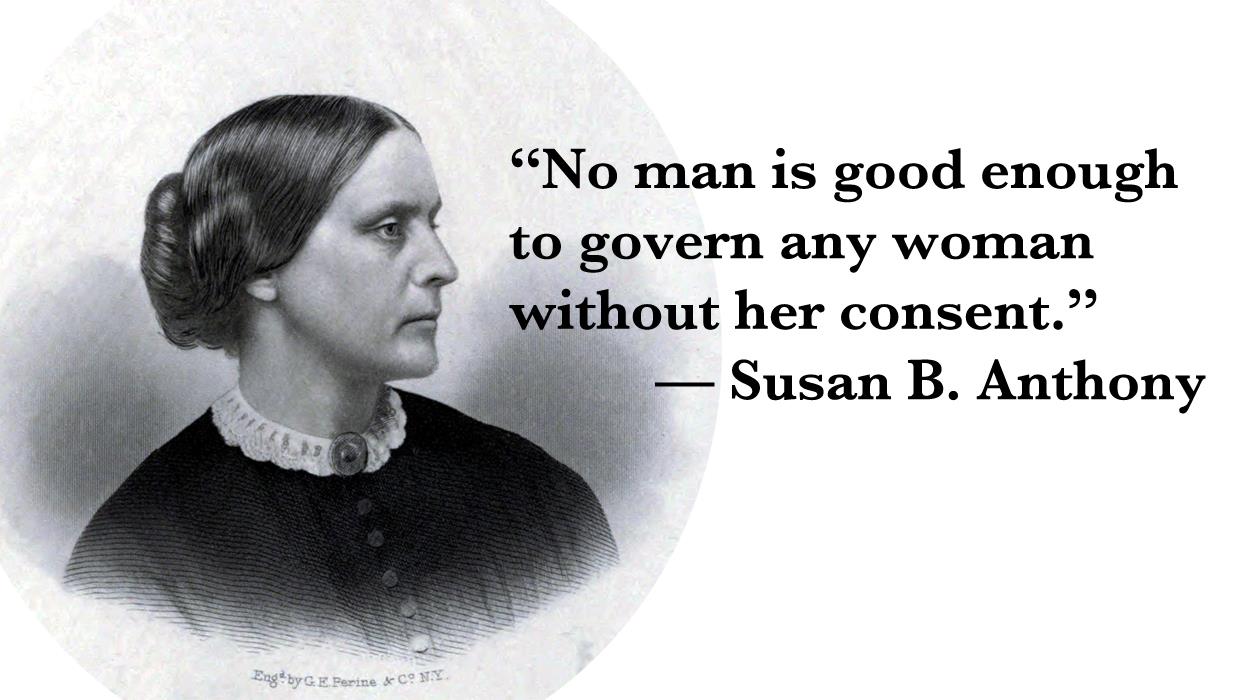 November 5, 1872:  to test the argument advanced by many feminists that the Fourteenth and Fifteenth Amendments guarantee women the right to vote, Susan B. Anthony attempted to vote in the 1872 presidential election. Anthony had consulted Judge Henry R. Selden before attempting voter registration in Rochester, New York. He concurred with Francis Minor's [a lawyer and the husband of Virginia Minor (the president of the Woman Suffrage Association]  reading of the Fourteenth Amendment and provided a written opinion saying so. Anthony took the written opinion with her and threatened the registrars with a lawsuit if she were turned away. Anthony and 14 other women registered, and they voted in the presidential election. (US Feminism, see Nov 28, 1872, Voting Rights, see Nov 28)
 Alice Paul and Rose Winslow
November 5, 1917: jailed for picketing in front of the White House and demanding the vote,  Alice Paul and Rose Winslow begin hunger strike when demands for political prisoner status rejected. One week later, authorities subjected Paul to force-feeding three times a day and then separated her from other suffrage prisoners by transferring her to the psychiatric ward at District jail for "evaluation" in effort to intimidate and discredit her. (see Nov 6)
Feminism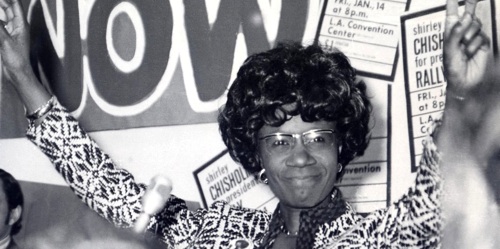 November 5, 1968: Shirley Chisholm, educator, author, and Democrat from New York, becomes the first African American woman elected to the U.S. House of Representatives. In 1972 she would become the first African American to enter a presidential bid. (Black History, see Nov 5; F Nov 14)

November 5, 1968: Eugene Gold was elected Brooklyn District Attorney to succeed Aaron Koota. (BH, see Nov 22; Whitmore, see April 8, 1969)
Fair housing
November 5, 1917: Buchanan v. Warley, the Supreme Court case addressed civil government instituted racial segregation in residential areas. The Court held that a Louisville, Kentucky city ordinance prohibiting the sale of real property to African Americans violated the Fourteenth Amendment, which protected freedom of contract, reversing the ruling of the Kentucky Court of Appeals. (see June 13, 1933)
Black History
Isaac Woodard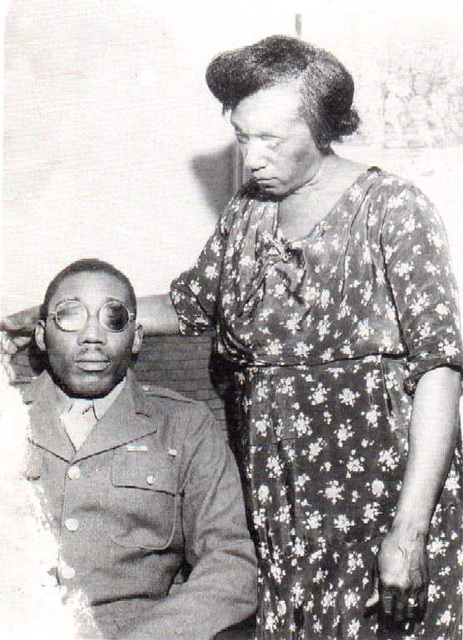 November 5, 1946: the trial of those who attack Isaac Woodward ended. By all accounts, the trial was a travesty. The local U.S. Attorney charged with handling the case failed to interview anyone except the bus driver, a decision that Judge Waring, a civil rights proponent, believed was a gross dereliction of duty. Waring later wrote of being disgusted at the way the case was handled at the local level, commenting, "I was shocked by the hypocrisy of my government...in submitting that disgraceful case...."

The defense did not perform better. When the defense attorney began to shout racial epithets at Woodard, Waring stopped him immediately. During the trial, the defense attorney stated to the all-white jury that "if you rule against Shull, then let this South Carolina secede again." After Woodard gave his account of the events, Shull firmly denied it. He claimed that Woodard had threatened him with a gun, and that Shull had used his nightclub to defend himself. During this testimony, Shull admitted that he repeatedly struck Woodard in the eyes.

On this date after thirty minutes of deliberation, the jury found Shull not guilty on all charges, despite his admission that he had blinded Woodard. The courtroom broke into applause upon hearing the verdict. (see Nov 24)
Church Burning
November 5, 2008:  in Springfield, Mass., the Macedonia Church of God in Christ, a predominantly black church, which was under construction, was set on fire shortly after the election of President Obama. Of the three white men charged, two pleaded guilty and a third was convicted and sentenced to 13 years in prison. (BH, see Aprl 2, 2009; CB, see June 22, 2015)
Consumer Protection
Ralph Nader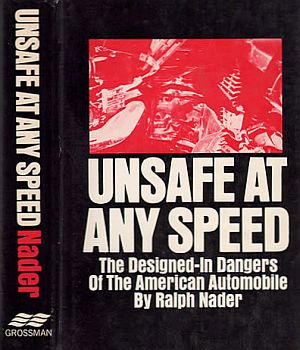 November 5, 1965, Nader's book Unsafe at Any Speed, was published.  The hardback edition by Grossman was 305 pages long and had a photo of a mangled auto wreck on its cover.  On the back cover, the book's chapters were listed accompanied by a red-ink headline that stated: "The Complete Story That Has Never Been Told Before About Why The American Automobile Is Unnecessarily Dangerous."(CP, see January 12, 1966; Nader, see February 10, 1966)
 Vietnam
South Vietnam Leadership
November 5, 1964: South Vietnam's generals decided on a two-tier government structure with a military committee overseen by Duong Van Minh presiding over a regular cabinet that would be predominantly civilian with Thơ as Prime Minister. Minh was named President and Chief of the Military Committee; Thơ was listed as Prime Minister, Minister of Economy, and Minister of Finance. (see Nov 8)
DRAFT CARD BURNING
November 6, 1965: at a peace demonstration in Union Square, NYC, Thomas Cornell (teacher) Marc Edelman (cabinetmaker), Roy Lisker (novelist and teacher), and James Watson (on staff of Catholic Worker Pacifist Movement) burn their draft cards. (Vietnam, see Nov 9; DCB, see Dec 21)
Walk for Peace
November 5, 1966: Walk for Love and Peace and Freedom: 10,000 + in New York City. (see Nov 7)
Richard Nixon elected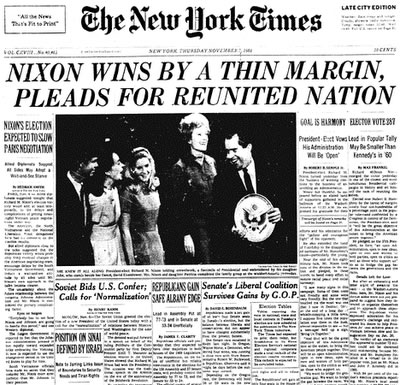 November 5, 1968: Richard Nixon elected President, defeating Hubert Humphrey by only seven-tenths of a percentage point. Nixon claims 301 electoral votes to Humphrey's 191. Independent candidate George Wallace receives 46. (Nixon's speech) (see Nov 13)
Candidate
Popular vote
% popular vote
Electoral vote
% electoral vote
Richard Nixon
31,783,783
43.42%
301
55.9%
Hubert Humphrey
31,271,839

(-511,944)

42.72%
191
35.5%
George Wallace
9,901,118
13.53%
46
8.6%
November 6 Music et al
Rock Venues
November 6, 1965:  promoter Bill Graham put on his first show, a benefit for the radical San Francisco Mime Troupe at the Calliope Warehouse in San Francisco. He did it to raise money for a legal defense fund for a member of the troupe who been arrested a few days earlier. The troupe's offices were in the warehouse and they figured they could hold about 400 - 500 people. The donation to get in was "at least $1.00". About 4000 people showed up.

For entertainment, Bill hired a band who also rehearsed in the same warehouse. The band was the Jefferson Airplane. They played 3 songs. Also on the bill were The Fugs and Lawrence Ferlinghetti. (see Dec 10)
Rolling Stones
November 6 – 19, 1965, "Get Off My Cloud" by the Rolling Stones #1 on the Billboard Hot 100.
Medical Marijuana
Proposition P
November 5, 1991: the first medical marijuana initiative appeared in the city of San Francisco as Proposition P, which passed with an overwhelming 79% of the vote. Proposition P called on the State of California and the California Medical Association to 'restore hemp medical preparations to the list of available medicines in California,' and not to penalize physicians 'from prescribing hemp preparations for medical purposes.'"
Five years later…
November 5, 1996: California became the first state to legalize medical marijuana. Voters passed the state medical marijuana initiative known as Proposition 215. It permitted patients and their primary caregivers, with a physician' s recommendation, to possess and cultivate marijuana for the treatment of AIDS, cancer, muscular spasticity, migraines, and several other disorders; it also protected them from punishment if they recommend marijuana to their patients. (AIDS, see April 20, 1998)
Seven years later…
November 5, 2013: Portland, Maine, voters approved legalizing recreational marijuana for residents 21 and older. The measure, Question 1, passed with about 70 percent of the vote, making Portland the first East Coast city to legalize recreational pot. Adult residents of Portland -- Maine's largest city -- may possess up to 2.5 ounces of marijuana under the referendum. The new measure does not permit the recreational purchase or sale of marijuana, nor does it permit its use in public spaces like parks. (see Nov 12)
Jack Kevorkian
November 5 – 8, 1993, Jack Kevorkian fasted in Detroit jail after refusing to post $20,000 bond in case involving Hyde's death. (see Nov 29)
Iraq War II, Saddam Hussein
November 5, 2006:  Iraq's High Tribunal found Saddam Hussein guilty of crimes against humanity and sentenced him to hang for the 1982 killing of 148 Shiites in the city of Dujail. (NYT article on Hussain verdict) (see Nov 8)
November 5 Peace Love Activism
US Labor History
November 5, 2007: some 12,000 television and movie writers begain what was to become a 3-month strike against producers over demands for an increase in pay for movies and television shows released on DVD and for a bigger share of the revenue from work delivered over the Internet (see February 7, 2008)
To Kill a Mockingbird, Harper Lee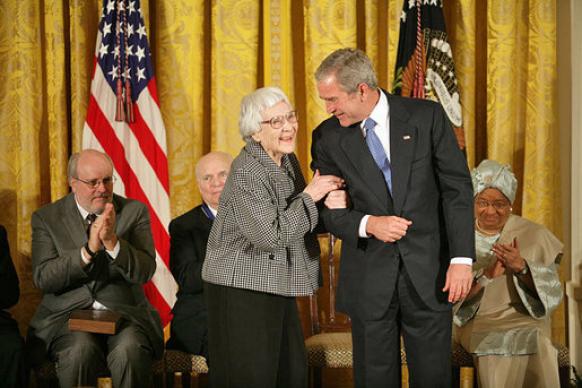 November 5, 2007: President George W. Bush awards the Presidential Medal of Freedom to Harper Lee. In his remarks, Bush stated, "One reason To Kill a Mockingbird succeeded is the wise and kind heart of the author, which comes through on every page... To Kill a Mockingbird has influenced the character of our country for the better. It's been a gift to the entire world. As a model of good writing and humane sensibility, this book will be read and studied forever." Lee died on February 19, 2016.

LGBTQ, Same-sex Marriage, Illinois
November 5, 2013: the Illinois legislature gave same-sex couples the freedom to marry, making Illinois the 15th state (plus the District of Columbia) to do so, and the 9th new marriage state in just the last 12 months. With Illinois, over 37% of the American population lives in a freedom-to-marry state, up from 11% in 2012. (see Nov 7)
Please follow and like us: