January 14 Peace Love Art Activism
Anarchism in the US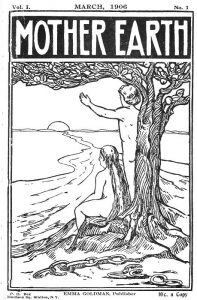 January 14, 1910: using section 497 of the Postal Laws and Regulations Act of 1902, Mother Earth magazine was banned from the mails after Anthony Comstock complained about Emma Goldman's essay, "The Traffic in Women."" The issue will be released by the Post Office after Comstock is forced to withdraw his objections. (see March 26, 1910)
January 14 Peace Love Art Activism
Technological Milestone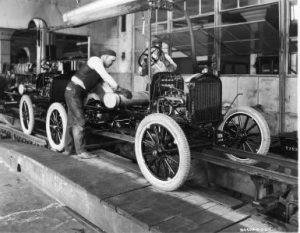 January 14, 1914:  Henry Ford announced the newest advance in assembly line production of cars. The new continuous motion method reduced assembly time of a car from 12½ hours to 93 minutes. (see Mar 14)
January 14 Peace Love Art Activism
BLACK HISTORY
Raymond Gunn lynching
January 14, 1931: black residents of Maryville, Missouri fled the town after the lynching of Raymond Gunn on January 12. More than 20 percent of Maryville's black population fled the town in fear. Despite investigations initiated by state officials, no one was ever arrested or convicted of any crime related to the lynching of Raymond Gunn. [EJI article] (next BH, see July 15, 1931; next Lynching, see April 2, 1933; see AL3 for expanded chronology of early 20th century lynching)
A. Philip Randolph
January 14, 1941: Civil rights leader A. Philip Randolph on this day proposed a march on Washington to demand equal employment opportunities for African-Americans in the defense industries. Full employment had returned to the U.S. as a result of the war in Europe.
The idea of an African-American protest march in Washington, D.C., shocked and scared many Americans –and drew more African-American support than Randolph had imagined. (BH, see Apr 18; March, see June 18)
Segregation Forever
January 14, 1963: in Nov 1962 Alabama elected George Wallace governor in a landslide victory. He took the oath of office standing on the gold star marking the spot where, 102 years earlier, Jefferson Davis was sworn in as President of the Confederate States of America. In his inaugural speech, Wallace used the line for which he is best known: In the name of the greatest people that have ever trod this earth, I draw the line in the dust and toss the gauntlet before the feet of tyranny, and I say segregation now, segregation tomorrow, segregation forever… Let us send this message back to Washington . . . that from this day we are standing up, and the heel of tyranny does not fit the neck of an upright man . . . that we intend to take the offensive and carry our fight for freedom across the nation, wielding the balance of power we know we possess in the Southland. . . . that WE, not the insipid bloc voters of some sections will determine in the next election who shall sit in the White House of these United States. (see Jan 20)
Lawrence Douglas Wilder
January 14, 1990: Lawrence Douglas Wilder was sworn in as the governor of Virginia by former U.S. Supreme Court Justice Lewis Powell. Wilder was the first African-American to be elected governor of a U.S. state. (see May 17)
de la Beckwith extradited
January 14, 1991: Chattanooga, TN. Judge Joe DeRisio of Hamilton County Criminal Court ordered  that Byron de la Beckwith be returned to Mississippi to face a charge of first-degree murder in the 1963 slaying of Medgar Evers, but DeRisio delayed putting the extradition order into effect until January 22 to give Mr. Beckwith time to file an appeal with the Tennessee Court of Criminal Appeals. (see June 3, 1991)
Antwon Rose
January 14, 2019: Judge Alexander Bicket ordered that a jury be selected from another county for the trial of East Pittsburgh officer Michael Rosfeld accused in the shooting death of an unarmed black teenager 17-year-old Antwon Rose Jr.
Rosfeld is charged with homicide in the death of Rose Jr., who was shot June 19, 2018 as he fled a traffic stop.
Bicket ordered that a jury be chosen from outside Allegheny County, citing "pervasive prejudicial pre-trial publicity" that could deny Rosfeld an impartial jury. He said he expected media coverage to intensify with jury selection for a trial scheduled to begin in late February. (B & S, see Jan 16; AR see Mar 19)
January 14 Peace Love Art Activism
Japanese Internment Camps
Proclamation No. 2537
January 14, 1942: President Franklin D. Roosevelt issued Presidential Proclamation No. 2537, requiring aliens from World War II-enemy countries–Italy, Germany and Japan–to register with the United States Department of Justice. Registered persons were then issued a Certificate of Identification for Aliens of Enemy Nationality. (see JIC for expanded chronology)
January 14 Peace Love Art Activism
January 14 Music et al
Sgt Presley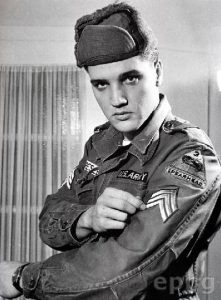 January 14, 1960: Elvis Presley promoted to sergeant in the U.S. Army (see Mar 5)
LSD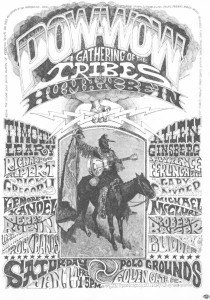 January 14, 1967: the Human Be-In was held in San Francisco's Golden Gate Park. It was a prelude to San Francisco's Summer of Love, which made the Haight-Ashbury district a symbol of American counterculture and introduced the word "psychedelic" to suburbia. (see San Francisco Human Be In for more) (LSD, see March)
John Lennon

January 14, 1970: a display of John Lennon's erotic "Bag One" lithographs opened in London. 2 days later Scotland Yard seized prints as evidence of pornography. (see Jan 27)
January 14 Peace Love Art Activism
Vietnam & My Lai Massacre
January 14, 1971: During his trial for charges of assault with intent to murder at least six My Lai civilians, Sergeant Charles Hutto admitted to killing a group of unarmed civilians with an M60 machine gun. Hutto's acquittal (on the 14th) set the precedent that "obeying orders" is a viable defense for mass murder. (see My Lai for expanded chronology; Vietnam, see Jan 18)
January 14 Peace Love Art Activism
The Red Scare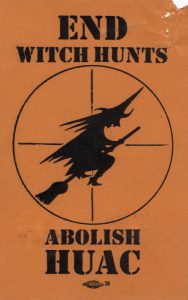 January 14, 1975: after 37 years of civil liberties abuses involving  investigations of freedom of belief and association, almost all of which involved left-wing, labor and liberal individuals and groups, the House of Representatives on this day abolished the notorious House Un-American Activities Committee (HUAC). (see May 2)
January 14 Peace Love Art Activism
Nuclear news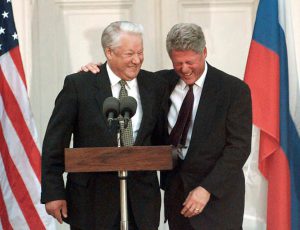 January 14, 1994: President Bill Clinton and Russian President Boris Yeltsin signed accords in Moscow to stop aiming missiles at any nation and to dismantle the nuclear arsenal of Ukraine. (see May 31)
January 14 Peace Love Art Activism
CLINTON IMPEACHMENT
Monica Lewinsky
January 14, 1998: Monica Lewinsky gave Linda Tripp a document headed "Points to make in an affidavit," coaching Tripp on what to tell Jones' lawyers about Kathleen Willey, another former White House staffer. Willey recently had testified about alleged unsolicited sexual advances made by the president in 1993.
Opening statements
January 14, 1999: thirteen House prosecutors begin a three-day opening statement, laying out the case for the Senate to convict President Clinton and remove him from office. (see Clinton for expanded entry)
January 14 Peace Love Art Activism
Iraq War II
January 14, 2005:  Army Specialist Charles Graner Jr., the reputed ringleader of a band of rogue guards at the Abu Ghraib prison, was convicted at Fort Hood, Texas, of abusing Iraqi detainees. (see Jan 15)
January 14 Peace Love Art Activism
LGTBQ
January 14, 2014: U.S. District Judge Terence Kern ruled that Oklahoma's ban on marriage equality was unconstitutional.  His ruling was stayed pending appeal, meaning marriages would not occur immediately in the Sooner State.
Two plaintiff couples, Mary Bishop and Sharon Baldwin and Gay Phillips and Susan Barton, filed their case, Bishop v. Oklahoma, in the U.S. District Court for the Northern District of Oklahoma in November 2004. [NYT article] (see Jan 23; Oklahoma, see July 18)
January 14 Peace Love Art Activism
US Labor History
January 14, 2019: more than 30,000 Los Angeles public-school teachers began a long-planned strike, pressing demands for higher pay, smaller classes and more support staff in the schools.
The strike affected roughly 500,000 students at 900 schools in the district, the second-largest in the nation. The schools remained open staffed by substitutes hired by the city, but many parents said they would not send their children across picket lines. [NYT article] (LH, see Jan 18; strike, see Jan 22)
January 14 Peace Love Art Activism
Environmental Issues
Climate change continues
January 14, 2021:  an analysis of global temperatures by the NASA Goddard Institute for Space Studies found that 2020 was slightly warmer than 2016. But the difference was insignificant, the institute's director, Gavin Schmidt, said in an interview.
"Effectively it's a statistical tie," he said.
Other analyses issued, one by the National Oceanic and Atmospheric Administration and another by Berkeley Earth, an independent research group in California, found that 2020 was slightly cooler than 2016, as did one published last week by the Copernicus Climate Change Service in Europe. But the difference was small enough to not be statistically significant.
With the 2020 results, the last seven years have been the warmest since the beginning of modern record-keeping nearly a century and a half ago, Dr. Schmidt said.
"We are now very, very clear about the underlying long-term trends," he said. "We understand where they come from. It's because of the greenhouse gases being pumped into the atmosphere."
The planet has warmed more than 1 degree Celsius (about 2 degrees Fahrenheit) since the late 1800s, when the spread of industrialization led to rising emissions of carbon dioxide and other greenhouse gases, and the pace has accelerated in recent decades. Since 1980, warming has averaged about 0.18 degree Celsius (about 0.32 degrees Fahrenheit) per decade. [NYT article]
Electric Vehicle Study
January 14, 2021:  data published by a team at the Massachusetts Institute of Technology (MIT) showed that despite the higher sticker price, electric cars might actually save drivers money in the long-run.
o reach this conclusion, the MIT team calculated both the carbon dioxide emissions and full lifetime cost — including purchase price, maintenance and fuel — for nearly every new car model on the market.
They found electric cars were easily more climate friendly than gas-burning ones. Over a lifetime, they were often cheaper, too.  [NYT article] (next EI, see Jan 19)
January 14 Peace Love Art Activism