Sweetwater Elpidio Cobian
Elpidio "Pete" Cobian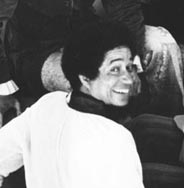 Continuing with my mini bios for those Woodstock Music and Art Fair performers for whom I have not found a birth date (the day I typically post the bio)...

Elpidio "Pete" Cobian had been in the California version of Jay Walker and the Pedestrians, the band Robert 'Bob' Barboza had originally formed in Rhode Island and re-formed with different members when he re-located to Los Angeles. Cobian played congas.

Pete was with the band that April 1967 night when Nanci Nevins walked in to watch Jay and the Pedestrians play. The band, by choice, had no vocalist, but saw her standing and singing along. They invited her up to perform, not usual since the actual members in the band varied with the date. Sometimes there were 7 members, sometimes more than 2 dozen.

Pete and the others liked what they heard, but Nevins left without giving them her name or contact information. Life went on.

They eventually did find her and she briefly became a Pedestrian. Briefly because  band member Alex Del Zoppo suggested to other members Albert Moore,  Andy Friend, and Pete that with the Nevins as vocalist they could expand their possibilities the four as a new band.
Sweetwater
And so they sowed the seed of Sweetwater.

Their Woodstock Music and Art Fair appearance is one of the many typical side stories that that disheveled weekend tells. Stuck in Liberty because of an historic traffic jam, organizers drafted a reluctant Richie Havens to open the festival.

Finally on site, Sweetwater followed. Ironically, their opening song, one they had played dozens of times, was an echo of the now-famous rendition that Havens had closed with: Motherless Child (with Havens extemporaneous "Freedom" tagged on).

Sweetwater did not make the 1970 Woodstock album. Sweetwater did not make the 1970 Woodstock movie. And before all that, in December 1969, a drunk driver's crashing into Nancy Nevins's car nearly killed her and kept her out of music for nearly a quarter century.

In the meantime, the band released two more albums, but gradually broke up and members went their own way. Some continued in music.
Sweetwater Elpidio Cobian
According the the Sweetwater band site, "In 1994, Sweetwater conducted a reunion to commemorate Woodstock's 25th anniversary. Attempts were made, but no one was able to find out what had happened to Elpidio, our former conga player. A few years later, we learned Elpidio still plays occasionally with groups, but has had a really successful career working for the film studios on their set crews. He worked on underwater sets, principally as a welder, for such hit movies as "Jaws" and "The Abyss", among others. He has a wife, Evelyn, and two adult sons, Orlando and Mario."
Sweetwater Elpidio Cobian, Sweetwater Elpidio Cobian, Sweetwater Elpidio Cobian, Sweetwater Elpidio Cobian, Sweetwater Elpidio Cobian, Sweetwater Elpidio Cobian, 
Please follow and like us: