January 4 Music et al
More than psychedelic 
It is a common point in many of my blog entries that music of the 1960s was much more than the psychedelic brume made by Hendrix, the Airplane, the Beatles, the Stones, or the Dead. As with anything, there was much more to it. Today's date is an easy way to demonstrate both that variety and evolution.
January 4 Music et al
Marty Robbins
On January 4 – 17, 1960, Marty Robbins's country style "El Paso" was the Billboard #1 single Of course, Deadheads  will recognize the song as one the Dead often often covered–396 times according to the excellent Deadlists dot com site.
Oddly, El Paso was the first of three #1 songs in a row in which someone died. The other two were Johnny Preston's Running Bear and Mark Dinning's Teen Angel.
January 4 Music et al
South Pacific & the Kingston Trio
For most listeners, 1960 was pre-stereo and an interesting aside is at that time Billboard had two #1 album categories: stereo and mono. Not until August 1963 did Billboard have a single list. Home stereo systems were simply not as common…yet. So…
January 4 Music et al
Kingston Trio/South Pacific
January 4 – 10, 1960: the soundtrack to South Pacific was the Billboard #1 stereo album and from January 4 – February 14, 1960: the Kingston Trio's Here We Go Again mono album was Billboard's #1.
January 4 Music et al
There! I've Said It Again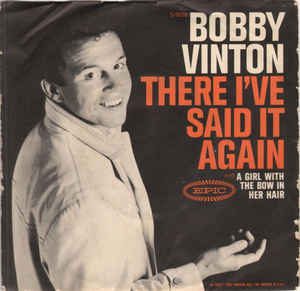 Four years later on January 4 – 31, 1964, just days before the Beatles arrived and that British avalanche forever changed the US pop landscape, Bobby Vinton's There! I"ve Said It Again was the #1 single. The Dead didn't cover Vinton.
January 4 Music et al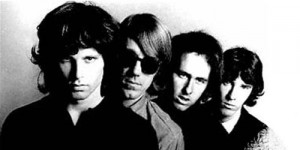 That avalanche covered the US and the world and three years later, on January 4, 1967, The Doors released their first album, The Doors.
Did you first hear AM's 2:52 version of Light My Fire or, sitting amazed, hear FM's 7:06 album cut? So many great cuts by a group that few realized named themselves after Aldous Huxley's 1954 mescaline memoir,  The Doors of Perception.
To ask what was your favorite cut is perhaps a foolish one since the album is the album. One listens to it in total. But when you did get to that last cut on side two, well to use a 21st century acronym, OMG!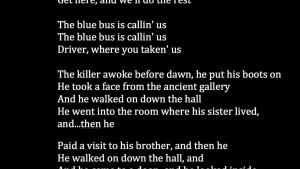 A November 19, 1967 New York Times article began with: The Doors is one pop music group that may make it to the end of this rock generation, which is to say it may last another five years. (click for full article >>> NYT article
January 4 Music et al