Saugatuck Pop Festival
July 4 – 5, 1969
Pottawattamie Beach, Saugatuck, MI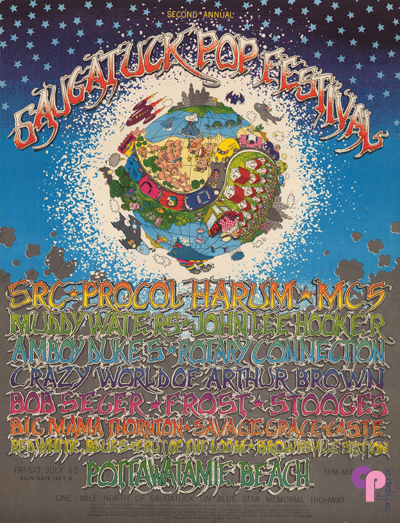 MC5
SRC
Procol Harum
Muddy Waters
John Lee Hooker
Amboy Dukes
Rotary Connection
Crazy World of Arthur Brown
Bob Seger,
Frost
The Stooges
Big Mama Thornton
Saugatuck Pop Festival
            This is the 13th festival of the 1969 festival season that I have covered. The main reason I've done these reviews is because for decades I ignorantly thought Woodstock was the only festival of 1969.

            Sure, there was Altamont at the end of the year with its tragedy and the shibboleth that the "60s ended at Altamont." The 60s in its full meaning had hardly begun until 1965 and certainly continued into the early 70s at least.

          The legacy of the so-called 60s is a topic for another time, another discussion.
Faded festivals
           The reasons why some festivals, despite stellar performers likely doing stellar performances, faded with the newspapers that had a few columns about them are not complicated.

1. The location was away from the mainstream media's purview.

2. The promoters had not the foresight to record or film the event.
Woodstock Music and Art Fair
             As much as Michael Shrieve and his "Soul Sacrifice" drum solo helped carve Santana's performance into the pages of rock history, the fact that Woodstock Ventures did have the foresight to record and film the festival with high quality equipment made Woodstock the historic event it is today.
Stop stalling…
          When am I going to start telling you about the Saugatuck Pop Festival? And why did I wait until July 11 to tell you?
It was easy to miss.
When I discovered I'd missed it, I found that I couldn't find anything on it.
Plea
             So (not supposed to start sentences with "So...") today's blog is a request: do any of you have any information about the event? If so please comment and let me know and I'll add what you contribute and give you credit for that contribution. 
Please follow and like us: