Phil Lesh
Grateful Dead
Woodstock alum
Born March 15, 1940
Happy birthday to you!
The music never stopped
The Grateful Dead-Summer Solstice-Shoreline Amphitheatre 06/21/1989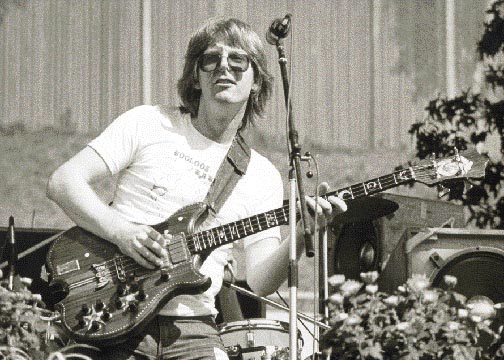 We could simply say that Phil Lesh was the one and only bassist for the Grateful Dead and leave it at that. Is there more that you need to know?
               He was born in Berkeley, California and his first instrument was the violin, In high school he switched to the trumpet.  He eventually met Jerry Garcia and they became friends. Five years later, Jerry asked Phil to join the Warlocks and play bass.
               Since no one had instructed him on  how to play the bass, he developed his own style based on his musical preferences such as classical music and jazz.
               His contributions to the band were limited vocally and he composed few songs, but his musicianship was always an integral part of any Dead show.
               Because of technical issues, the Dead's contribution to the lore of  the Woodstock Music and Art Fair was more symbolic than actual. They felt their performance was sub-par and so that has become the description. Having said that, the show was not terrible in any sense. The Dead simply didn't have the chance to fly that night.
Phil Lesh discussed his early influences and more in the following video.
               In 1994, he was inducted into The Rock and Roll Hall of Fame as a member of the Grateful Dead.
               In 1995, after Jerrry Garcia died, the Grateful Dead stopped as a band, but each of the members continued to play music. Sometimes together, sometimes as solo artists.
Phil Lesh
               Phil Lesh played with The Other Ones and The Dead, as well as his own band collection, Phil Lesh and Friends. Check the link below to see all of his credits since 1995.
Still playing…
On March 12 this week Lesh teamed with The Terrapin Family Band to kick off a run of two shows at Brooklyn Bowl in New York City. Tonight, the group returns to the Bowl with special guest Eric Krasno, who also sat-in on Sunday, and they will play the same setlist the Grateful Dead did at a famed concert from 1977.

As Jambands.com reports, Phil Lesh and The Terrapin Family Band with Eric Krasno will re-create the show the Grateful Dead performed at San Francisco's Winterland Arena on June 7, 1977. Look for Phil and his ensemble to play each and every song the Dead did at the start of a historic three-night run this evening in Brooklyn. 

The Sunday concert saw Phil, The Terrapin Family Band and Krasno perform a varied mix of material including Grateful Dead gems and classic rock standards. The Terrapin Family Band features guitarists Ross James and Grahame Lesh, drummer Alex Koford and keyboardist Jason Crosby.

Here's a look at what the band played: 

Set One: Truckin', Shape I'm In, Feel Like A Stranger, Down By The River, Reuben & Cerise, West LA Fadeaway, Tumbling Dice, Casey Jones

Set Two: Mason's Children, Bad Moon Rising, Werewolves of London, New Potato Caboose, Lucy In The Sky With Diamonds, Dark Star v2, Caution, Sugaree

Encore: Ripple
Please follow and like us: