Bassist Larry Graham
Born ‎August 14, 1946
"I'm gonna add some bottom… so that the dancers just can't hide!"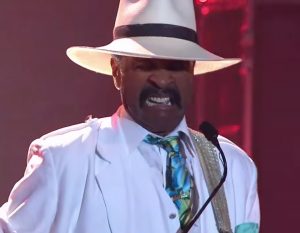 "None of us had ever done anything even close to Woodstock. Then, all of a sudden, we had the attention of the world. If you were part of that, it just turned everything around."
So said bassist Larry Graham in a 2014 interview with George Varga in the San Diego Union-Tribune.
Beaumont, Texas
Larry Graham was born August 14, 1946 in Beaumont, Texas.  From an article in The Watchtower: I was born into a musical family…, my mother's only son. She was a pianist with the church choir, and my father was a jazz guitarist. Soon afterward my family moved to Oakland, California, where I started tap dancing at the age of five. Two years later, I learned the piano under the guidance of my grandmother, who cared for me in those early years.
From the Varga interview:  "My biggest influence was actually my mother's left hand. Because, before I went to bass, I was playing guitar. And when she would solo, I would play bass lines on my guitar. And when I would solo, she'd play bass lines on piano with her left hand. That's the way she played anyway, before I started playing with her.  So when I started playing with her, I was influenced by her left-hand bass lines."
Bassist Larry Graham
Sly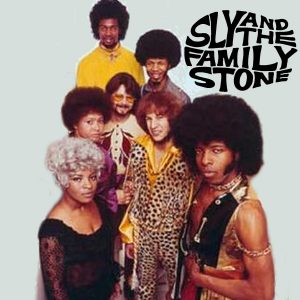 His breakout success was with Sly and the Family Stone (1966 – 1972).
Albums with Sly and the Family Stone
1967: A Whole New Thing
1968: Dance to the Music
1968: Life
1969: Stand!
1971: There's a Riot Goin' On
1973: Fresh
Bassist Larry Graham
Bass Technique
From that same interview: "By slapping the strings and expertly plucking and popping them with his fingers, he transformed the electric bass, making it as prominent as a guitar and dramatically increasing its rhythmic intensity. By dong so, he laid the foundation for several subsequent generations of bassists, including everyone from Stanley Clarke, Victor Wooten and San Diego's Nathan East to Les Claypool of Primus, Level 42's and Mr. Big's Billy Sheehan."
Bassist Larry Graham
Witness
In 1973, he met his future wife Tina. Tina's mom was a Jehovah Witness and asked Tina to be present at her baptism in the Oakland Coliseum. Graham attended and says he'd never seen anything like the gathering before.
He and Tina began Bible study and visited various Jehovah Witness congregations while on tour. He and Tina were baptized at the district convention in Oakland in July 1975.
Graham would later introduce the religion to Prince. He became a Jehovah's Witness later in life, and according to Graham, that helped shape Prince's music as well as his lifestyle.
Graham said that Prince would knock on doors, talk with visitors at his studio-compound Paisley Park in suburban Minneapolis and even share his faith with small groups after a show,
Graham Central Station
After Sly [from the QG Enterprise page]: [Graham]…went on to produce a Funk band called "Hot Chocolate", which he eventually joined and renamed "Graham Central Station". The original lineup included guitarist David "Dynamite" Vega, organist Robert "Butch" Sam, keyboardist Hershall "Happiness" Kennedy, vocalist/percussionist Patryce "Choc'let" Banks, and drummer Willie "Wild" Sparks. The group used the funk foundation that Graham had established with "Sly and the Family Stone" and sweetened it with various layers of soul, blues and other styles – a magical combination that scored the band a Grammy nomination in 1974 for Best New Artist. Graham Central Station released a string of seven albums throughout the 70's. Their debut album, a self-titled effort released in 1974, proved highly successful, launching a minor pop hit with "Can You Handle It". 
He reformed Graham Central Station in the early 1990s and performed with the band for several years. Graham and Graham Central Station performed internationally with a world tour in 2010 and the "Funk Around The World" international tour in 2011.
Graham Central Station albums
Graham Central Station (Warner Bros., 1974)
Release Yourself (Warner Bros., 1974)
Ain't No 'Bout-A-Doubt It (Warner Bros., 1975)
Mirror (Warner Bros., 1976)
Now Do U Wanta Dance (Warner Bros., 1977)
My Radio Sure Sounds Good to Me (Warner Bros., 1978)
Star Walk (Warner Bros., 1979)
Live in Japan (1992)
Live in London (1996)
Back by Popular Demand (1998)
The Best of Larry Graham and Graham Central Station, Vol. 1 (Warner Bros., 1996)
Raise Up (2012)
Bassist Larry Graham
Prince
In 1998, he recorded a solo album under the name Graham Central Station, GCS 2000. It was a collaboration between Larry Graham and Prince.
While Graham wrote all the songs, except one co-written by Prince, the album was co-arranged and co-produced by Prince, and most of the instruments and vocals were recorded by both Graham and Prince. Graham also played bass on tours with Prince from 1997 to 2000. He appeared in Prince's 1998 VHS Beautiful Strange and 1999 DVD Rave Un2 the Year 2000.
When Prince died in 2016, Minnetonka, Minnesota's Jehovah's Witnesses Kingdom Hall held a memorial service for him – "Brother Nelson" as his fellow congregants knew him – Sunday at the church where he worshiped.
At the service, Graham spoke about Prince and their shared faith. [RS article]
Bassist Larry Graham
Credits
All Music has a very long list of his credits. Among the names (in addition to Prince, Sly, and Graham Central are:  Betty Davis (the second ex-wife of jazz legend Miles Davis), George Tyson, the Oak Ridge Boys. Aretha Franklin, Stanley Clarke, George Benson, Stanley Jordan, Little Anthony and the Imperials, Mahalia Jackson, Frankie Lanine, Eddie Murphy, Santana, Chaka Khan, Luther Allison, Government Mule, Billy Preston, Shania Twain,  Kanye West, as well as many many others.
Bassist Larry Graham
Solo
Graham recorded five solo albums and had several solo hits on the R&B charts. His biggest hit was "One in a Million You", a crossover hit, which reached No. 9 on the Billboard Hot 100 chart in 1980.
Solo albums [all Warner Bros. releases]
1980: One in a Million You
1981: Just Be My Lady
1982: Sooner or Later
1983: Victory
1985: Fired Up
Bassist Larry Graham
Hall of Fame
A 1993 Rock and Roll Hall of Fame inductee as a member of Sly & The Family Stone
Bassist Larry Graham
Check out this live concert. Amazing energy!
Bassist Larry Graham