Hilltop Pop Festival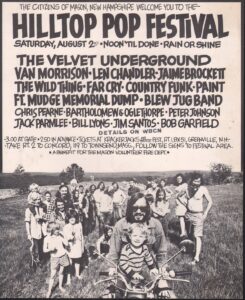 Mason, New Hampshire
Saturday 2 August 1969
1969 Festival #32
In my seemingly ever-expanding  list of 1969 festivals, my general rule is to include only multi-day events, but the exception proves the rule.  Two weeks before Woodstock, a one-day festival occured in Mason, New Hampshire. Mason sits on the border of New Hampshire and Massachusetts and is about 60 miles from Boston.
The event truly reflected the cultural revolution's 1960's zeitgeist: it was a benefit for the Mason Volunteer Fire Department to buy a new fire engine. Admission to the event was $3, all the artists performed for free.
And who were these generous artists? Locals, some better known than others, and some bigger names.
Where the festival actually was is confusing. The poster seems to give directions from Boston as it says to take Rt 2 to Concord (MA) and then Rt 119 to Townsend (also MA). The address to mail for tickets is in Greenville, NH, which is about 6 miles north of Mason. The notes from a Velvet Underground site says, "The event is often placed in Rindge NH, but it really took place on Barrett Hill Road in Mason NH."
Who knows?
2023 Post Script
As you can see below, post readers occasionally leave comments. In August 2023, I exchanged a few emails with a John Bowditch who had attended the festival. I asked him regarding the actual location. Here's his response: "I did a lot of sleuthing and can positively identify where this festival took place. I spoke with a friend, Gene Roe, who was there and one of the organizers. It took place in Mason, New Hampshire in a field just south of the junction of New Hampshire Rte 31 (Fitchburg Road) and New Hampshire Rte 124. This is very close to the Massachusetts border.
My personal memories were that it was a lovely festival and fun to attend. My then wife and I were good friends with a number to the organizers. Of course this all happened a long time ago."
Thank you John!
Mason, NH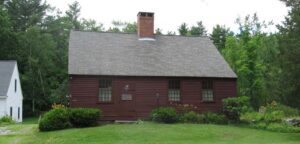 Mason, NH is a small town that was the boyhood home of one Samuel Wilson. While not for sure, Wilson is purportedly the basis for the legendary "Uncle Sam" character. May be an example of some enthusiastic History Haze.
Hilltop Pop Festival
Performers
Bartholomew & Oglethorpe
Sorry. Cannot find anything about this duo?
Bill Lyons
The only musician Bill Lyons I can find is a William Lyons and much to young to have participated in the Hilltop Pop Festival.
Blew Jug Band
Ditto.
Bob Garfield
There is a Bob Garfield who is a commentator and journalist.
Chris Pearne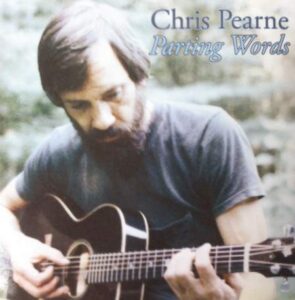 I found an obituary for a Chris Pearne that seems to be for someone who could have been the Chris Pearne of the Hilltop Pop Festival. The obituary read, in part, "Chris was born John Christopher Pearne in Oakland, Calf., on May 25, 1945, and grew up in the suburbs of Cleveland, Ohio, where he started performing music in the 1960s. After a short stay at Kent State University and serving in the National Guard, he moved to the Boston area in 1966, where he quickly became part of the folk scene. Then, migrating to New Hampshire in the seventies, he settled in the Peterborough area, becoming an integral player at the legendary Folkway club: as performer, sound man, and emcee, in addition to maintaining his guitar building and repair shop there. At around that time, he also became involved in working in human services, which he pursued for several years." Follow the link above for more.
If it's the same one (how many can there be, he asks innocently), then Chris played on Jamie Brockett's 1993 Road Dancer album.
A response to my question under this YouTube video said this:
Hilltop Pop Festival
Country Funk
Though personnel changed, it seems for the Hilltop show the band consisted of: Adam Taylor (lead guitar), Hal Paris (rhythm guitar, piano),  Jim Lanham (bass, pedal steel), and Verne Johnson (drums)
From Country Funk dot net: I heard about a band called Country Funk that was playing in the Boston/New England area, and I was managing musical groups at the time in Boston, so I went to see them play and wanted to sign them immediately.  They were the answer to California's Buffalo Springfield.  Eventually I became their manager.  Listen to the music and you'll see what I mean and hear what I heard. Manager Ray Paret.
From All Music:  In 1969, the group landed a record deal with Polydor, and with Johnson back behind the drums, Country Funk headed to the Record Plant in Hollywood, where they cut their self-titled debut album. (True to the group's shifting lineup, Pfeifer played drums on four of the album's 12 songs.) Despite a strong reception, the album's sales were poor, and it proved to be the group's only record for many, many years — until 2011, in fact, when they returned with an album titled Zuma.
Here's some of their sound. Nice stuff.
Hilltop Pop Festival
Far Cry
From All Music: Sometimes hypes and supposed scenes turn up random work that gets lost in the flow of its time but which a later generation rediscovers and celebrates deservedly for qualities obscured at the time. Sometimes. Far Cry, though, won't get that nod, though it's not for lack of trying on the part of the Fallout label, who make a specialty of digging up random oddities. This one's just a bit too random, though: a late-'60s Boston band caught up in the monumental PR flop of the "Bosstown Sound," Far Cry made a debut and, in the end, what would be their sole album, which is exactly what one would expect from a group at that time and place operating on a limited budget. To the septet's credit, their songs are all originals as compared to so many of the covers that would pad out many albums at the time, while snagging a piece of classic Persian art for the cover made for a vivid visual impact. But the seven-song album sounds flat and distant even after a CD remaster, not bootleg-murky but not striking, either, while the band is simultaneously reasonably talented in a workmanlike way without bringing anything new to the table. Lead vocalist Jere Whiting's white blues wails are serviceable without being remarkable, while the group's jams and breakdowns totter between noodling and making something out of it all, not always successfully. Bassist Sean Hutchinson more often than not is trying to lay in at least a bit of funk, in a steady-as-she-goes way, but otherwise long songs like "Dream?" and "Sweet Little Angel" in particular just fill up the space or build to OK but not remarkable finishes. A little psych, a little blues, a little funk — a little album, in the end.
Hilltop Pop Festival
Fort Mudge Memorial Dump
From mmone.org: Fort Mudge Memorial Dump — Caroline Stratton, Dean Keady, James Deptula, Dave Amaral, Richard Clerici — formed in Walpole, Massachusetts, in 1969, and boasted a loyal local following during their brief existence. By dint of geography, they were lumped into the "Bosstown Sound" with Ultimate Spinach, The Beacon Street Union and Orpheus, but their lone album, 1969's Fort Mudge Memorial Dump, (Mercury) revealed the band to be rooted in San Francisco psychedelia — Stratton, with her strong vocals, and Keady, with his jazzy, acid-soaked guitar leads, were easily the East Coast's answer to Jefferson Airplane's Grace Slick and Jorma Kaukonen. Fort Mudge Memorial Dump disbanded in 1973. (by Stephen Haag)
Hilltop Pop Festival
Jack Parmlee
Need some help here.
Jaime Brockett
From mmone:   I first met Jaime Brockett at the Y-Not coffeehouse on Main Street in Worcester during the mid-sixties. He walked on stage with a hotel-toilet-seat "Sanitized for your protection" strip wrapped snugly around the body of his guitar. He had recently returned from Denver, where he'd met Ramblin' Jack Elliott, who'd become his mentor and a major influence. Throughout '67 and '68 he would stop by Congress Alley whenever he was passing through Worcester, often staying for an all-night session of pickin' and grinnin'.
That same year, Oracle Records released his first album, Remember the Wind and the Rain, which included "Black Beauty," an original composition written by this reporter. More importantly, it contained his folk-rap version of Leadbelly's "Ballad of the USS Titanic," the cut that would catapult him back-and-forth across the country like a pinball. It would also get him in trouble. One of the song's lines, concerning "Jewish people trading wives and Cadillacs," resulted in a stern letter from then-ADL President Justin J. Finger, accusing him of "foisting hoary canards." He stopped playing the song around '73.
Hilltop Pop Festival
Jim Santos
Not confident in what I find for a "Jim Santos." Again, any help here much appreciated.
Len Chandler
From All Music: When Len Chandler arrived in New York City in the 1950s, he had no intention of getting involved with the folk music scene. Born in Akron, Ohio in 1935, he showed an interest in music at an early age. "My father was in the army," Chandler recalled, "and my mother bought me a little plastic flute with eight holes in it, and I played songs on it until I ran out of range." At eight, he began playing piano and at 12, he started studying classical music. He learned to play the oboe so he could join the high school band, and during his senior year joined the Akron Symphony.
By the early 1960s Chandler felt himself drawn to the Civil Rights Movement. In 1962 he wrote his first topical song, and deepened his commitment to the movement after attending a freedom singers conference in Atlanta in 1964. "I started submitting a lot of songs to Broadside," Chandler said, "because what sometimes got me off the most were topical songs. I really liked the impact that would be made on people when they would hear something that you had just written right out of the news about something that happened today." He sang at demonstrations and rallies, and won a reputation as a protest songwriter.
Hilltop Pop Festival
Paint
Any help?
Peter Johnson
From AllMusic: Peter C. Johnson was one of the driving forces in the Boston music scene in the late '60s. His singer/songwriter style was a big influence on the young musicians coming through the area, including a relatively unknown Bruce Springsteen. He teamed with Astral Weeks session player John Payne to form the Manic Depressives, a band best known for backing Bonnie Raitt, although they performed with Howlin' Wolf numerous times during this period. The band broke up following a fistfight at a gig, and Johnson disappeared for a few years. When he reemerged, he had completely rethought his approach, this time performing with six mannequins and a fortune in electronic equipment that provided a chorus of voices and music behind what he was playing on-stage. He released a self-titled album on A&M, which was a critical success but never quite caught on with the record-buying public. On top of this, a poor contract left him penniless after his touring expenses caught up with him. He recorded an album with John Cale soon after, but eventually disappeared after trying to rehab his drug problem. In 1998, he joined Bonnie Raitt on-stage at a concert that would inspire him to make music again. Teaming with David Champagne (Treat Her Right) and Asa Brebner (Modern Lovers), he put together the rootsy Bloodshot for a 2001 release. Soul Sherpa appeared three years later.
He did not release an album until 1978.
Hilltop Pop Festival
The Velvet Underground
The Warlocks became the Velvet Underground in 1965. The band's association with Andy Warhol helped establish them. They released their first album in, "The Velvet Underground & Nico" in 1967. It was a commercial flop.
In 1969 they were on the road in both the United States and Canada where they concentrated on their live performances. Some of these live recording shave been released, including their Hilltop Pop Festival's.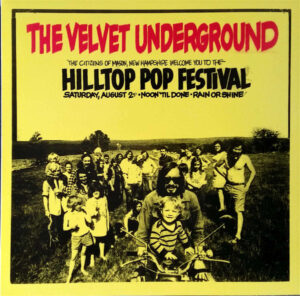 Waiting For The Man (6:35)

Run Run Run (10:00)

Pale Blue Eyes (8:45)

What Goes On (11:45)

Heroin (8:28)
Hilltop Pop Festival
The Wild Thing
Not sure…maybe…but a Richard Julio commented: "The Wild Thing that played this festival were on Epic Records."
Hilltop Pop Festival
Van Morrison
Van Morrison had made his first recording playing saxophone on "Boozoo Hully Gully" with the International Monarchs in 1962. With the band Them (a band in constant personnel change both while Morrison was in the group (1964 – 1966) and after). Until Them, Van Morrison hadn't sung lead.
Them had a two-month tour of America in May and June 1966 that included a residency from 30 May to 18 June at the Whisky a Go Go in Los Angeles. The Doors were the supporting act on the last week and Morrison's influence on the  John Densmore, in his book Riders on the Storm, remarks on how Van Morrison affected Jim Morrison. "Jim Morrison learned quickly from his near namesake's stagecraft, his apparent recklessness, his air of subdued menace, the way he would improvise poetry to a rock beat, even his habit of crouching down by the bass drum during instrumental breaks."
On the final night, the two Morrisons and the two bands jammed together on "Gloria".
In 1967 he released "Blowin' Your Mind," his first solo album. Though critically well-received, the album was not a commercial success. 1968's "Astral Weeks" was both. Having said that, the release of his "Moondance" in 1970 put him on the map.
The concerts.fandon.com site shows Morrison's 1969 American bouncing him back and forth mainly from the east and west coasts. Along the way, he was at the Hilltop.
Hilltop Pop Festival
Dorothy Perry
As always, a first-hand account is always better than any summary. In January 2023, Dorothy Perry commented: I remember this well! I was in the midst of this event. 2nd child of Jon and Helen Bateman (Earth Mother). We lived in the Big House on the hill on the Greenville- Mason line, not far from Barrett Hill where the festival took place. Dad was a member of the fire department and both my parents were active in the music scene all over New England, so they were instrumental (unintentional pun) in lining up the talent. In the poster I'm the young girl with crossed arms looking like she's going to bite the photographer. I can shed some light on the people behind the festival, some of the performers; who they are/were and what happened after. The Far Cry were living in the old wing of our house, Chris Pearne and Jim Santos had just moved out, Jamie Brockett was a frequent visitor, etc.
Thank you Dorothy.
Next 1969 festival: Wonderland Pop Festival