1969 Wonderland Pop Festival
August 13 – 14, 1969
Wonderland Gardens, London, Ontario
1969 festival #33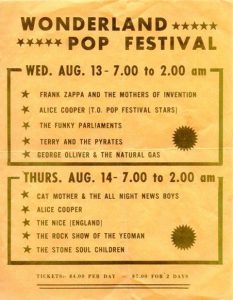 Well, here's another 1969 festival that is a little one and likely why little is known about it.  Here's what I've found:
1969 Wonderland Pop Festival
Dennis Dunaway's story
From the Alternative Control site: Dennis Dunaway is the bassist from the original Alice Cooper lineup. He has a Wonderland Pop Festival story that includes Woodstock.
On the afternoon of July 26th, 1969, the Alice Cooper group played the Eugene Pop Festival at the University of Oregon with the Doors, the Youngbloods, the Byrds, Them and others. Nearby Creswell was where I spent my childhood, and where my grandparents still had the farm where I had spent the summer of '64 working to get the money to buy my first bass. So my Grandma came to the show, and afterwards the band followed her back to the farm for a delicious home cooked meal. Then my Grandpa loaded the outrageous looking Alice Cooper group into the back of his pickup and took us around to meet his neighbors. They all asked if we were from the "Hippy Farm," which we soon found out was a nearby commune owned by Ken Kesey who wrote One Flew Over TheCukoo's Nest. So after we bid my grandparents farewell, the band went to visit Kesey. But it looked like the few people stirring were recovering from a wild night. One guy sat by a smoldering camp fire with a mic plugged into an amp attached to an orange extension cord that snaked all the way back to the house. Loudly through the microphone, he explained that the bus that the two other hippies were painting psychedelic patterns on was about to be driven across the country to upstate New York for a big music festival. He loudly said it would be the biggest festival of them all. Two weeks later (August 13th), we were opening for The Mothers of Invention at the Wonderland Pop Festival in London, Ontario. Alice and I asked Frank Zappa why we weren't playing at the big music festival in New York that weekend? Frank said, "Because we don't want to."
1969 Wonderland Pop Festival
Glen Buxton was the Alice Cooper guitarist: Review in the London Free Press, August 15, 1969. The headline reads "Wonderland 'rocked' by pop festival".
The festival ran 13th and 14th Aug. Alice Cooper gets the biggest mention in the review:
"Alice Cooper stomped on a metal satchel, speared the big bass drum, threw microphones and stands on the stage, drummed out all the violent motions of war, and died.
"It was a groovy scene. And it happened in London.
"Alice Cooper–it's the name of a light-popping, five-man rock group from Arizona–was one of six groups on stage Thursday at Wonderland, wrapping up London's first pop festival."
1969 Wonderland Pop Festival
A little bit of help?
Sorry nothing else, but as always let me know if you know something. Thanks.
1969 Wonderland Pop Festival
Next 1969 festival (other than Woodstock): Bullfrog 3 (2 )Festival