August 2020 COVID 19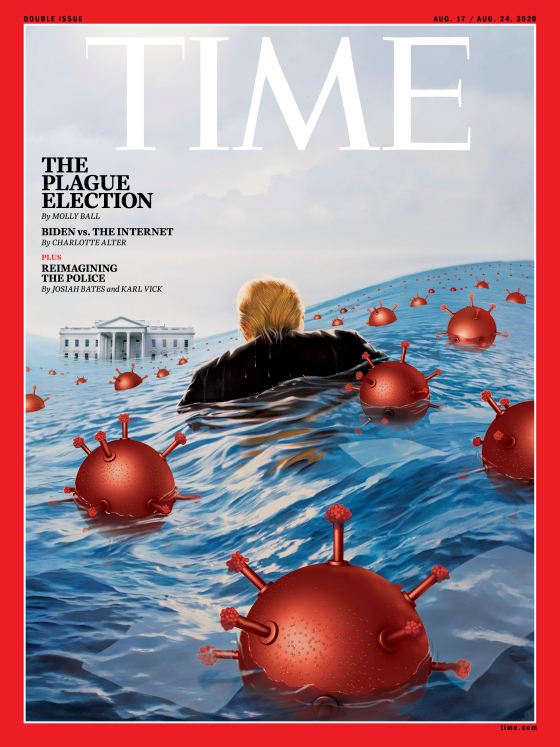 689,588 COVID Deaths Worldwide
August 2: 18,055,793 cases worldwide; 689,588 deaths worldwide
157,921 COVID Deaths USA
August 2:  4,765,155 cases in the USA; 157,921 deaths in the USA
August 2: Dr. Deborah Birx , the White House coronavirus task force coordinator, said the US was in a new phase in its fight against the coronavirus pandemic, saying that the deadly virus was more widespread than when it first took hold in the US.
"What we are seeing today is different from March and April. It is extraordinarily widespread. It's into the rural as equal urban areas," said Birx.
She stressed that Americans needed to follow health recommendations, including wearing a mask and practicing social distancing.
"
To everybody who lives in a rural area, you are not immune or protected from this virus
," Birx said. "
If you're in multi-generational households, and there's an outbreak in your rural area or in your city, you need to really consider wearing a mask at home, assuming that you're positive, if you have individuals in your households with comorbidities.
"  [
CNN story
]
August 2020 COVID 19
Dr. Anthony Fauci/death threats
August 5: Dr. Anthony Fauci said that he had received death threats and his daughters had been harassed as a result of his high-profile statements about the coronavirus pandemic.
"Getting death threats for me and my family and harassing my daughters to the point where I have to get security is just, I mean, it's amazing," Fauci said.
Fauci didn't reveal any more details about the threats and harassment. But he said he and his wife, and his three daughters, who live in three separate cities, were weathering the stress.
"I wish that they did not have to go through that," Fauci said. He made his comments  during an online forum sponsored by Harvard University that CNN's Dr. Sanjay Gupta moderated.
Fauci has led the National Institute of Allergy and Infectious Diseases since 1984 and has advised six presidents on matters of public health. In recent months, he has sometimes made statements that have contradicted President Trump.
"I wouldn't have imagined in my wildest dreams that people who object to things that are pure public health principles are so set against it, and don't like what you and I say, namely in the word of science, that they actually threaten you. I mean, that to me is just strange," Fauci said. [NPR story]
August 2020 COVID 19
Trump posts removed
August 5: both Twitter and Facebook removed a post shared by President Trump for breaking their rules against spreading coronavirus misinformation.
Twitter temporarily blocked the Trump election campaign account from tweeting until it removed a post with a video clip from a August 5 Fox News interview , in which the president urged schools to reopen, falsely claiming that children are "almost immune from this disease."
Facebook also removed a post containing the same video from Trump's personal page. Both Facebook and Twitter said the post violated their rules on COVID-19 misinformation.
August 2020 COVID 19
711,876 COVID Deaths Worldwide
August 6: 19,006,692 case worldwide; 711,876 deaths worldwide
161,608 COVID Deaths USA
August 6:  4,973,741 cases in the USA; 161,608 deaths in the USA
August 2020 COVID 19
> 97,000 US children tested positive
August 9: according to a new report from the American Academy of Pediatrics and the Children's Hospital Association, at least 97,000 children in the United States tested positive for the coronavirus the last two weeks of July alone,. The report said that at least 338,000 children had tested positive since the pandemic began, meaning more than a quarter had tested positive in just those two weeks.
August 2020 COVID 19
711,876 COVID Deaths Worldwide
August 10: 20,055,099 case worldwide; 734,561 deaths worldwide
165,619 COVID Deaths USA
August 10:  5,200,313 cases in the USA; 165,619 deaths in the USA
August 2020 COVID 19
Russia pre-approves
August 11: a Russian health care regulator become the first in the world to approve a vaccine against the coronavirus, President Vladimir V. Putin announced, though the vaccine had yet to complete clinical trials.
The announcement came despite a warning last week from the World Health Organization that Russia should not stray from the usual methods of testing a vaccine for safety and effectiveness. [NYT article]
August 2020 COVID 19
Aerosol Virus
August 11: a team of virologists and aerosol scientists has produced exactly  confirmation of infectious virus in the air.
"This is what people have been clamoring for," said Linsey Marr, an expert in airborne spread of viruses who was not involved in the work. "It's unambiguous evidence that there is infectious virus in aerosols."
A research team at the University of Florida succeeded in isolating live virus from aerosols collected at a distance of seven to 16 feet from patients hospitalized with Covid-19 — farther than the six feet recommended in social distancing guidelines.
August 2020 COVID 19
Local Chinese Hid Information
August 19: the NY Times reported that according to American officials familiar with a new internal report by U.S. intelligence agencies, officials in Beijing were kept in the dark for weeks about the potential devastation of the virus by local officials in central China,
The report concluded that officials in the city of Wuhan and in Hubei Province, where the outbreak began late last year, tried to hide information from China's central leadership. The finding is consistent with reporting by news organizations and with assessments by China experts of the country's opaque governance system.
August 2020 COVID 19
787,777 COVID Deaths Worldwide
August 19: 22,474,212 case worldwide; 787,777 deaths worldwide
175,927 COVID Deaths USA
August 19:  5,687,014 cases in the USA; 175,927 deaths in the USA
August 2020 COVID 19
August 23: the NY Times reported that the Food and Drug Administration  gave emergency approval for expanded use of antibody-rich blood plasma to help hospitalized coronavirus patients.
August 2020 COVID 19
813,045 COVID Deaths Worldwide
August 24: 23,615,418 case worldwide; 813,045 deaths worldwide
180,605 COVID Deaths USA
August 24:  5,874,358 cases in the USA; 180,605 deaths in the USA
August 2020 COVID 19
Reinfection
August 24: researchers in Hong Kong reported the first confirmed case of reinfection with the coronavirus.
"An apparently young and healthy patient had a second case of Covid-19 infection which was diagnosed 4.5 months after the first episode," University of Hong Kong researchers said  in a statement.
The report was of concern because it suggested that immunity to the coronavirus may last only a few months in some people. And it had implications for vaccines being developed for the virus. [NYT story]
FDA authorizes convalescent plasma
August 23: President Trump announced the emergency approval of blood plasma for hospitalized Covid-19 patients. Trump and two of his top health officials cited the same statistic: that the treatment had reduced deaths by 35 percent.
Trump called it a "tremendous" number. His health and human services secretary, Alex M. Azar II, a former pharmaceutical executive, said, "I don't want you to gloss over this number." And Dr. Stephen M. Hahn, the commissioner of the Food and Drug Administration, said 35 out of 100 Covid-19 patients "would have been saved because of the administration of plasma." [CNN article]
August 2020 COVID 19
F.D.A. 'Grossly Misrepresented' Blood Plasma Data
August 25: some scientists were taken aback by the way the administration framed plasma data announced on August 23, which appeared to have been calculated based on a small subgroup of hospitalized Covid-19 patients in a Mayo Clinic study: those who were under 80 years old, not on ventilators and received plasma known to contain high levels of virus-fighting antibodies within three days of diagnosis.
Many experts — including a scientist who worked on the Mayo Clinic study — were bewildered about where the statistic came from. The number was not mentioned in the official authorization letter issued by the agency, nor was it in a 17-page memo written by F.D.A. scientists. It was not in an analysis conducted by the Mayo Clinic that has been frequently cited by the administration. [NYT story]
August 2020 COVID 19
C.D.C. Pressured to Change Guidance
August 26: higher-ups in the Trump administration instructed the Centers for Disease Control and Prevention to modify its coronavirus testing guidelines this week to exclude people who do not have symptoms of Covid-19 — even if they have been recently exposed to the virus, according to two federal health officials.
One official said the directive came from the top down. Another said the guidelines were not written by the C.D.C. but were imposed. [NYT article]
August 2020 COVID 19
827,069 COVID Deaths Worldwide
August 26: 24,243,682 case worldwide; 827,069 deaths worldwide
183,317 COVID Deaths USA
August 26:  5,990,439 cases in the USA; 183,317 deaths in the USA
August 2020 COVID 19
More Plasma Fallout
August 28: the NY Times reported that two senior public relations experts advising the Food and Drug Administration were fired from their positions after President Trump and the head of the F.D.A. exaggerated the proven benefits of a blood plasma treatment for Covid-19.
Dr. Stephen M. Hahn, the F.D.A. commissioner, , removed Emily Miller as the agency's chief spokeswoman. The White House had installed her in the post just 11 days earlier. Ms. Miller had previously worked in communications for the re-election campaign of Senator Ted Cruz and as a journalist for the conservative cable network One America News.
The day before, the F.D.A.'s parent agency, the Department of Health and Human Services, terminated the contract of another public relations consultant, Wayne L. Pines, who had advised Dr. Hahn to apologize for misleading comments about the benefits of blood plasma for Covid-19.
Guidance Change Fallout
August 28: the leaders of the National Association of County and City Health Officials, and the Big Cities Health Coalition, two organizations that represent thousands of local public health departments in the United States sent a letter to senior Trump administration officials asking that they "pull the revised guidance" on virus testing and restore recommendations that individuals who have been exposed to the virus be tested whether or not they have symptoms.
The letter — addressed to Dr. Robert R. Redfield, director of the Centers for Disease Control and Prevention, and Adm. Brett P. Giroir, an assistant secretary of health at the Department of Health and Human Services. The organizations' leaders wrote that their members were "incredibly concerned" about the changes.
August 2020 COVID 19
838,468 COVID Deaths Worldwide
August 28: 24,789,603 case worldwide; 838,468 deaths worldwide
185,272 COVID Deaths USA
August 28:  6,067,600 cases in the USA; 185,272 deaths in the USA
August 2020 COVID 19
Previous and subsequent COVID-19 posts: