Trump COVID 19 Continue
This is the second post that deals primarily with President Trump and his administration's handling of the COVID-19 pandemic. You can find the first one here.
In that post I related that on January 18, Health and Human Services  Secretary Alex M Azar had had his first discussion about the virus with President Trump.
More than a month later, President Trump continued to suggest that the COVID-19 crisis was not nearly as serious as many stridently stated. He would continue downplaying issues that medical authorities talked about the rest of the month.
Trump COVID 19 Continue
False Claims
March 4: in an interview with Sean Hannity, Trump called the WHO's estimate of the global death rate "false," described the coronavirus as "very mild," and suggested that those infected can get better by "sitting around" and "going to work."
March 4: House passed $8.3 billion emergency bill, aimed mainly at the immediate health response to the virus.
In a Fox News interview, Trump deflected criticism to his response by saying the Obama administration (including the vice president, Joe Biden) "didn't do anything about" swine flu. Politifact rated the claim False.
Trump continued to blame the Obama administration in an exchange with reporters at the White House.
"The Obama administration made a decision on testing that turned out to be very detrimental to what we're doing."
Politifact also rated that claim false also because the process dated back to 2006, before Obama took office.
March 5: in a WHO briefing, Tedros Adhanom praised China and the U.S. for taking "the right approach." He said: "After our visit to Beijing and seeing China's approach, and President Xi leading that, and also in the U.S., President Trump himself, and also for regular coordination, designating the vice president. These are the approaches we're saying are the right ones, and these are the approaches we're saying are going to mobilize the whole government."
In a Fox News town hall, Trump said, "It's going to all work out. Everybody has to be calm. It's all going to work out." [NPR timeline]
Trump COVID 19 Continue
Grand Princess
March 6: the Grand Princess cruise ship with over 2,000 passengers waited to dock off the California coast because at least several of those passengers had tested positive for the coronavirus and many showed symptoms.
Asked about the docking of the Grand Princess, Trump said : "I would rather (Grand Princess passengers stay aboard) because I like the numbers being where they are. I don't need to have the numbers double because of one ship." 
Trump went on to say that he thought it was more important for passengers to debark than to keep the numbers down.
Trump COVID 19 Continue
Testing?
In a news conference, Trump downplayed the concerns around testing:
"Anybody that wants a test can get a test."
With tests in short supply, Politifact rated the claim False.
The same day, Trump tweeted  [account since suspended] out blame to the media and the Democrats for trying to "inflame" the situation "far beyond what the facts would warrant."
The Fake News Media and their partner, the Democrat Party, is doing everything within its semi-considerable power (it used to be greater!) to inflame the CoronaVirus situation, far beyond what the facts would warrant. Surgeon General, "The risk is low to the average American."
March 7: the number of COVID-19 cases worldwide surpassed 100,000.
President Trump said,  "No, I'm not concerned at all/ No, I'm not. No, we've done a great job."
March 8: over 100 countries report cases of COVID-19.
Trump COVID 19 Continue
Pandemic?
March 9: WHO moved closer to declaring the COVID-19 outbreak a pandemic.
"Now that the virus has a foothold in so many countries, the threat of a pandemic has become very real," Tedros says during a press
Trying to minimize the crisis, President Trump tweeted: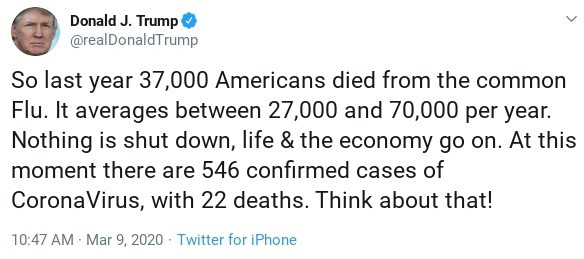 March 10: in a meeting with Republican senators at the U.S. Capitol, Trump said, "This was unexpected. … And it hit the world. And we're prepared, and we're doing a great job with it. And it will go away. Just stay calm. It will go away." [NPR timeline]
March 11: WHO Director-General Tedros Adhanom Ghebreyesus declared the global COVID-19 outbreak a pandemic.
President Trump used a prime-time Oval Office address to announce a ban on travel for non-Americans from most of Europe. He misstates a freeze on cargo and falsely said the health insurance industry has "agreed to waive all co-payments for coronavirus treatments." In reality, getting tested would be free, but treatment would not be covered.
Trump COVID 19 Continue
National Emergency
March 13: President Trump declared a national emergency to access $50 billion for states and territories, and clear the way for fast-track waivers for hospitals and doctors as they respond to the virus.
He also tweeted falsely: " "President Trump, COVID-19 coronavirus: U.S. cases 1,329; U.S. deaths, 38; panic level: mass hysteria. President Obama, H1N1 virus: U.S. cases, 60.8 million; U.S. deaths, 12,469; panic level: totally chill. Do you all see how the media can manipulate your life."
March 14: The House passed a worker and business relief bill with paid leave guarantees for certain workers, expanded food assistance and unemployment insurance benefits, and employer tax credits. Trump signedit four days later.
March 15: President Trump advised citizens to avoid groups of more than 10. New York City's public schools system, the nation's largest with 1.1 million students, also announced that it would close.
Trump COVID 19 Continue
Work From Home
March 17: President Trump said in a news conference that for the next 14 days, "we're asking everyone to work at home, if possible, postpone unnecessary travel, and limit social gatherings to no more than 10 people."
Trump falsely claimed that there was no shift in tone from the White House.
"I've always known this is a real, this is a pandemic. I've felt it was a pandemic long before it was called a pandemic."
Asked if the World Health Organization had offered detection tests to the United States, Trump falsely said WHO had not, and that the WHO coronavirus test "was a bad test."
March 18: in comments made during a White House media briefing, President Trump falsely claimed that "The coronavirus "snuck up on us," adding that it is "a very unforeseen thing."
Trump COVID 19 Continue
False Hope
March 21: President Trump over enthusiastically praised the possible use of hydroxychloroquine and azithromycin as treatments for COVID-19 even though the  substance, also known as chloroquine phosphate, had not gone through rigorous scientific testing as a coronavirus treatment.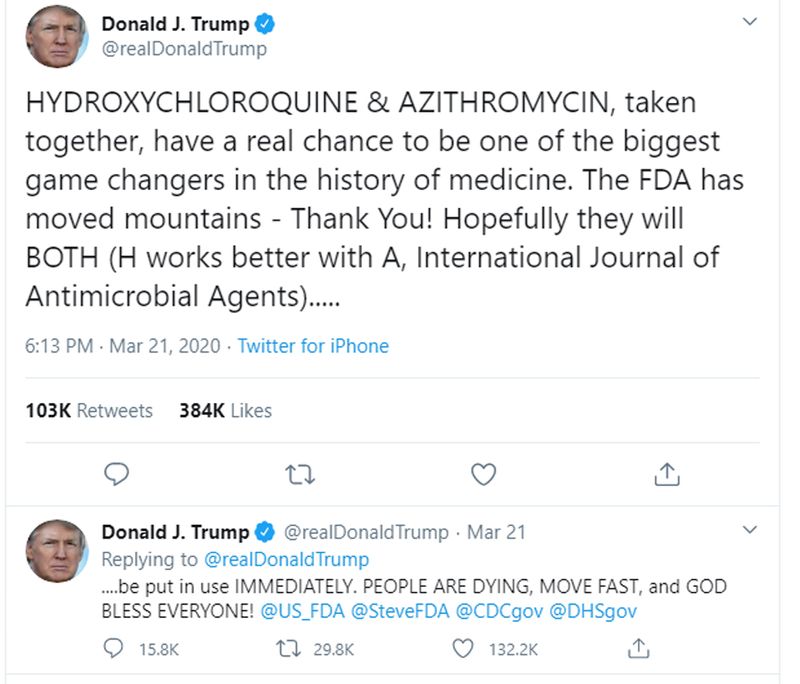 March 23: following the "advice" of President Trump, a Phoenix-area man died  after ingesting chloroquine phosphate, thinking it would protect against the coronavirus.
March 24: President Trump said on Fox News he wants the U.S. economy to "open" back up by Easter Sunday, even as the number of coronavirus cases in the country accelerates.
In another Fox interview, Trump said, "You'll have packed churches all over our country … I think it'll be a beautiful time."
Trump COVID 19 Continue
More testing
March 27: NPR reported that when asked why the United States did not import coronavirus tests when the Centers for Disease Control and Prevention ran into difficulty developing its own,  Trump government officials had questioned the quality of the foreign-made alternatives referring to a Chinese study that reported nearly half false-positives.
NPR  learned that that study was retracted just days after it was published online in early March.
Trump COVID 19 Continue
Two Trillion $
U.S. cases surpass 100,000 as Trump signs $2 trillion aid package into law.
March 27: President Trump signed into law a $2 trillion measure designed to respond to the coronavirus pandemic. In the largest economic stimulus package in modern American history, the government will deliver direct payments and jobless benefits for individuals, money for states and a huge bailout fund for businesses battered by the crisis.

The NY Times reported that President Trump had announced that the federal government would buy thousands of ventilators from a variety of makers.
His announcement came shortly after authorizing the government to "use any and all authority available under the Defense Production Act," a Korean War-era authority allowing the federal government to commandeer General Motors' factories and supply chains, to produce ventilators.
Just 24 hours before, Trump had dismissed the complaints of mayors and governors who said that they were getting little of the equipment they needed for an expected onslaught of serious cases.
Trump COVID 19 Continue
CNN Press Conference evaluation
At a news conference that day,  Trump continued to make claims that were weakly true or not true:
Trump claimed that 22 days ago, "everything was going beautifully" before the US got hit by what he called "the invisible enemy." He said, "22 days ago we had the greatest economy in the world, everything was going beautifully, the stock market hit an all-time high"
Facts First: While the market had previously set all-time records under Trump, on March 5, 22 days before Trump's comments, the Dow dropped 3.6% or 970 points, then its fifth-worst single-day point drop on record, adding to a 3,000-point drop since its peak on February 12. That day's fall in the Dow followed drops of 1,000 points and 800 points earlier that week.
Multiple times throughout the press briefing, the President claimed the current situation was unprecedented and unforeseen. According to Trump, "nobody was prepared for this," not even past presidents. He added, "In all fairness to all of the former presidents, none of them ever thought a thing like this could happen."
Facts First: This is false. The US intelligence community and public health experts had warned for years that the country was at risk from a pandemic. Experts had also warned that the country would face shortages of critical medical equipment, such as ventilators, if a pandemic occurred.
As he did on Twitter earlier on Friday, Trump suggested at the briefing that General Motors should manufacture ventilators at its plant in Lordstown, Ohio: "…frankly, I think that would be a good place to build the ventilators, but we'll see," Trump said.
Facts First:General Motors sold the shuttered Lordstown facility in November 2019. Trump had applauded the potential sale in a tweet in May 2019. Ohio Democratic Sen. Sherrod Brown said on Twitter after Trump's Friday tweet but before the briefing: "General Motors sold Lordstown. If the President cared about its former workers, he would know that."
Trump 

said of the coronavirus

: "You can call it a germ, you can call it a flu, you can call it a virus, you know you can call it many different names. I'm not sure anybody even knows what it is."
Dr. Anthony Fauci, director of the National Institute of Allergy and Infectious Diseases, said Thursday during an online chat with NBA star Stephen Curry that the coronavirus is "very much more transmissible than flu and more importantly, it's significantly more serious" — with a mortality rate
approximately 10 times higher than the 0.1% for the flu.
Trump said, "We sent thousands of ventilators to New York and they didn't know about it at the time, they were complaining. Thousands. We had 2,000 and then 2,000 and then 4,000, and they were going there in large numbers." Trump also said at the briefing that New York had been unaware of thousands of ventilators sitting in "a warehouse."
Facts First: There is no evidence that New York did not know ventilators had arrived from the federal government when Gov. Andrew Cuomo was demanding additional ventilators. "Not true," New York state Health Commissioner Dr. Howard Zucker told CNN's Chris Cuomo on Friday night. "We knew the ventilators arrived — and we need more ventilators. This is just the beginning of addressing the problem that we have." Zucker specified that a total of 4,000 ventilators had been received, not the 8,000 Trump suggested here.
Here's a rough timeline of what happened.
Cuomo 
said last weekend
 that the state needed 30,000 ventilators. Trump 
tweeted
 Tuesday morning that 400 ventilators had been secured for New York City. Cuomo 
replied at a news conference
 that 400 ventilators were not cause for self-congratulation, adding, "What am I going to do with 400 ventilators when I need 30,000?" It was later on Tuesday that 
Vice President Mike Pence announced
 that 2,000 additional ventilators had been shipped to New York that day and that 2,000 more would be shipped the following day.
Cuomo
told CNN on Friday
that Trump was "incorrect and grossly uninformed" in 
his comments
 about New York having been unaware of a stockpile of ventilators sitting around in New York. Cuomo said the state does not need to dip into the stockpile at the moment; he said his estimate of 30,000 ventilators needed is about the expected peak of the crisis in approximately 21 days, not about the present moment.
"So the point is, 'Well they're in a stockpile, you must not need them' is just ignorant — of course you don't need them today!" Cuomo said. "You need them when you hit the apex, which is 30,000. We're not there yet."
Trump COVID 19 Continue
Quarantine/No Quarantine
C.D.C. issues a travel advisory for the New York region, after Trump backs off his quarantine threat.
March 28: the NY Times reported that President Trump had said on  that he would not impose a quarantine on New York, New Jersey and Connecticut but would instead issue a "strong" travel advisory to be implemented by the governors of the three states.
Mr. Trump made the announcement on Twitter just hours after telling reporters that he was considering a quarantine of the three states in an effort to limit the spread of the coronavirus to Florida and other states.
Later that same night, the C.D.C. issued a formal advisory urging the residents of the three states to "refrain from nonessential domestic travel for 14 days effective immediately."
Trump COVID 19 Continue
Trump extended the federal government's social-distancing guidelines through the end of April.
March 29: the NY Times reported that President Trump said that the federal government's guidelines for social distancing would last until April 30, backing down from his previous comments that he hoped the country could go back to work by Easter.
He had clashed with public health experts around the country when he suggested on March 24 that the guidelines — which urge people to stay at home and not to gather in groups of more than 10 — might be relaxed by April 12. His announcement  indicated that he had backed down from that suggestion.
Trump COVID 19 Continue
President Trump, citing no specific data, says he expects new infections to peak by Easter
March 30: the NY Times reported that President Trump said that he and his advisers expected the number of people who tested positive for the coronavirus to peak around Easter, though he cited no data to back up his claim.
"That's going to be the highest point, we think, and then it's going to start coming down from there," Mr. Trump said during an interview on Fox & Friends. "That will be a day of celebration, and we just want to do it right so we picked the end of April."
At this point, the United States led the world in the number of confirmed coronavirus cases.
Trump COVID 19 Continue
No shortage/severe shortage
Trump Suggests Lack of Testing Is No Longer a Problem. Governors Disagree
March 30: the NY Times reported that President Trump had told governors on a conference call: "I haven't heard about testing in weeks. We've tested more now than any nation in the world. We've got these great tests and we're coming out with a faster one this week."
Trump added, "I haven't heard about testing being a problem." suggesting that a chronic lack of kits to screen people for the coronavirus was no longer a problem.
But governors painted a different picture on the ground.
Gov. Steve Bullock of Montana, a Democrat, said that officials in his state were trying to do "contact tracing" — tracking down people who have come into contact with those who have tested positive — but that they were struggling because "we don't have adequate tests," according to an audio recording of the conversation obtained by The New York Times.
"Literally we are one day away, if we don't get test kits from the C.D.C., that we wouldn't be able to do testing in Montana," Mr. Bullock said.
Trump COVID 19 Continue