Mamie Smith Crazy Blues
Mamie Robinson Smith was born in Cincinnati on May 26, 1891.
By the time she was only 10 years old, she toured with the Four Dancing Mitchells, a white act.
As a teenager, she danced in J. Homer Tutt and Salem Tutt Whitney's Smart Set. In 1913, she left the Tutt Brothers to sing in clubs in Harlem and married William "Smitty" Smith, a singing waiter. William Smith died in 1928.
In 1918, Smith starred in Perry Bradford's musical review, Made In Harlem, in which she sang the song "Harlem Blues."
In 1920, Perry Bradford encouraged Fred Hager, Okeh Records A & R director, to record Smith. Despite racist and boycott threats, Okeh, a white recording company, took a risk and did.
Mamie Smith Crazy Blues
That Thing Called Love
In February she recorded two of Bradford's songs: "That Thing Called Love" and "You Can't Keep a Good Man Down." A white band accompanied her.
Mamie Smith Crazy Blues
Crazy Love
On August 10, 1920 she and Bradford recorded another of his songs: "Crazy Love,"  a somewhat reworked Harlem Blues.
According to David Hajdu in a New York Times article,  the song "changed the course of music history.  [The song was] a boisterous cry of outrage by a woman driven mad by mistreatment [and] …spoke with urgency and fire to Black listeners across the country who had been ravaged by the abuses of race-hate groups, the police and military forces in the preceding year — the notorious "Red Summer" of 1919."
The song was a hit, selling 75,000 copies in the first month, eventually selling more than two million.
Again according to Hajdu, "It established the blues as a popular art and prepared the way for a century of Black expression in the fiery core of American music."
Mamie Smith Crazy Blues
Crazy Blues Code
Subjugated groups  create hidden ways of expressing themselves. "Crazy Love" did that.  The song may simply seem to be a sad one about a woman who has lost her love, but it turns out to be a song in which the woman is driven to literally kill that love, that abusive love.
Now the doctor's gonna do all that he can,
But what you're gonna need is an undertaker man.
I ain't had nothin' but bad news,
Now I've got the crazy blues.
Mamie Smith Crazy Blues
Race Records
Not unlike The Kingston Trio's success leading to Columbia Records signing Bob Dylan, the success of "Crazy Blues,"  led Okeh and other recording companies [Emerson Records, Vocalion Records, Victor Talking Machine Company, Paramount Records, and several other companies] to record other Black female singers such as Ma Rainey, Ethel Waters and Bessie Smith as well as Black male musicians.
They and many more women made hundreds of records that sold millions of copies over more than a decade — all before the great  Robert Johnson recorded for the first time,  on November 23, 1936.
While the records did sometimes cross racial lines, a genre called Race Records came into being. Race records led to radio stations whose popularity was with the local Black population.
Mamie Smith Crazy Blues
Smith Successes/Issues
Mamie Smith's financial success from her recording royalties and performance fees allowed her to purchase a large home in Harlem.  According to Barry Kernfeld in his brief bio,  "Dan Burley of the Amsterdam News reported "There were servants, cars, and all the luxuries that would go with being the highest paid Negro star of that day."
Smith and Bradford parted ways because of financial disputes and Bradford sold her contract to Maurice Fulchner, a white manager.
In 1922 she recorded "I Ain't Gonna Give Nobody None O' This Jelly Roll."
Smith continued to tour and performed through the 1920s and into the 1930s.
She toured Europe and also worked in films: Jailhouse Blues (1929), Fireworks of 1930, Paradise in Harlem (1940), Mystery in Swing (1940), Murder on Lenox Avenue (1941), and Sunday Sinners (1941).
Jailhouse Blues
Sunday Sinners
Her last concert was at New York's Lido Ballroom in August 1944. She died on September 16, 1946 . She is buried in Frederick Douglass Memorial Park, Staten Island, NY.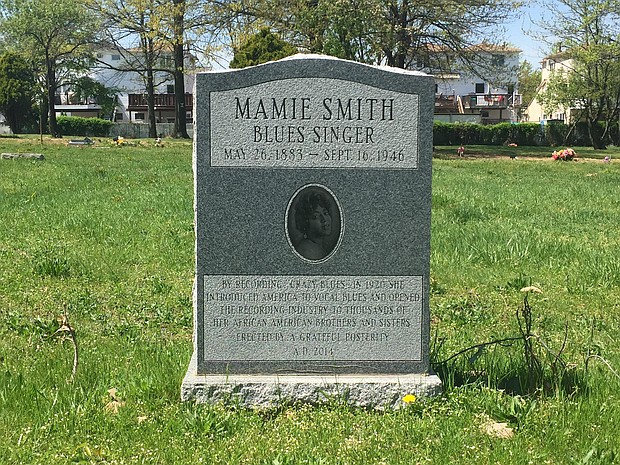 Main source: Harlem Renaissance Lives from the African American National Biography, edited by Henry Louis Gates (Jr.)
All Music's credit list for Perry Bradford
All Music's credit list for Mamie Smith.
Mamie Smith Crazy Blues