Sylvester Stewart Sly Stone
Happy birthday
March 15, 1943
DJ
Band leader
Woodstock alum
Rock and Roll Hall of Fame inductee
Sylvester "Sly Stone" Stewart was born on March 15, 1943, in Denton, Texas, and raised primarily in Vallejo, California. He sang with his family's gospel group. As a teenager he sang doo wop.
Around 1964, he started as a disc jockey at R & B radio station KSOL. He became known for mixing white artists into the station's soul music format.
At the same time, Stone began producing for the San Francisco-based label, Autumn Records. One of the hits Stone produced was Bobby Freeman's "C'on an Swim."
 Of course it was the formation of his own band 1966, Sly & the Stoners which later merged with his brother Freddie's band to become Sly and the Family Stone. The band consisted of  bassist Larry Graham, trumpeter Cynthia Robinson, saxophonist Jerry Martini, and drummer Greg Errico,
In October 1967, they released  their first album, "A Whole New Thing."
It was their resoundingly successful performance at the Woodstock Music and Art Fair as well as that performance's inclusion in the following year's movie and album that brought stardom. Here's the lesser known song "Love City"  from that amazing performance.
Sylvester Stewart Sly Stone
Sly Stone
That success also brought the availability of a lifestyle that offered as many dangers as it did comforts and Sly Stone in particular indulged in the former.
Sly and the Family Stone were inducted into the Rock and Roll Hall of Fame in 1993.
He became homeless for awhile, but in 2015 a Los Angeles Supreme Court jury awarded him $5 million after  it found that Gerald "Jerry" Goldstein and Glenn Stone, his former manager and an entertainment lawyer, had cheated Stone out of over a decade's worth of royalties.
But in 2016, the appellate court said the trial judge erred when it did not treat the assignment of royalties from Stone — legally Sylvester Stewart — to his deceased former manager Ken Roberts as a proven.
In July 2016, a California appeals court granted Stone's former manager a new trial. (Law360 article)
Sylvester Stewart Sly Stone
Films
On the Sly: In Search of the Family Stone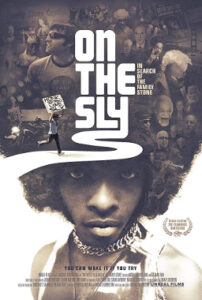 On the Sly: In Search of the Family Stone is a documentary about Sly Stone, his absence from the music scene, and one man's quest to find out what happened to the artist. It is directed by Michael Rubenstone. [Wikipedia]
Dance to the Streaming Music
From a 2018 Deadline Hollywood dot com article: A feature documentary about Sly and The Family Stone and their impact on the development of funk, soul, rock, and psychedelic music is on its way. Dance to the Streaming Music, from Winter State Entertainment, will include exclusive interviews and footage of Sly and the Family Stone and other artists – and their reversal of fortune in the wake the Music Modernization Act.
While the project hoped for a 2019 release, it hasn't happened as of 2023.
Questlove
And in February 2021 a Rolling Stone magazine article stated that, "Questlove will direct a new documentary about the career and legacy of Sly Stone.
Per a release, the as-yet-untitled project will follow "the story of the influential artist, king of funk, and fashion icon Sly Stone, a musician who was breaking all the rules at a time when doing so was extremely challenging, even dangerous. The pressure of explosive mainstream pop success and the responsibility of representing Black America forced him to walk the fine line of impossible expectations."
In a statement, Questlove said: "It goes beyond saying that Sly's creative legacy is in my DNA… it's a black musician's blueprint… to be given the honor to explore his history and legacy is beyond a dream for me." [2023 DEADLINE article]
Sylvester Stewart Sly Stone