Trumpeter Keith Johnson
Internet footprint
Once again a person one would think that information about someone who played in a well-known band–Paul Butterfield Blues Band–and played at what many think is the most famous festival of all time–the Woodstock Music and Art Fair—-would be easy to find.
Not true, of course, and even in the 21st century one can easily minimize their internet footprint. Perhaps old school research in a brick and mortar library would yield more, but my laziness trumps (sorry, but it's an old word with a new meaning) such research.
Most of today's information came from the wonderful AllMusic site which so often rescues inquisitive music fans, but even it doesn't show Johnson's birth date. Thus, I am placing him today with plans to do the other "birth-less" Woodstock Butterfields over the next several days.
Trumpeter Keith Johnson
Musician Keith Johnson
Keith Johnson was mainly a trumpeter, but as so often happens on the musician's path, other instruments come into play. Jazz was his niche.
He became part of the Paul Butterfield Blues Band in time to perform with them a the Monterey International Pop Festival in June 1967. Released in December 1968, The Resurrection of Pigboy Crabshaw was the first Butterfield album Keith appeared on.
He stayed with the band for their next two albums: In My Own Dream (1967) (an album cover I stared at for many hours) and Keep on Moving (1969). 
A team player, at times Johnson played organ, but the trumpet was always his first and best instrument.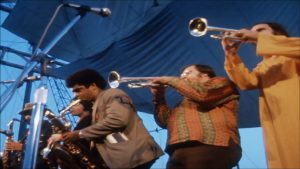 Despite the success of "horn" bands such as Blood, Sweat and Tears and Chicago, the Butterfield band did not enjoy the same success. In 1970 he left the band and played with the Elephant's Memory, the band that (without Johnson) became associated with John Lennon. 
Johnson also played with Van Morrison. Moogiy Klingman, Etta James, and Martha Velez.  Velez also played with Van Morrison and later married Johnson.
Trumpeter Keith Johnson
Professor Keith Johnson?
It seems that Keith became Professor Keith Johnson and taught at the college level, including the University of North Texas. If so, in May 2012 he received the "Award of Merit" from the International Trumpet Guild which recognized his substantial contributions to the art of trumpet playing through performance, teaching, publishing, research, composition, and support of the goals of ITG. 
Oddly, in the report from that conference, much is said about Johnson's musical life, but nothing about his early career with 60s music.
Other have indicated that the UNT Doug Johnson is not the same as the Woodstock one. Kudos to both men for their musical accomplishments.
Trumpeter Keith Johnson