Henry Lowther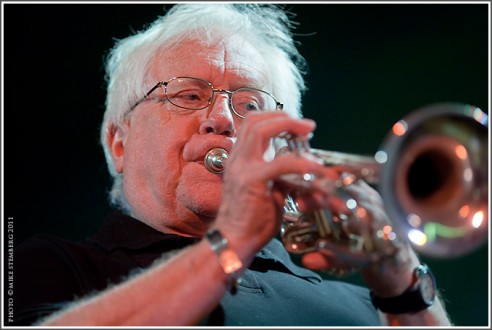 Born July 11, 1941

Birthday greetings to a..


Jazz musician and...


A member of Keef Hartley Band that played at Woodstock
"Don The Dreamer"
from the 1968 Kenny Wheeler album, Windmill Tilter
Henry Lowther
           From  Vortex Jazz site

          During the sixties Henry was one of the first musicians on the British jazz scene to experiment with total free improvisation, notably with Jack Bruce, Lyn Dobson and John Hiseman. He played with the original and seminal Mike Westbrook band (which included Mike Osborne and John Surman), and also with John Dankworth, including playing on the now legendary and rare Kenny Wheeler album "Windmill Tilter" while also working on occasions on the rock scene with musicians such as Manfred Mann, John Mayall and  Keef Hartley, with whom he appeared at the famous Woodstock festival in 1969.

          His work on the British jazz scene reads like a "Who's Who". He has played regularly with the likes of Gordon Beck, Michael Garrick, Graham Collier, Mike Gibbs, Pete King, Loose Tubes, John Surman, John Taylor, Stan Tracey and Kenny Wheeler. 
After Keef Hartley
            After Henry Lowther left Keef Hartley in 1970, he worked with dozens of different musicians including Bryan Ferry, Van Morrison, and did the trumpet solo for Elton John on "Return to Paradise" in 1978. 
Still Waters
          He also played with Charlie Watts and helped form the band Still Waters in 1987.
Again from the Vortex site:
              Henry Lowther's STILL WATERS was born of a long association and friendship, going back more than twenty years, between Henry and bassist Dave Green. They both felt that the time was right to play the music of their choice, together with some of the finest jazz musicians working in Britain to As result STILL WATERS is a highly accomplished, tightly ensembled and creative band combining long experience with youthful exuberance and freshness. The music is varied with original compositions by Henry and other band members, ranging from gentle melodic music reflecting the band's name, through to dynamic free improvisation, including the occasional jazz standard to acknowledge the tradition. The result is an immediately classic band sound. Still Waters was chosen by the BBC to represent the UK at the 2Oth Umbrian Jazz Festival in Perugia in 1993.

           He continues to play today.
Please follow and like us: