Trumpeter Keith Johnson
June 1, 1940 – April 6, 2021
Internet footprint
In 2017  when I first created this post, I wrote that "Once again a person one would think that information about someone who played in a well-known band–Paul Butterfield Blues Band–and played at what many think is the most famous festival of all time–the Woodstock Music and Art Fair—-would be easy to find."
That has both fortunately and unfortunately changed. In 2022, I gave the internet another chance and sadly found Johnson's obituary from a May 27, 2021 article in The Register-Guard out of Eugene, OR.
Much of the other information came from the wonderful AllMusic site which so often rescues inquisitive music fans as well as Annie Painter, whom you, too, will discover in a moment.
Trumpeter Keith Johnson
Musician Keith Johnson
The opening lines of the Guard's obituary by Matthew Denis was: Oregon native and trumpeter Keith Johnson, who died of cancer, leaves behind a musical legacy as a jazz mentor and longtime sideman playing with musicians such as Paul Butterfield, Martha Velez, Etta James and Van Morrison.
Born in Vancouver, British Columbia Johnson found love in jazz, art and life with his companion, Annie Painter. He died  April 6 in Portland. He was 80.
His dad was a lumberman and was sent to Oregon, thus his living there from age four until he left as a 20-something to hit the musician's road. He attended the University of Oregon for a bit, but left to become a teamster.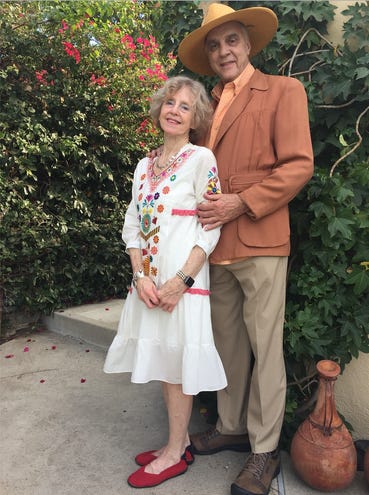 Keith Johnson was mainly a trumpeter, but as so often happens on the musician's path, other instruments come into play. Jazz was his niche.
And at 6'5″ he might have been the tallest performer at Woodstock!
He became part of the Paul Butterfield Blues Band in time to perform with them a the Monterey International Pop Festival in June 1967. Released in December 1968, The Resurrection of Pigboy Crabshaw was the first Butterfield album Keith appeared on.
He stayed with the band for their next two albums: In My Own Dream (1967) (an album cover I stared at for many hours) and Keep on Moving (1969). 
A team player, at times Johnson played organ, but the trumpet was always his first and best instrument.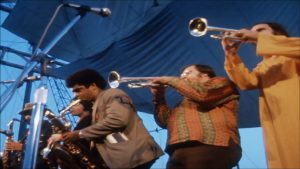 Despite the success of "horn" bands such as Blood, Sweat and Tears and Chicago, the Butterfield band did not enjoy the same success. 
Johnson left the group in 1970 to make a living as a roving sideman. Over the years, he played with Elephant's Memory, on Mark "Moogy" Klingman's first solo album "Moogy," Van Morrison's "His Band and the Street Choir" [Johnson call Van, Leprechaun]. The song "Domino" is Johnson's horn chart.
He also played on Martha Velez's "Hypnotized. A bit of trivia: Johnson married Velez and Martha's brother was Jerry Velez, the same Jerry Velez who played with Jimi Hendrix at Woodstock!
He also became the musical director for Etta James in her L.A. studio and on the road. He played with her from 1975 to about 1983.
Here's a YouTube link for Etta James performing Lovesick Blues. And as an example of Keith's musical versatility, he plays  piano on this cut.
Trumpeter Keith Johnson
Annie Painter
Before joining Paul Butterfield, Johnson was the DJ for a jazz show on KFMY, Eugene's first FM radio station and in 1961 he married  Annie Painter while attending the University of Oregon. They lived a settled life for 10 years before he landed the Butterfield gig. Keith hit the tour road, but the separation led to their divorce. Painter became a school principal.
She remarried and after the death of her second husband in 2016, she reconnected with Keith.
They would have, as Painter described, "the best years of our lives—the last five  we were together again until his death."
 George D. Green
Johnson met neighbor and abstract illusionist painter George D. Green and the two hit it off.
Johnson would go on to write music soundtracks for several Green paintings.   Matthew Denis describes the suites as…"a strange, hypnotic blend, emblematic of a man satisfied with his journey, looking to give just a little more beauty back to the world."
Marooned Music by Keith Johnson for George D Green
Again from the Denis article:  At the end, Johnson accepted life and death with an equanimity indicative of a melodious life. Speaking to a friend just days before he died, Johnson knew he would be leaving the world soon.
"But he said, 'Hey, man, what are you going to do? This is what happens,' " Painter said. "I thought, bless his heart. I hope we can all be that way."
Keep the Dream Flowing
Keep the Dream Flowing is a great podcast that has interviewed dozens of people who were part of Woodstock, both organizers and performers.
Here is a link to the first of  the three podcasts they did with Keith Johnson.
Not Professor Keith Johnson
At one point it seemed that the Butterfield Keith Johnson as also a Professor Keith Johnson and taught at the college level, including the University of North Texas.  Not so.
Trumpeter Keith Johnson