July 12 Peace Love Activism
Native Americans
Stand Watie
July 12, 1861: Albert Pike, the Confederacy's special commissioner, completed treaties with the members of the Choctaw and Chickasaw tribes, giving the new Confederate States of America several allies in Indian Territory. By signing these treaties, the tribes severed their relationships with the federal government, much in the way the southern states did by seceding from the Union. They were accepted into the Confederates States of America, and they sent representatives to the Confederate Congress. The Confederate government promised to protect the Native American's land holdings and to fulfill the obligations such as annuity payments made by the federal government.

One Cherokee, Stand Watie, rose to the rank of brigadier general. (Waite, see, June 23, 1865; NA, see August 4, 1862)
BLACK HISTORY
Marcus Garvey
July 12, 1919: The Bureau of Investigation (the predecessor to the FBI) requested that its New York office forward all information on Garvey to headquarters in Washington, and instructed its Chicago division to monitor Garvey and other black radicals. (BH, see July 19; MG, see Aug 25)
Albany Movement
July 12, 1962: Martin Luther King, Jr's and Ralph Abernathy's fines were anonymously paid and the two men were reluctantly freed. Years later it was revealed that the fines were paid by Albany Mayor Asa Kelley as a ploy to divide the movement and diffuse media attention on King's imprisonment. (see July 20)
Dee/Moore Murders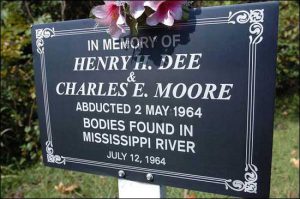 July 12, 1964: while looking for the bodies of  the three missing civil rights workers [Michael Schwerner, Andrew Goodman, and James Chaney] searchers discover the disarticulated lower torso of Charles Moore in the river south of Tallulah, Louisiana. Moore's body was identified by the draft card he had in his possession at the time of his death.  (BH/DM, see July 13; Murders, see Aug 4)
Newark, NJ
July 12  > 18, 1967: Newark, NJ race riot. The six days of rioting, looting, and destruction left 26 dead and hundreds injured. (see July 14)
 
Clifford Glover
June 12, 1974: officer Thomas Shea acquitted in Clifford Glover shooting (see April 28, 1973); hundreds of people began a riot. Angry crowds turned over several cars. Windows were broken and cash registers stolen. One protester was arrested. Two police officers were injured by the rioters. (BH, see June 30; RR, see November 12, 1976)
Barbara Jordan
July 12, 1976: at the Democratic National Convention, Barbara Jordan, the first woman elected to congress from the deep south, became the first woman and first African American to deliver the keynote address, making her "Who Then Will Speak for the Common Good?" speech in New York, New York.
Now I began this speech by commenting to you on the uniqueness of a Barbara Jordan making a keynote address. Well I am going to close my speech by quoting a Republican President and I ask you that as you listen to these words of Abraham Lincoln, relate them to the concept of a national community in which every last one of us participates:  "As I would not be a slave, so I would not be a master." This -- This -- "This expresses my idea of Democracy. Whatever differs from this, to the extent of the difference, is no Democracy." (text of entire speech) (BH, see Sept 7; Feminism, see Oct 15)
Trayvon Martin Shooting
July 12, 2013:  the trial closed and went to the jury. (see July 13)
Cultural Milestone
July 12, 1960: the Etch A Sketch toy went on sale, using electrostatic charge and aluminum powder. (see April 19, 1961)
 
July 12 Music et al
Jimmie Nicol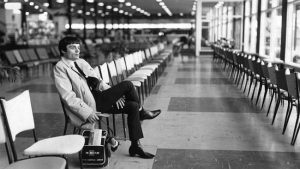 July 12, 1964: The Beatles landed in Adelaide, Australia, minus Ringo. Ringo had been in the hospital and a friend of theirs, Jimmie Nicol took his place playing drums.

Over 250,000 people were on the road the band took from the airport to their hotel. It was a 10 mile trip and it was the biggest "welcome" the Beatles ever received.

For Jimmie Nicol, it had to be the trip of a lifetime. But it didn't last. When Ringo returned, The Beatles threw a party that lasted till 4 am. Jimmie was not invited. In the morning, Brian Epstein drove him to the airport and gave the drummer 500 pounds and a gold watch. He didn't say goodbye to The Beatles as they were all sleeping when he left. (see July 20)
Beginning on July 12 and running on Saturdays during July and August, the 1969 Forest Hills Music Festival (Queens, NYC) featured a variety of performers including Janis Joplin, Richie Havens, Blood, Sweat and Tears,  and Johnny Winter.
Zager and Evans
July 12 – August 22, 1969: "In the Year 2525" by Zager and Evans #1 on the Billboard Hot 100.
 
July 12 Peace Love Activism
Cold War
July 12, 1974: the National Research Act, signed into law on this day, created the National Commission for the Protection of Human Subjects of Biomedical and Behavioral Research. Revelations about the abuse of human research subjects, including the notorious Tuskegee Syphilis Experiment (exposed by The New York Times on July 26, 1972), led to a movement to provide formal procedures to ensure that people were not subject to research that might endanger them in some way without their informed consent. The Commission led to the Belmont Report (see September 30, 1978) which recommended steps necessary to ensure informed consent. These efforts led to the creation of Institutional Review Board (IRB) at universities and other research institutions to ensure the protection of human subjects. (see February 20, 1976)
INDEPENDENCE DAY
July 12, 1975: São Tomé and Principe independent of Portugal. (see Sept 16)
LGBTQ
July 12, 1979:  Disco Demolition Night took place at Comiskey Park in Chicago. A crate filled with disco records was blown up on the field. During the climax of the event, rowdy fans surged onto the field, and a near riot ensued. The event has been characterized as "a mass exercise in racism and homophobia, reminiscent of Nazi book-burnings." (see October 14, 1979)
UK riots
July 12, 1981: the "Bradford 12" — a group of Asian youths, members of the "United Black Youth League" —  arrested for manufacturing petrol bombs, allegedly to protect their community from a threatened attack. At the subsequent trial, they were acquitted by a jury, on the grounds of self defense. (see July 29)
Feminism
July 12, 2005: Roderick Jackson, a high school basketball coach, claimed he was fired for complaining that the girls' basketball team he coached was denied equal treatment by the school. Jackson sued the Birmingham Board of Education in federal court, claiming his firing violated Title IX of the Education Amendments of 1972. In Jackson v. Birmingham Board of Education, the Supreme Court ruleD that Title IX, which prohibits discrimination based on sex, also inherently prohibits disciplining someone for complaining about sex-based discrimination. It further held that this is the case even when the person complaining is not among those being discriminated against. (see June 18, 2005)
Terry Jones
July 12, 2010: Florida pastor Terry Jones tweeted: "9/11/2010 Int Burn a Koran Day." He then started an associated "International Burn a Koran Day" Facebook group. (see July 14) 
Voting Rights
Felon disenfranchisement laws prohibit otherwise eligible citizens from voting because they have been convicted of a felony. Forty-eight states and the District of Columbia disenfranchise people while they are in prison, on probation, or on parole, and eleven states continue to disenfranchise people even after they have completed their sentences.

On July 12, 2012, The Sentencing Project reported that felon disenfranchisement laws significantly restrict participation in the democratic process and, exacerbated by racial disparities in the criminal justice system, significantly reduce the voting power of communities of color. As of December 31, 2010, an estimated 5.85 million Americans were ineligible to vote because of state laws disenfranchising felons. Only about 25 percent of that population was incarcerated in jail or prison; the remaining 75 percent had returned home having successfully completed their sentences or were supervised in their communities by probation or parole. As a result of felon disenfranchisement laws, more than four million Americans live, work, and pay taxes while unable to vote.

Disenfranchisement laws disproportionately restrict communities of color from participating in the political process. One out of every thirteen African Americans of voting age is disenfranchised – more than four times the rate for non-African Americans. In Florida, Kentucky, and Virginia, more than 20 percent of the voting-age African American population is barred from voting. Nationwide, nearly one million African Americans remain disenfranchised despite having served their sentences and returned to their communities.

Despite these staggering numbers, felon disenfranchisement has remained almost immune to judicial challenge because courts have ruled that section two of the Fourteenth Amendment, which permits abridging the right to vote "for participation in rebellion or other crime," explicitly authorizes barring people with felony convictions from voting. (see June 17, 2013)
July 12 Peace Love Activism.  July 12 Peace Love Activism.  July 12 Peace Love Activism.  July 12 Peace Love Activism.  July 12 Peace Love Activism.  July 12 Peace Love Activism.  July 12 Peace Love Activism.  July 12 Peace Love Activism.  July 12 Peace Love Activism.  July 12 Peace Love Activism.  July 12 Peace Love Activism.  July 12 Peace Love Activism.  July 12 Peace Love Activism.  July 12 Peace Love Activism.  July 12 Peace Love Activism.  
Please follow and like us: