January 9 Peace Love Activism
Technological Milestones
Jean-Pierre Blanchard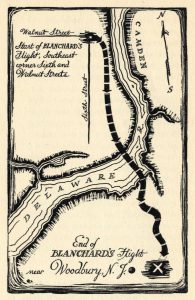 On January 7, 1785 Jean-Pierre Blanchard and John Jeffries had traveled in a gas balloon from Dover, England, to Calais, France becoming the first to cross the English Channel by air.
---
On January 9, 1793 Blanchard made the first successful balloon flight in the US. Blanchard's balloon, filled with hydrogen, took off from Philadelphia, PA, soared to 5,800 feet and eventually wound up some 15 miles away, in Woodbury, NJ. President George Washington was in Philadelphia for the event, along with Thomas Jefferson, Henry Clay, Paul Revere, John Adams and others.
---
Just before takeoff, the President slipped Blanchard a note. The letter was intended to allay the fears and suspicions of local farmers who saw Blanchard drop out of the sky. Rumor has it that Jean-Pierre had a copilot helping him on that historic flight: a little black dog. (see Oct 28)
iTunes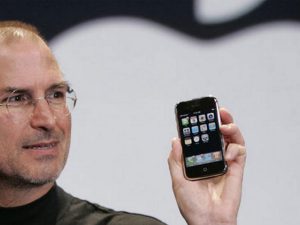 ---
January 9, 2001:  Apple Computer Inc. introduced its iTunes music management software at the MacWorld Expo in San Francisco. (see Jan 15)
iPhone
---
January 9, 2007:  Apple CEO Steve Jobs unveiled the iPhone. (see June 29)
January 9 Peace Love Activism
Immigration History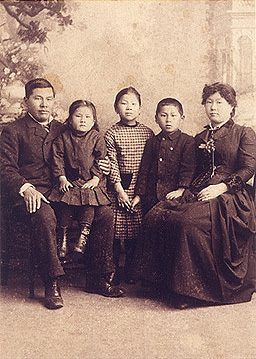 ---
During the week of September 1, 1884, Joseph and Mary Tape, immigrants from China who had lived in the United States for over a decade, attempted to enroll their eight-year-old, American-born daughter, Mamie Tape, in San Francisco's Spring Valley School. Principal Jennie Hurley denied the Tapes' request on the basis of their race, and State Education Superintendent William Welcher supported that decision. Welcher justified the denial in part by noting that even the California Constitution described Chinese-Americans as "dangerous to the well-being of the state."
---
The Tapes sued
---
On January 9, 1885 a California Superior Court judge ruled in the Tapes' favor, holding that denial of admission would be a violation of California state law and the United States Constitution. The state appealed the ruling to the California Supreme Court, which affirmed the lower court's ruling and held that Chinese students had a right to public education; the decision did not, however, prohibit the creation of segregated schools.
---
In response, the California legislature passed a bill requiring public school districts to create separate schools for Chinese-American students and to prohibit Chinese-American students from attending schools attended by white children. When Mamie arrived for school after the California Supreme Court's decision, she was denied entry because her vaccinations were not up to date. By the time the Tape family was able to comply with the vaccination requirements, a new school had been opened for Chinese-American students and Mamie was forced to enroll there.
---
The law excluding Chinese-American students from public schools attended by whites, which was passed in the wake of the Mamie Tape case, was enforced until the late 1920s. (see Feb 26)
January 9 Peace Love Activism
Feminism
Voting Rights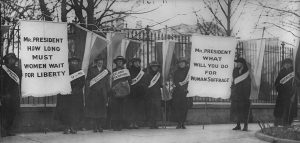 ---
January 9, 1917: President Wilson, after two weeks of delaying, met a deputation of 300 women, who present him with resolutions drafted during Milholland memorial service and ask him to use influence to promote federal woman suffrage amendment. Wilson angrily refused and walked out on delegation. The next day women's suffrage leader Alice Paul began leading picketers (whom they called "Silent Sentinels") in front of the White House gates on this day, demanding a constitutional amendment granting women the right to vote.
---
Carrie Chapman Catt, President of the National American Women's Suffrage Assocation (NAWSA), the larger and moderate suffrage group, stated that picketing the White House was "an error" on the part of Alice Paul and the National Woman's Party.
Wilson finally voices suffrage support
---
Exactly a year later on January 9, 1918 President Wilson publicly declared support for federal woman suffrage amendment. Meets privately with 10 members of Congress to encourage their vote for amendment. (see Jan 10)
Women in combat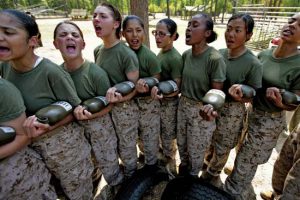 ---
January 9, 2013: a letter from Gen. Martin E. Dempsey to Secretary of Defense Leon E. Panetta stated that the armed service chiefs all agreed that "the time has come to rescind the direct combat exclusion rule for women and to eliminate all unnecessary gender-based barriers to service." (Washington Post article) (next Feminism, see Jan 10; military, see Jan 23)
January 9 Peace Love Activism
The Red Scare
---
January 9, 1948: The Hollywood Ten was a group of screenwriters and directors who refused to answer questions about their political associations at hearings held by the House Un-American Activities Committee (HUAC), beginning on October 27, 1947. On this day, they were arraigned on charges of contempt of Congress. Eventually, they were all found guilty, served time in prison, and were blacklisted from working in the movie industry. Members of the Hollywood Ten included writer Dalton Trumbo, Ring Lardner, Jr, and Adrian Scott.
---
Contempt of Congress indictments became a heavy weapon against alleged subversives during the Cold War. While it had rarely been used before World War II, HUAC issued 21 contempt citations in 1946, 14 in 1947, and 56 in 1950. All other House Committees in those years issued a total of only 6 contempt citations. (see Apr 30)
January 9 Peace Love Activism
BLACK HISTORY
Charlayne Hunter
---
January 9, 1961: Charlayne Hunter and Hamilton Holmes registered at the University of Georgia, becoming the university's first African American students. Their enrollment came days after federal judge William Bootle ordered the university to admit them, ending a two-year administrative and legal effort to integrate the school.
---
Despite this landmark victory, Hunter and Holmes registered for classes against the backdrop of nearly 100 protesting white students. The protests escalated into full-scale riots involving nearly 2000 white students, local residents, and Ku Klux Klan members. The rioters set fires outside Hunter's dormitory, hurled rocks into the dormitory, and yelled racist epithets. At least one student in the dormitory was injured by a flying object. After several hours, campus officers, city police, and local firefighters quelled the riot using tear gas and fire hoses. Nearly twenty rioters were arrested.
---
Hunter and Holmes were forced to withdraw from the university and were escorted home by Georgia state troopers. White student leaders gloated; one cited the University of Alabama's violent reaction to the enrollment of Autherine Lucy in 1956 as inspiration for their own demonstration.
---
Days later, Judge Bootle ordered the university to readmit Hunter and Holmes, and they graduated in 1963, becoming the first African American undergraduate students to graduate from the University of Georgia. (NPR story) (see Jan 12)
Albany Movement
---
January 9, 1962: US District Judge W A Bootle declared unconstitutional racial segregation in voting procedures in Albany and Dougherty County. (see Albany for expanded story)
Julian Bond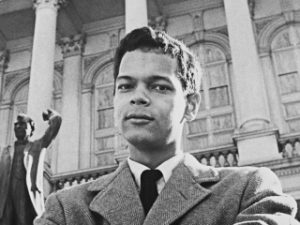 ---
January 9, 1967: following his election in 1965, the Georgia House refused to seat Julian Bond after he criticized U.S. involvement in Vietnam. He was re-elected to his "vacant seat," and the House refused again. He was then re-elected a third time. But not until the U.S. Supreme Court rules unanimously in his favor was the Georgia Legislature forced to relent. (see Jan 10)
January 9 Peace Love Activism
January 9 Music et al
Frank Sinatra
---
January 9 – 15, 1961: Frank Sinatra's Nice 'n' Easy returns to Billboard #1
Bert Kaempfert
---
January 9 – 28, 1961: "Wonderland by Night" by Bert Kaempfert  #1 Billboard Hot 100
Beatles '65
---
January 9 – March 12, 1965: Beatles '65 was the Billboard #1 album. (see March — July 1965)
End of Beatles
---
On December. 31, 1970, Paul McCartney took the first step in dissolving the Beates by filing a lawsuit against John, George, Ringo, and Apple Corps. On January 9, 1975 a judge ruled in Paul McCartney's favor and the Beatles were "officially dissolved."
---
The papers making that decision possible had been done on December 29, 1974 (see Beatles Officially Legally End)
Space Race
---
January 9, 1968: The Surveyor 7 space probe made a soft landing on the moon. It was the last of America's unmanned explorations of the lunar surface. (NYT article) (see Sept 14)
January 9 Peace Love Activism
Iran-Contra Affair
Memorandum prepared
---
January 9, 1987:  the White House released a memorandum prepared for President Ronald Reagan in January 1986 that showed a definite link between U.S. arms sales to Iran and the release of American hostages in Lebanon. (see Feb 26)
Iraq War I
---
January 9, 1991: U.S. secretary of state Baker and Iraqi foreign minister Aziz met for 61/2 hours in Geneva, but failed to reach any agreement that would forestall war in the Persian Gulf. (see Jan 12)
Dissolution of Yugoslavia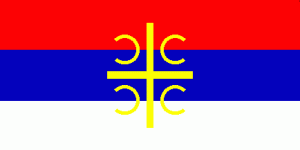 ---
January 9, 1992: the Assembly of the Serb People in Bosnia and Herzegovina proclaimed the creation of a new state within Yugoslavia, the Rupublika Srpska. (see Jan 15)
January 9 Peace Love Activism
CLINTON IMPEACHMENT
---
January 9, 1998: Linda Tripp delivered the taped conversations with Monica Lewinsky to her lawyer, Jim Moody. (see Clinton for expanded story)
Sexual Abuse of Children
---
January 9, 2002: Cardinal Law apologized to victims of John Geoghan and promises a tougher line on abusive priests in future. (see Jan 18)
January 9 Peace Love Activism
Marijuana
---
January 9, 2015:  Michigan's Court of Appeals upheld a law decriminalizing cannabis in Grand Rapids, ruling that did not violate state law. The law was challenged by Kent County Prosecutor William Forsyth, who argued that it unlawfully prohibited Grand Rapids police from enforcing state law.
---
The ruling upheld a previous ruling by Circuit Court Judge Paul Sullivan. "In sum, the Charter Amendment is not preempted by state law," justices Mark Boonstra, Pat Donofrio and Elizabeth Gleicher wrote in a six-page opinion. "The parties do not identify a genuine issues as to a material fact in this case, and the trial court did not err in granting summary disposition" in favor of the city. (see Feb 4)
LGBTQ
---
January 9, 2015: the 9th U.S. Circuit Court of Appeals denied Gov. C. L. "Butch" Otter's request for a review of the court's 2014 ruling that overturned Idaho's ban on gay marriage. Otter had requested that an 11-judge panel review the October decision by three judges that Idaho's same-sex marriage ban was unconstitutional.
---
The 9th Circuit rejected Otter's request. Three judges dissented from the majority, noting that a 6th Circuit decision upheld similar laws in four states.
---
"Clearly, the same-sex marriage debate is not over," the three said in a 25-page dissent, adding that "thoughtful, dedicated jurists" have considered the issue and come up with differing results. The dissenting judges called the issue a "question of exceptional importance" that should have been reviewed.  (LGBTQ see Jan 12; Idaho, see Jan 15)
January 9 Peace Love Activism
Please follow and like us: