Jimi Hendrix Hey Joe
October 23, 1966
Happy anniversary
Nick Cave & The Bad Seeds' "Hey Joe" 1986 on the Nightmusic Show
Sometimes the power of a musicians's instrument hides the horror of the song's lyrics. So it was for me with "Hey Joe." By the time I got to the third track of the Experience's debut album, I thought I was experienced. Of course I wasn't, but I'd fully imbibed the music's Kool-Aid. What would the next track do to me. And side 2 awaited!
It was on October 23, 1966 that the Jimi Hendrix Experience recorded 'Hey Joe' at DeLane Lea studios in London. It became their first single.
It wasn't the first time someone recorded the song and who wrote it remains a bit of a controversy.
Niela Miller
Niela Miller was one of the many young folksingers drawn to Greenwich Village.
According to a piece in the Fret Board Journal, Sometime around 1955 she wrote "Baby, Please Don't Go To Town," a mournful song about the joys and perils a young woman faced in the city. She recorded the song in 1962.
Jimi Hendrix Hey Joe
Billy Roberts
Billy Roberts was Niela's boyfriend and liked the song. He wrote new words and changed the story to a guy Joe who'd murdered his lover. He copyrighted "his" song in 1962. He played his "Hey Joe" and many of Greenwich Villages artists heard it and covered it.
Later Roberts moved to San Francisco.
Jimi Hendrix Hey Joe
Chet Powers > Dino Valenti
Another Greenwich Village expatriate, Chet Powers also started playing the song in LA, hoping a band would pick up "his" song.
Powers' name by then was Dino Valenti, a name we don't associate with "Hey Joe" but should associate with a song we are certain he wrote: Let's Get Together.
Tim Rose
And yet another Greenwich expat, Tim Rose, performed "Hey Joe." Rose claimed that it was a standard he'd learned as a boy. Here's Tim doing the song in 1967:
Despite much searching, no one has found a traditional song that predates Naomi Miller's song or Robert's re-interpretation.
Los Angeles
Be that as it may, the Byrds and Love group also began to include it in their sets. It was The Leaves, another Los Angeles band, that recorded the song as a single in 1965.
Here is a video of their version. Jim Pons, the bass player, later joined The Turtles, Flo and Eddie, and the Mothers of Invention (who had their own Mothers-version of the tune–"Hey Pop, where you goin' with that button on your shirt?")
Jimi Hendrix Hey Joe
Finally Jimi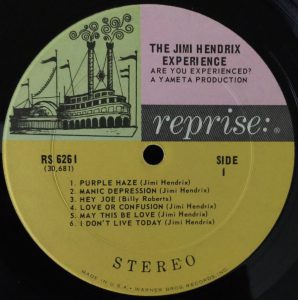 And of course, THE version for most is Jimi's. As you can see above on the album label Billy Roberts gets credit. Here's a great live Hendrix version.
Jimi Hendrix Hey Joe
Other Joes
Others who have covered the song including Wilson Pickett, Patti Smith, and Eddie Murphy. In fact, a site called "Hey Joe Versions" shows a list of over 1800 artists who have covered it.
For me the one that gets to the song's horror is Nick Cave and the Bad Seeds' version that you heard above. Here's the video to watch and enjoy.
Jimi Hendrix Hey Joe
If you'd like to read more, there's a likely better article than this one written by psaudio.com's Stuart Marvin . Follow this link. In it he has his own list of covers.
The Leaves (1965)

The Byrds (1966)

Jimi Hendrix (1966 U.K./1967 U.S.)

Love (1966)

Cher (1967)

Johnny Hallyday (1967)

Deep Purple (1968)

Johnny Rivers (1968)

Wilson Pickett (1969)

Patti Smith (1974)

Roy Buchanan (1974)

Spirit (1975)

Ten Years After (1979)

Nick Cave & The Bad Seeds (1986)

Seal (1991)

Eddie Murphy (1993)

Otis Taylor (1996, 2008, 2015)

Helge & The Firef*ckers (1999)

Robert Plant (2002)

Brad Mehldau (2012)

Charlotte Gainsbourg (2013)
Jimi Hendrix Hey Joe
Those Poles!
Marvin also adds this interesting historic fact: …during a 2019 "Thank Jimi" festival in Wroclaw, Poland, 7,423 guitarists simultaneously played "Hey Joe" in a public square, breaking the record set at the previous year's festival by 12.
Jimi Hendrix Hey Joe