September 11, 1851, BLACK HISTORY: in Christiana, Pa., a group of African Americans and white abolitionists skirmished with a Maryland posse intent on capturing four fugitive slaves hidden in the town. The violence comes a year after Congress passed the second fugitive slave law, requiring the return of all escaped slaves to their owners in the South. One member of the posse, landowner Edward Gorsuch, was killed and two others wounded during the fight. In the aftermath of the so-called Christiana Riot, 37 African Americans and one white man were arrested and charged with treason under the provisions of the Fugitive Slave Law. Most were acquitted.
 September 11, 1961, LGBT:  KQED in San Francisco broadcasts The Rejected, a made-for-television documentary film about homosexuality. The Rejected was the first documentary program on homosexuality on American television. Experts interviewed for the program included Margaret Mead who spoke from an anthropological standpoint. Mead referred to the positive roles that homosexuality had played in the cultures of Ancient Greece, the South Sea Islands, and in Inuit and Native American societies. Mead noted that it was society and not the individual that determined how homosexuality and homosexual behavior were viewed.
Please note: copyright to The Rejected is held by WNET. All rights reserved. WNET is the premier public media provider of the New York metropolitan area and parent of public television stations THIRTEEN and WLIW21. The Rejected was originally produced by KQED for National Educational Television (NET) – the predecessor of WNET – and first aired on September 11th 1961, on KQED Ch.9 in the Bay Area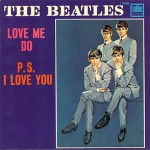 September 11, 1962, The Beatles before their US appearance: the Beatles first went to EMI studios in June, 1961  (with Pete Best on drums), again on  September 4, 1962 (with Ringo on drums), finally on this date recorded their first single, "Love Me Do" with  "P.S. I Love You" on the B-side.
September 11, 1964, BLACK HISTORY & The Beatles: the management of the Gator Bowl in Jacksonville, Fla., had stated firmly that the stadium would be segregated. The Beatles said they would refuse to play if the stadium were segregated. The day before the concert they were assured that the show would be fully integrated.
Continue reading Friday 11 September →