Bob Liikala Group 212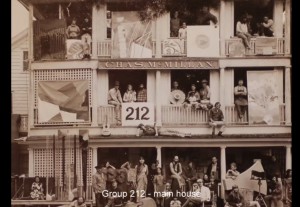 The Town of Woodstock was established in 1787. By the late 1800s it had begun to attract artistic groups such as the Hudson River School painters. In 1902, the Arts and Crafts Movement arrived and in 1906, L. Birge Harrison and others founded the Summer School of the Art Students League of New York.
Bob Liikala Group 212 Inter-Media Project
Maverick Festival
Michael Lang wrote in his The Road to Woodstock that in 1915 the town was the site of  "the first annual Maverick Festival. A flyer promised 'wild sports going on' and the dancer Lada, who "illumes beautiful music like poems, and makes you feel its religion…you cry, it is so exquisite to see….All this in the wild stone-quarry theatre, in the moonlight, with the orchestra wailing in rapture, and the jealous torches flaring in the wind! In the afternoon, there is also a concert, with a pageant, and strange doings on the stage….There will be a village that will stand but for a day, which mad artists have hung with glorious banners and blazoned in the entrance through the woods.' "
Sounds a bit like that 1969 event, yes?
Bob Liikala Group 212 Inter-Media Project
 Sound-Outs
In the late 1960s there was a series of shows known as Sound-Outs. Local musicians and the friends of local musicians such as like the Blues Magoos, Tim Hardin, Kenny Rankin, Richie Havens, Paul Butterfield, Dave van Ronk, and Van Morrison  performed. 
The local success of these shows likely were partly inspired Michael Lang and Artie Kornfeld's idea to construct a recording studio in Woodstock and to finance that construction with a festival.
And also part of that stew that encouraged the arts was the…
Bob Liikala Group 212 Inter-Media Project
Bob Liikala
From the Roots of Woodstock site: The 212 project ran summer retreats from 1967 to 1969 in the old Holiday Country Inn midway between Saugerties and Woodstock on Route 212. It was briefly home to professionals in the visual arts, music, performing arts, film-making and sciences. The collective fostered a collaborative meeting point and simplified time and space constraints for the participating artists. It encouraged them to experiment with the diverse new media and helped them to explore and synthesize the exploding potentials then being articulated through happenings, expanded cinema, environmental music and multimedia theater, dance and sculpture. Some of the projects that emerged in 1967 included Meredith Monk's Blueprint, which was presented at Montreal's Expo 67; Horse Play, a happening incorporating animals and audience members by Yayoi Kusama; and Dump Tour, a multimedia event directed by Franklin "Bud" Drake that featured a "deluxe" buffet, champagne, an art auction/burning, an airplane assault involving paper airplanes and White Mass choreographed by Norma Lusk. 
Group 212 was a manifestation of the exploding Woodstock artistic scene—as were the Sound-Outs. Bud Drake's mother, Pan Copeland, presided over the latter on her farm just up the road. According to Roots of the 1969 Woodstock Festival: The Backstory to "Woodstock," Pan hoped to craft these concerts into a Newport festivals of rock. 
Nina Yankowitz, a Group 212 artist remembers that she "loved Group 212's fearless collaborative spirit, and remembers that she first installed her draped paintings on the trees in the surrounding Group 212 landscape. She says that Group 212's propulsive and adventurous style of mixing music, painting, sculpture, photography, electronic sounds, poetry, and performance art opened her up to embrace new technologies and emerging artistic disciplines. For example, she met Ken Werner, a musician, at 212 in the summer of 1968, and she recalls their collaboration. Werner made an audio rendition to realize Nina's desire to include sound that would mimic the musical score,Oh Say Can You See, on her draped canvas. This embodied the concept of hearing and seeing sounds as they unfolded from her draped paintings. The installation was exhibited later that year at Kornblee Gallery in New York City." [my emphasis]
 In other words the artistic freedom that the Woodstock area demonstrated in the late 60s allowed people like Lang and Kornfeld to think a music festival that included art…a fair…a Woodstock Music and Art Fair…was possible.
The following video
(by
Letitia Smith
) 
shows many of the projects that Group 212 helped sponsor.
Bob Liikala Group 212 Inter-Media Project