CCR Doug Cosmo Clifford
Woodstock alum
Rock and Roll Hall of Fame inductee
Happy birthday…April 24, 1945
DG's acceptance at Rock and Roll Hall of Fame induction 
One of the most common questions  Museum guests at the Bethel Woods Center for the Arts ask me is, "What was your favorite group?" My polite answer is that that's like asking me which is my favorite grandchild? Hopefully getting a chuckled response, I then say that the band whose 8-track I went home and bought was Creedence Clearwater Revival.  
In 1969 I didn't get jamming. I loved albums and FM stations' explorations, but when it came to a live performance I was looking for what I'd heard on the album. 
Creedence Clearwater Revival Woodstock performance fit that expectation. Great sound, tight playing, one hit after another. 
CCR Doug Cosmo Clifford
Blue Velvets
Doug Clifford, Doug "Cosmo" Clifford was CCR's drummer and an original member of the band. In fact, it was John Fogerty, Doug Clifford, and Stu Cook who first formed a group without John's older brother, Tom. The trio called themselves The Blue Velvets.
Golliwogs
In 1964, as a quartet with Tom, they signed with Fantasy Records as the Golliwogs. 
The band stalled in 1966 when both John and Doug received draft notices.  John Fogerty joined the Army Reserve;  Clifford the Coast Guard Reserve.
CCR
Things got back on track by 1968 after John Fogerty and Doug Clifford were discharged and the band became Creedence Clearwater Revival and released its first album, Creedence Clearwater Revival, on July 5 of that year.
 Some success in '68 led to a breakout 1969: three hit albums and an invitation to the Woodstock Music and Art Fair. Their performance was, according to John Fogerty, subpar and that is the purported reason why he declined any inclusion from their set on the 1970 album. John blamed it on the audience. The Dead had preceded CCR and when CCR came on, John reportedly saw, "Dante scene, just bodies from hell, all intertwined and asleep, covered with mud,"
Stu Cook disagreed saying, ""The performances are classic CCR…"
Keep in mind that the Dead had closed with a rousing  39 minute rendition of Pigpen doing their classic "Turn On Your Lovelight." And it was the middle of the night, so I'm not sure how John could have seen much at all.
End of CCR
In 1970, band tensions had its toll. Tom Fogerty left first and on October 16, 1972 Fantasy Records and the band officially announced the break up.
Doug Clifford solo
Doug Clifford released a solo album, Cosmo, and later joined Stu Cook in the Don Harrison Band.
Creedence Clearwater Revival was inducted into the Rock and Roll Hall of Fame in 1993.  Tom Fogerty had died in 1990, but the other three original members were there.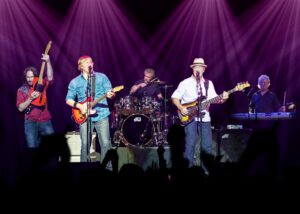 In 1995, Clifford and Cook formed the band Creedence Clearwater Revisited. John Fogerty challenged the name, but the courts decided in Clifford and Cook's favor. The band has a Facebook page.
CCR Doug Cosmo Clifford