Guitarist Miller Anderson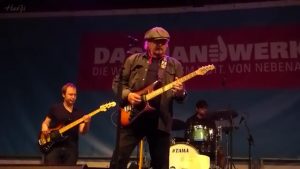 April 12, 1945
Miller Anderson Band, "Just To Cry" 2008
Guitarist
Miller Anderson
Bumpless festival for some
The Woodstock Music and Art Fair is famous for it's amazing line up.  Of course, some of that line up was famous before they got to Woodstock. Janis Joplin, Joan Baez, Jimi Hendrix, and Jefferson Airplane fall into that category.
Some became famous because of the event. Santana, Sly and the Family Stone, and Ten Years After are a few.
Some were not known and got no Woodstock bump because neither the record nor the movie included them.
Miller Anderson unfortunately falls into both latter troughs. Miller was the guitarist for the Keef Hartley Band. Quite a guitarist. And Miller continues to play quite a guitar.
Guitarist
Miller Anderson
Previously
He and Ian Hunter worked together before even a whiff of Fame wafted their way.
As Craig Harris writes at the All Music site: Since cutting his musical teeth in bands with Ian Hunter (pre-Mott the Hoople) and Bill Bruford (pre-King Crimson and Yes), Anderson has been a member of such bands as the Keef Hartley Band, Savoy Brown, T. Rex, Mountain, the Spencer Davis Group, and in groups led by Deep Purple's Jon Lord and folk-rock balladeer Donovan.
In 1968, Miller Anderson joined the Keef Hartley Band. Miller was with the band when they played Woodstock and was with them for five albums before going solo.
Miller Anderson has a wonderful retelling of his Woodstock experience:
Guitarist
Miller Anderson
Through the Mill
In addition to his solo projects (which he continues to do with his Miller Anderson Band) since Keef Hartley he's worked with with many many more.
When asked which of his recordings he likes the most, Anderson replied, "I usually do not listen to anything I have recorded. When I play my songs live, I like to make them a little bit different each gig. I helps to keep me and the band, and I hope the audience, interested each night . You have to take chances with music!"
In 2016 he released his Through the Mill album:
Thank you Miller Anderson
…and happy birthday
Get out and see his band the next time he's nearby.