Declan O'Rourke Children of 16
Easter morning, Dublin
April 24, 1916
"Proclamation Of The Irish Republic" by Michael MacLiammoir.
Declan O'Rourke Children of 16
Uprising
Once the Irish uprising began on 24 April 1916, Easter morning, no one on Dublin's streets was safe. The British imposed a curfew and the rebels themselves wanted no looting, but for the poor, and there was an abundance of them, their lives of scrounging for Dublin's leftovers had to continue.
These poor were among the many killed during the failed uprising. No burial services were held. No graves marked. In fact most were interred in a mass grave in Glasnevin cemetery.
From the Irish Times: Broadcaster Joe Duffy…spent his spare time in the last year trawling records and has documented the deaths of 40 people under 17 among the 374 civilians who were killed during the Easter Rising.
Declan O'Rourke Children of 16
Declan O'Rourke
The Irish singer Declan O'Rourke composed a song in memory of those young: Children of 16.
Nostalgically remembering the 1960s and the protest music that came out of those turbulent years, many aging Boomers complain that today's singers lack that sensibility.
Those Boomers are wrong. They need to look around and listen. I have put the lyrics to O'Rourke's song before the video. Both are amazing.
Stephen Mogerley made the film at the GPO on O'Connell St in Dublin.
O'Rourke stands at the spot where Padraig Pearse read out the proclamation of the Irish Republic on Easter Monday, 1916.
Declan O'Rourke Children of 16
Children of 16
In Dublin town one Easter morn a hundred years ago
The Rebels led a rising from the city's GPO
Brave heroes and their enemies fell, civilians in between
And among the dead and fallen were the Children of '16
Those children of the tenement slums who daily with their pals
A brazen wild brigade sprang up between the two canals
With their handcarts over cobblestone they rattled, skid, and tore
Barefooted as they scavenged through the crossfire and the gore
A war zone of the capital the bombs and shelling made
And snipers' bullets pierced and whipped the sulphured April haze
There was fighting from the union to the mill above the green
And it made a great excitement for the Children of '16
Six days have bid the Rebels pay a grave and bloody toll
But through their blood and martyrdom Republic soon was born
High aloft its streets and buildings now their names can e'er be seen
But still missing from the pages are the Children of '16.
Nor Pearse, nor Clarke, McDonagh nor the Connolly we know
Would rest were they remembered on a pedestal alone
And are they not the Fathers of our nation proud and free
And our sisters and our brothers then the Children of '16.
Thank you Declan O'Rourke for keeping alive the memory of  actually important historic events.
---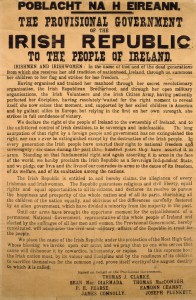 ---
Declan O'Rourke Children of 16