Bernard Alfred Jack Nitzsche
Arranger/composer/producer
April 22, 1937 — August 25, 2000
Jack Nitzsche – "One Flew Over the Cuckoos Nest (Opening Theme)" 
Bernard Alfred Jack Nitzsche
Jack Nitzsche
Jack Nitzsche. Where have we heard that name? Album cover readers know that they saw the name regularly on the album credits. As my father sometimes joked, "He's like horseshit. He's everywhere."
What I gradually realized was that Jack Nitzsche was associated with many of my favorite albums.
Born Bernard Alfred Nitzsche in Chicago, he grew up in Michigan, and moved to California as a teenager. Like many people who have moved to California, Nietzsche hoped to become an entertainer. A saxophonist specifically.
Needles and Pins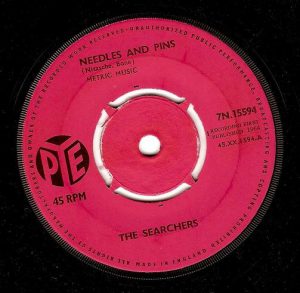 His story is familiar. When the saxophone school didn't worked out, he found a job at Specialty Records copying music scores. While doing that he met Sonny Bono who was chief of A & R there. Their friendship led to songwriting. You'll likely recognize an early hit:
Bernard Alfred Jack Nitzsche
The Lonely Surfer
He had a minor hit on his own with "The Lonely Surfer" in 1963. It's a pretty good song!
Bernard Alfred Jack Nitzsche
Phil Spector
In the meantime, Nitzsche met and started working with Phil Spector and eventually helped create the Wall of Sound while working with session musicians famously known as the Wrecking Crew.
If you've ever heard  "River Deep, Mountain High" by Ike and Tina Turner you've heard Nitzshe. Bob Lind's "Elusive Butterfly"? Nitzshe.  Darlene Love? May have been Nitzsche.
Rolling Stones and more
In 1964, he met the Rolling Stones. When you hear "Paint It, Black" and "Let's Spend the Night Together" or "You Can't Always Get What You Want"? Nitzsche.
Buffalo Springfield's "Expecting to Fly"? Nitzsche.
Do you like Lesley Gore? Jackie DeShannon? The Righteous Brothers? Beach Boys? Searchers? Rip Cords? Bobby Vee?  Tim Buckley? Gary Lewis and the Playboys? The Monkeys? The Ventures? James Gang? Graham Parker? Willy DeVille?
It may have been Jack Nitzsche's handiwork. Sometimes producing. Sometimes keyboards.
You say you want more?
Neil Young and Crazy Horse, solo or together.
Performance
And that's just some of the music. He also worked on movie music. Here is a partial list:
He won an Oscar for Best Song with "Up Where We Belong" co-written with his wife Buffy St Marie and Will Jennings from Officer and a Gentleman.
Performance which stared Mick Jagger
One Flew Over the Cuckoo's Nest
Hardcore
The Razor's Edge
Starman
The Exorcist
Breathless
9 1/2 Weeks
Poor Health
His health deteriorated in the mid-90s and his career followed.  He died on August 25, 2000.
REM wrote "2JN" in his memory.
Bernard Alfred Jack Nitzsche