Drummer Keef Hartley
April 8, 1944, — November 27, 2011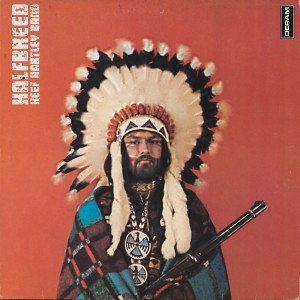 Guitarist Miller Anderson speaks about Keef Hartley Band's Woodstock experience
The Beatles were not at Woodstock, but a few of their songs were sung, most notably Joe Cocker's "With a Little Help From My Friends."  The Beatles were not at Woodstock, but the drummer who replaced Ringo Starr when he joined the Beatles was.
The threads of rock's tapestry are trivial taken singly, but  together tell the story. We all know that when Pete Best was let go, Ringo replaced him. Ringo had been in Rory Storm and the Hurricanes at the time. Keef Hartley replaced Ringo.
Keith Hartley was born in Preston, England and said that because he had small hands, found the drums an easier instrument to learn than guitars.
He said to Spencer Leigh in an Independent interview: "I have very short hands and I couldn't manage the guitar neck so the drums were for me. My biggest influences were Tony Meehan, Sandy Nelson and the guy who did that wonderful drumming on the Ventures' 'Walk – Don't Run'."
The first band he was in was the Heartbeats (who opened for the Beatles once) and in 1963 joined the aforementioned Rory Storm, but he soon replaced that band by joining Freddie Starr and the Midnighters.
Drummer Keef Hartley
More bands
He joined the Artwoods with Art Wood (brother of Ronnie) before leaving them and joining John Mayall and his Bluesbreakers.  Among the Bluebreakers during Hartley's stint with them was Eric Clapton, Mick Taylor, Peter Green, and Harvey Mandel who later played at Woodstock with Canned heat.
Before Hartley left Mayall, the friendly two recorded "Hartley Quits" with the Bluesbreakers. 
Drummer Keef Hartley
Keef Hartley Band
Keef formed his own band in 1968. True to their humorous relationship the first track on the band's premiere album, Halfbreed, is called "Hearts and Flowers" in which there is a tongue-in-cheek phone call in which Mayall fires Hartley. 
Hartley "returned the favor" in another song.
The All Music review describes the album as "some of the best ever late-60s jazz-influenced blues, and the album remains an undiscovered classic." 
Drummer Keef Hartley
Hard and brassy set
Invited to Woodstock, Rolling Stone magazine described the band's performance there as "a hard and brassy set." They came on after John Sebastian unscheduled appearance on Saturday.
Drummer Keef Hartley
The band members were
Their setlist…
Spanish Fly

She's Gone

Too Much Thinkin'

Believe In You

Halfbreed Medley: Sinnin' For You (Intro) > Leaving Trunk > Just to Cry > Sinnin' for You
In a 1994 interview Hartley said of Woodstock, "They were hiring some incredible names but they had a fixed budget to stick to so they needed some lesser known names as well. I can't remember what we were paid now but it was two or three thousand dollars and I got the lion's share!"
Drummer Keef Hartley
 Five band albums
The band released five albums between 1969 and 1972. Hartley released one solo album and two other albums as part of Little Big Band and Dog Soldier. (Wikipedia discography)
Drummer Keef Hartley
Out of music
Eventually the band dissolved, particularly after Miller Anderson, who had been the band's mainstay composer as well, left.
In the early 90s Hartley left music and took up work as a joiner, working as one part of Hunter Hartley of Preston, England.
Keef Hartley is one of those "unknown" Woodstock performers. Not on the triple album. Not in the movie. No Woodstock push, but the quality of the music that Hartley, his own bands, and the bands he was simply a member of remains undiminished.
He died on November 11, 2011.
On his death, John Mayall said: "When I think back to all the adventures we had over the years, both on and off the road, it seems hardly possible that my friend of so many years will not be showing up to sit in with any of my bands in the future. His sense of fun and love of life will always remain in my thoughts as special memories."  (>>> British Blues archive site)
Drummer Keef Hartley