Bassist Gary Thain
15 May 1948 – 8 December 1975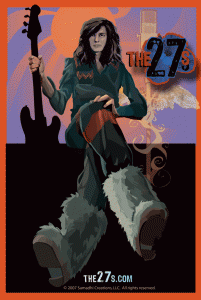 The Keef Hartley Band is not the best known band that played at the Woodstock Music and Art Fair and Gary Thain, it's bassist, is known better through Uriah Heep, the group he played with after the Keef Hartley.
New Zealand
Gary Thain was born in Christchurch, New Zealand and began performing as a teenager.  He was in The Strangers in New Zealand and when he was 17 Thain moved to Australia and became part of The Secrets.
UK
Then to the UK where he became part of Me and the Others until 1967. After that, it was New Nadir.
In other words, there was a common relationship. Music and Gary Thain got to know each other for a long time before Thain joined the first band that at least more than a few people know the name of.
Keef Hartley Band
In 1968 Gary joined the Keef Hartley Band.  He was with them for all six of their albums and was with them for their 45 minute Woodstock set. Unfortunately for Thain and the band, they were not included in either the triple album nor the movie the following year.
KHB had toured with Uriah Heep in 1971 and in 1972  Uriah Heep asked Gary Thain to join. He did and stayed with the band until 1975.
Electrocuted
While performing at a concert in Dallas on September 15, 1974 Thain received an electrical shock. He survived, but felt the band and it's management had left him on his own to recover.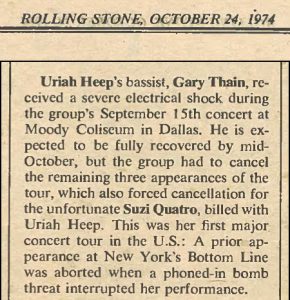 According to the site Audio Culture site: "Thain tried to pick up where he left off but his addiction and his darkening attitude toward management meant he was increasingly unreliable and erratic. He was sacked in January 1975." 
Gary Thain
27 Club
Rock and roll's temptations and perquisites took their toll. Thain died in London from respiratory failure as a result of an heroin overdose on December 8, 1975.  Another member sadly joining the so-called 27 Club.
Bassist Gary Thain