Beatles Play Cow Palace 1964
August 19, 1964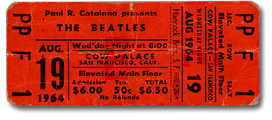 February prelude
The Beatles triumphant and record-breaking performance on the Ed Sullivan Show on February 9, 1964 was simply a prelude to what would begin six months later in San Francisco.
That same February, the band had played three indoor concerts: Carnegie Hall, Miami, and Washington, DC, but their return for an official tour in August was the start of maximum-Beatlemania.
Beatles Play Cow Palace 1964
Back in the USA, via Canada
On August 18, the Beatles had flown from London Airport to San Francisco International, to begin their 25-date first American Tour.
They stopped briefly in Winnipeg, Canada…
…and in Los Angeles. Both stops had fans screaming to see the band. Media interviews also. They arrived in San Francisco to a similar scene of hysterics from around 9,000 fans.
Beatles Play Cow Palace 1964
Beatles Bible
Many thanks to the site Beatles Bible for much of this information:
Beatles manager Brian Espstein  wanted to be sure that the concert venues would sell out and chose those that were not overly big. He needn't have worried. All 17,130 Cow Palace tickets sold out.
The other acts on the bill, and throughout the tour, were The Bill Black Combo, The Exciters, The Righteous Brothers and Jackie DeShannon. Showtime was 8 pm, and The Beatles took to the stage at 9:20 pm.
This tour's performance typically consisted of 12 songs: Twist And Shout, You Can't Do That, All My Loving, She Loves You, Till There Was You, Roll Over Beethoven, Can't Buy Me Love, If I Fell, I Want To Hold Your Hand, Boys, A Hard Day's Night and Long Tall Sally.
The performance lasted just 29 minutes and because threw jelly beans organizers stopped the concert twice.
At the end of the show The Beatles dropped their instruments, ran for their limousine. It was surrounded by fans, so organizers put the boys in an ambulance. They returned to their hotel, but left soon after to fly to Las Vegas for the next day's show.
Beatles Play Cow Palace 1964
Lennon looked back
In The Beatles Anthology (2000) John Lennon said, People think fame and money bring freedom, but they don't. We're more conscious now of the limitations it places on us rather than the freedom. We still eat the same kind of food as we did before, and have the same friends. You don't change things like that overnight. We can't even spend the allowance we get, because there's nothing to spend it on. What can you spend on in a room?
There were 22 more tours to go before the last one on this tour at the Paramount in NYC on September 20.
Beatles Play Cow Palace 1964