Almost Woodstock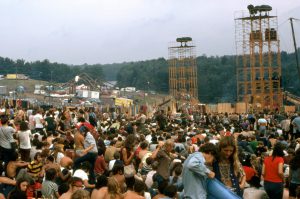 Woodstock Ventures was on the gasping last lap of getting their festival set up whether they liked it or not Having to physically move what they could from Wallkill to Bethel and  having to redo much of what they had already done there took patience, fortitude, and good fortune.
Almost Woodstock
Monday 11 August 1969
John Roberts was one of the four partners of Woodstock Ventures. His family owned Block Pharmaceutical and his trust fund financed the festival.  As of that afternoon's accounting, Woodstock Ventures had posted receipt of advance ticket sales totaling $1,107,936. Woodstock Ventures (i.e., John Roberts) had spent nearly twice that sum

workers bolted telephone poles into place around stage. Some poles were split or rotten.

Woodstock Ventures came to agreement with William Filippini for use of Filippini Pond. The agreement may have been $5000.
Almost Woodstock Music Art Fair
Tuesday 12 August 1969
Continued legal challenges
festival representatives met with the state supreme court justice regarding complaints by local businesses about the festival's impact on them.  After reassurances and explanations, local businesses dropped all complaints.

the main concession providing food was Food for Love was not yet ready.
Almost Woodstock
Wednesday 13 August 1969
More issues
nearly 30,000 people had shown up for festival and were in the "bowl." Bill Hanley,  sound-man extraordinaire [see also Last Seat],  pulled his sound truck into the service road behind the stage, plugged in some equipment to a portable amplifier, and piped prerecorded music for the crowd.

staff technicians noticed a drop in water pressure throughout site. Audience members had accidentally stepped on and cracked plastic pipes. Staff made repairs.

John Roberts, with his father and brother, arrived on site to discover that there were no ticket booths for the 30,000 people already on-site.

the suit against the festival was withdrawn after a promise of police protection for the residents was agreed to.

construction of the pedestrian bridge over West Shore Road trapped the $200 an hour crane. 

NYC Police Commissioner Howard Leary reminded all NYC police officers: no  "moonlighting."

NY State Police "randomly" stopped and frisked young people in cars at the Harriman interchange on NY State Thruway. Drivers, passengers, and cars were checked for anything illegal.
Almost Woodstock
Thursday 14 August 1969
The day before
NY State Police continue to randomly stop and frisk young drivers at the Harriman interchange. 150 arrests made.

Bill Hanley's sound system erected. "According to one expert's eye, the hi-fi equipment in the bowl represented the most expensive sound system ever assembled at one time in any given location."

Bill Abruzzi, doctor hired to take care of medical issues at the festival, told festival to triple his supply order.

although warned not to, about 270 NYC police arrived but insisted Woodstock Ventures pay cash. They worked using aliases.

Food For Love demanded all profits after repaying the initial $75,00 fee. Woodstock Ventures agreed.

film deal reached: 50% split. Warner Brothers and Woodstock Ventures after negative costs. On Friday, Michael Wadleigh signed on as director.

the Diamond Horseshoe, where nearly 200 Woodstock staff had been staying, caught fire.  Hotel staff extinguished the fire because the fire department couldn't get through.
Is there gas in the car?
Yes there's gas in the car!
You are still an outlaw in their eyes
Almost Woodstock