Organist Gregg Alan Rolie
(top photo by Barry Z Levine)
Happy birthday June 17, 1947
Woodstock alum
2x Rock and Roll Hall of Fame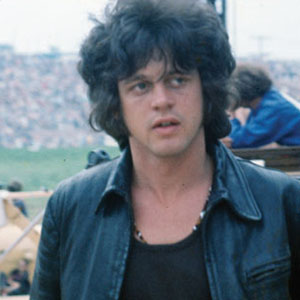 Gregg Rolie's organ slides in just before Carlos Santana's guitar glides in. Percussion keeps us on track. We immediately recognize Santana's "Black Magic Woman."
So smooth.
The opening continues a little more and then Gregg Rolie tells us that he has a black magic woman who's trying to make a devil out of him.
Organist Gregg Alan Rolie
Palo Alto
Gregg Rolie grew up in Palo Alto, California. Prior to Santana, Rolie played with a group called William Penn and his Pals while attending Cubberley High School in Palo Alto.
After graduating, he met Carlos Santana through a friend who'd heard Santana play at Bill Graham's Fillmore in San Francisco on a "locals" night.  Rolie tells a story that the first time he and Santana played together they heard police arriving and ran out and hid in a tomato patch.
Such are some beginnings.
Organist Gregg Alan Rolie
Santana Blues Band
They formed the Santana Blues Band, later simply called Santana. The band's appearance at Woodstock [at manager Bill Graham's insistence], on the soundtrack, and in the movie lit the fuse that sent them into international orbit with all its enticements and dangers.
Rolie's journey lasted only two more years. In 1971 he left the band. In his words, "It just got to everybody. But at the same time, the one thing that we had in common was the music and that drive for the music. We did not know each other all that well so when the music faltered, we didn't know how to express to each other what was going on, going wrong, or why." [from > Herald Paris interview]
Organist Gregg Alan Rolie
Life after Santana
In 1973 with Santana guitarist Neal Shon, Rolie joined the newly formed Journey. Rolie was the band's keyboardist and regularly did vocals.
Rolie left Journey in 1980 and did solo work until 1991 when he formed The Storm. In 1998, Rolie and other former members of Santana, including Neal Schon, briefly reunited as Abraxas Pool.
Today Rolie has his Gregg Rolie Band.
Organist Gregg Alan Rolie
Double Hall of Famer
With Santana, Gregg Rolie was inducted into the Rock and Roll Hall of Fame in 1998. And he was inducted again in 2017 as a member of Journey.
Here is a video Santana's induction. Rolie's brief comments occur at 5:50 if you'd prefer.
Here is a link to a Keyboard Magazine interview with Rolie from April 5, 2017 about his second induction.
Organist Gregg Alan Rolie
According to his site, Gregg is a proponent of music education for children. In 2005, he signed on as an official supporter of Little Kids Rock, a nonprofit organization that provides free musical instruments and instruction to children in underserved public schools throughout the U.S.A. He sits on the organization's Honorary Board of Directors.
Organist Gregg Alan Rolie